In this edition of Toronto Maple Leafs news and rumors, I'll take a look at hints why the Maple Leafs defense has to be better this season than it's been over the past few seasons.
Related: Maple Leafs News & Rumors: Chara, Nylander, Matthews & McDavid
I'll also look back into Maple Leafs' history to take a look at what NHL players have scored more than 500 NHL goals plus have spent part of their careers in a blue and white Toronto uniform. Finally, I'll take a quick look at the Maple Leafs' young prospects who might suit up with the upcoming World Juniors.
Item One: Hints that the Maple Leafs Defense Has Turned from Bad to Good
Since I've been writing about the Maple Leafs, the team has been quite successful. However, the defense has been a consistent sore point. After the end of the 2019-20 season, one of the Maple Leafs stated priorities was to right that wrong; and, general manager Kyle Dubas set out to do so.
First, he signed a player he'd been after since the 2018-19 offseason when he signed UFA T.J. Brodie to the roster. Second, he signed another UFA in Zach Bogosian, who had been a part of the Tampa Bay Lightning's recent Stanley Cup championships. Third, he signed UFA Mikko Lehtonen – named the KHL's best defenseman from last season. Fourth, Travis Dermott was re-signed as an RFA to a bargain $874,125 contract. He'll likely have a chip on his shoulder as he competes both for a job and for a new contract.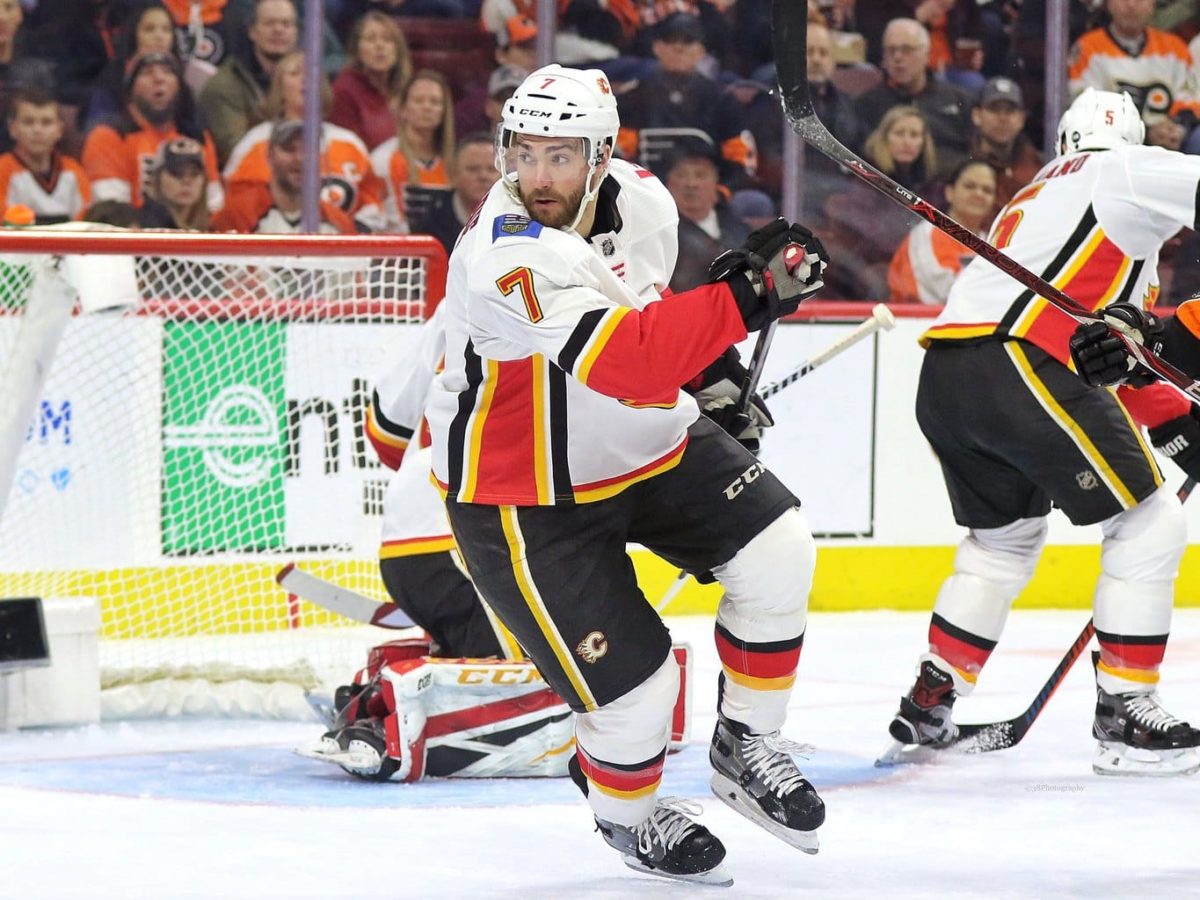 These changes leave fans asking the question: "How good is the 'new-and-improved' Maple Leafs defense the team will ice during the 2020-21 NHL regular season?"
As always, the proof is in the pudding. However, it's possible to read between the lines and gather some hints that suggest just how much improved the organization believes its defense will be. From what I've read, a number of conversations Dubas has made about the team suggest that he believes the defense is vastly improved over last season's.
Related: Maple Leafs' 5 Most Memorable Debuts
Two of these new players add specific special-team improvements. First, Bogosian brings improved penalty-killing abilities. Second, Lehtonen's power-play skills could helpful run the team's second-unit power play.
In addition, last Saturday Dubas' spoke at Toronto's annual Coaches Open House and shared his belief that the Maple Leafs could both regularly dress seven defensemen for games and deploy an on-ice lineup that might play three blueliners with two forwards.
Specifically, Dubas noted: "The depth of our D would lend itself to this and I wouldn't be surprised to see us use it from time to time."
Although head coach Sheldon Keefe would obviously make the final decisions about implementing any suggestions, even that the conversation is happening means there's a general feeling the defense is both strong enough and versatile enough to pull such a plan off.
Bogosian understands the deployment. He was a member of the Lightning when they at times dressed seven defensemen in games during their successful Stanley Cup championship last summer. So, he's been there before.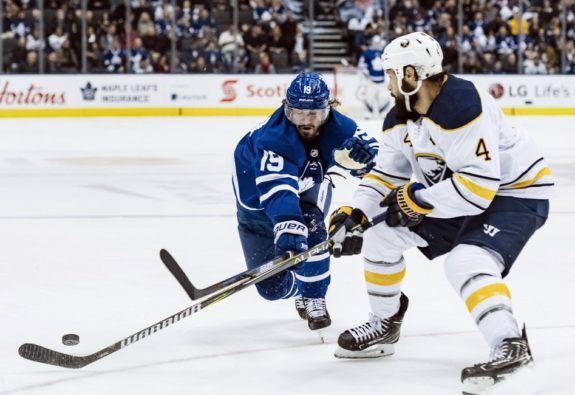 Clearly, the Maple Leafs general manager wouldn't bring up the idea unless he believed the alignment might work well for his club. As he told those attending the team's annual Coaches Open House last Saturday, "The depth of our D would lend itself to this and I wouldn't be surprised to see us use it from time to time."
Even if the Maple Leafs never utilize this deployment during a game, the fact the conversation even happened suggests the organization believes its defense is significantly improved over previous seasons. That's certainly a good omen for Maple Leafs fans hungry for success.
Item Two: Seven Maple Leafs Players Who've Scored 500 Goals
During some recent research, I took a look through Maple Leafs history to see what NHL players had played for the Maple Leafs during their careers and who had also scored 500 goals. Here's my list. If I have missed a Maple Leafs player, give me a shout.
Player #1: Mike Gartner
It's easy to forget that Mike Gartner scored 708 goals during his NHL career (adding 27 more in his one WHA season with the Cincinnati Stingers). Gartner never led the NHL in either goals or points, but he did score at least 30 goals during 17 of his 19 NHL seasons. He spent three seasons from 1993 to 1996 with the Maple Leafs and scored 53 goals in total with the Blue and White.
Player #2: Dave Andreychuk
Like Gartner, Dave Andreychuk was never seen as a superstar. In fact, he made only two All-Star Games. However, the 6-foot-4, 220-pound power forward kept himself in good shape and simply kept scoring goals over his career. Similar to Gartner, he played with the Maple Leafs from 1992 to 1996, and with his four seasons in Toronto scored 120 goals. That total includes being one of the only Maple Leafs players in history to have scored 50 goals during a single season (when he scored 53 goals and 99 points during the 1993-94 season).
Related: NWHL Players React to Commissioner Stepping Down
Andreychuk scored 20 goals each of his last five NHL seasons; and, in good news for Maple Leafs' newcomer Joe Thornton he scored more than 20 goals during a season after he was 40 years old. He would have likely scored more except for an NHL lockout. He ended his career with 640 NHL goals.
Player #3: Mats Sundin
Everyone knows how successful long-time Maple Leafs captain Mats Sundin was with the team. He's tied with Joe Nieuwendyk with 564 career goals and is both the highest-scoring Swedish player in NHL history and the Maple Leafs' player who scored the most goals in history with 420.
Player #4: Patrick Marleau
Patrick Marleau is the only active player who's scored more than 500 goals – totalling 562 during his career. Of that total, 518 goals have been scored with the San Jose Sharks. Marleau played two seasons with the Maple Leafs and scored 43 goals with the team.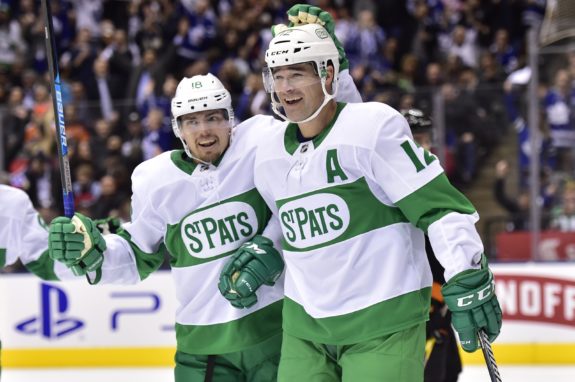 Player #5: Ron Francis
How interesting that Ron Francis made this list. I wonder actually how many Maple Leafs fans recall that Francis played his last NHL games as a Maple Leafs in 2003-04 (scoring three goals and seven assists for 10 points in 12 games).
Francis is now the general manager of the expansion Seattle Kraken. He was one of the NHL's most underrated players and ranks fifth in NHL career points. The only awards he ever won were a Selke for his defense and three Lady Byng Awards. He was great playmaker, but he could score and totaled 549 goals before his NHL career was over.
Player #6: Frank Mahovlich
Of Frank Mahovlich's 18-season NHL career, he played his first 12 seasons with the Maple Leafs. And, of the 533 goals Mahovlich scored during that career, 296 were scored with the team. He played four more seasons (until he was 40) in the WHA and scored 89 goals with the Toronto Toros and the Birmingham Bulls.
Player #7: Lanny McDonald
Similar to Frank Mahovlich, Lanny McDonald began his career playing with the Maple Leafs. During his first seven seasons in Toronto, he scored 219 goals. Sadly, McDonald was traded in 1979 to the lowly Colorado Rockies in a spiteful move by owner Harold Ballard to get back at Darryl Sittler.
Fortunately for McDonald, he enjoyed great success with the Calgary Flames. During his final season in 1988-89, he hit two milestones – one of the 11 goals he scored got him to 500. And the Flames helped him win his first Stanley Cup. He immediately retired at 500 goals.
What's Next for the Maple Leafs?
We're still unsure when the Maple Leafs might play again, but fans will have an opportunity to see a number of the organization's prospects play during the upcoming World Junior Championships starting on Christmas Day in Edmonton. Interestingly, no Maple Leafs prospects represent Team Canada.
Related: Maple Leafs News & Rumors: Amirov, Robertson & World Juniors
However, the organization is well-represented on other World Junior teams. Fans will have a chance to see how Nick Robertson (Team USA) and Rodion Amirov (Team Russia) fare against competition their own age.
---
---