In this edition of Toronto Maple Leafs News & Rumors, I'm going to focus on Maple Leafs' organizational prospects. First, I'll share a rumor that Rodion Amirov has been approached by his KHL team to sign a two-year contract.
Related: Marner Could be Moved if Maple Leafs Decide to Retool
Second, I'll take a look at the upcoming World Juniors Tournament that starts on Christmas day in Edmonton and at those Maple Leafs prospects who'll likely play in that tournament. Finally, I'll look at what might be happening to stall any announcement about the start of the 2020-21 NHL regular season.
Item One: More Rumors About Rodion Amirov
The rumors are growing that the KHL's Salavat Yualaev Ufa has begun negotiations with Maple Leafs first-round draft pick Rodion Amirov. These rumors suggest that his Russian team is asking Amirov to sign a two-year contract. If he does sign, that contract would keep Amirov in the KHL until April 2023.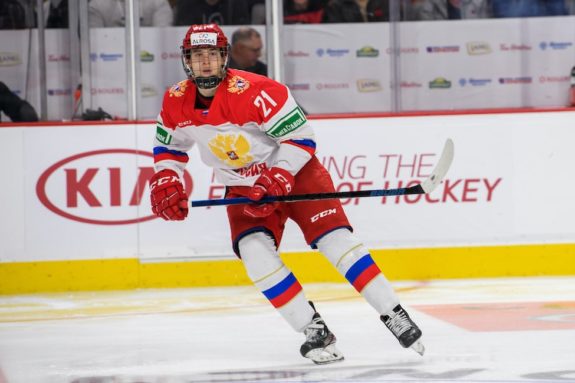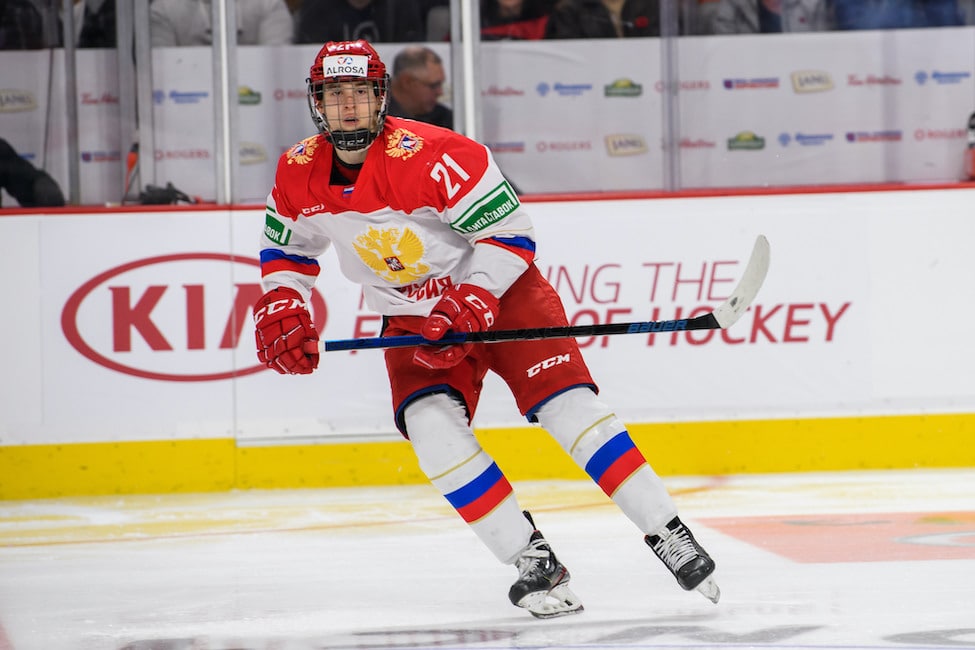 If the Maple Leafs organization can see that working into its short-term future, that's all well and good. And, given the lack of a solid scenario for the upcoming NHL 2020-21 season, perhaps the Maple Leafs would be happy enough to allow their young prospect to continue his hockey development by playing at home in Russia.
If the Maple Leafs hope to have their cake and eat it too with Amirov, they'll allow him to sign a contract to play in the KHL for two seasons but add a clause that allows him to come to the NHL if that works best for the Maple Leafs. That kind of clause seems standard procedure with KHL teams; for example, Mikko Lehtonen was just released from his clause with the KHL's Jokerit Helsinki and will now travel to North America to prepare for an upcoming NHL season.
Given what I've seen about how the history of how the NHL and the KHL work together, I'm guessing concern about Amirov's contact might turn out to be a tempest in a teapot. However, given Amirov's play of late, Maple Leafs fans must have a sense of the potential upside of this youngster who one day soon might join the Maple Leafs roster. Specifically, Amirov just returned from a very successful Karjala Cup where he led his Cup-winning team with three goals in the three-game tournament.
The evidence thus far suggests that Amirov could be special. The next obvious chance for Maple Leafs fans to see just how special would be during the upcoming World Junior Championship tournament in Edmonton scheduled to start on Christmas Day. Amirov likely will play a large role with Team Russia, which will help fans see him display his hockey skills. Perhaps between Christmas and New Years Day, Maple Leafs fans will know a good deal more about Amirov and his future plans.
Item Two: Other Maple Leafs Prospects at the World Juniors
Speaking about the upcoming World Junior Championships, are the Maple Leafs becoming more focused on international players than Canadian players? When you look at the rosters of the upcoming World Juniors, you might see that possibility. The organization doesn't have much representation on Team Canada. However, that doesn't mean the Maple Leafs have weak prospects. Quite the opposite.
Related: Remembering Viktor Tikhonov: A Hockey Legend
Not long ago, my The Hockey Writers colleague Josh Bell did a nice review of where the Maple Leafs stack up against other NHL teams insofar as the depth and strength of their organization. Although some things have changed since this review, Bell names some of the key prospects within the organization and explains that the team has a number of strong young players and a few are a bit older.
Among them are Mikhail Abramov, Filip Hallander, Tim Liljegren, and Nick Robertson. Bell also notes that Pierre Engvall, Ilya Mikheyev, and Rasmus Sandin all are capable and got their feet wet with the big club last season.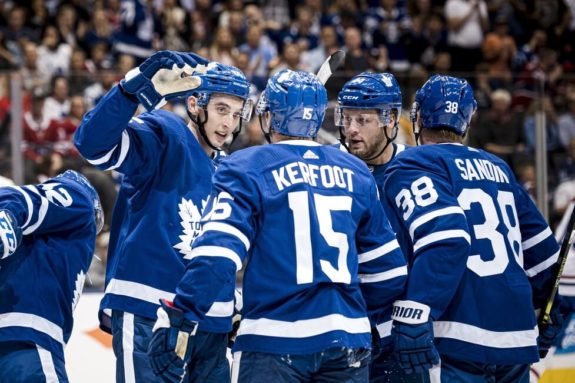 Although Maple Leafs fans won't see much representation of its prospects with Team Canada, that only means that the organizational prospects just aren't elite U20 Canadians. Still, the Maple Leafs have a number players who should be suiting up for other teams during this year's World Juniors Championships.
Amirov, as noted, will be on Team Russia. He had a great experience in Finland when his team won the Karjala Cup and he's also played well in the KHL this season. He's likely to be one of the impact players of the tournament.
Related: Each New Riveters Acquisition Is Another Piece To Their Puzzle
There's also a chance Amirov might partner with Maple Leafs' prospect Mikhail Abramov in Edmonton. Abramov was chosen by Toronto during the fourth round of the 2019 NHL Entry Draft and is currently playing for the QMJHL's Victoriaville Tigres. He's scored four goals and 10 assists (14 points) in nine games in the 2020-21 season. Last season, he scored 35 goals and 41 assists (76 points) in 63 QMJHL games.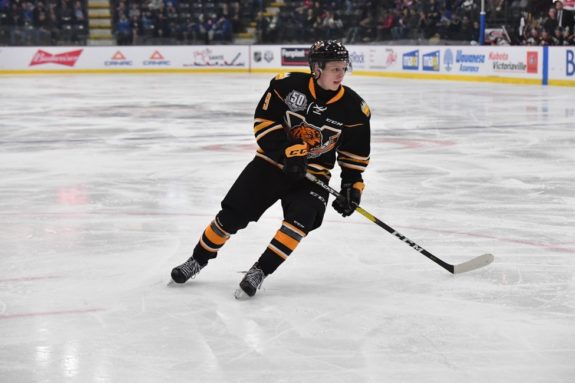 Finally, prospect Mikko Kokkonen, the Maple Leafs' third-round draft choice in the 2019 NHL Entry Draft, played for Team Finland last year in the WJC. He, too, should play with Team Finland this year. The young defenseman scored two goals in last years World Juniors. Currently he plays for Jukurit of Finland's Liiga.
Item Three: Don't Forget About Nick Robertson
Perhaps the leader of Team USA is Maple Leafs super-prospect Nick Robertson. What more needs to be said about Robertson? He played well on his USA's top line at least year's WJC, where he was a point-a-game player with two goals and three assists in five games. He always seems to be in the middle of the action.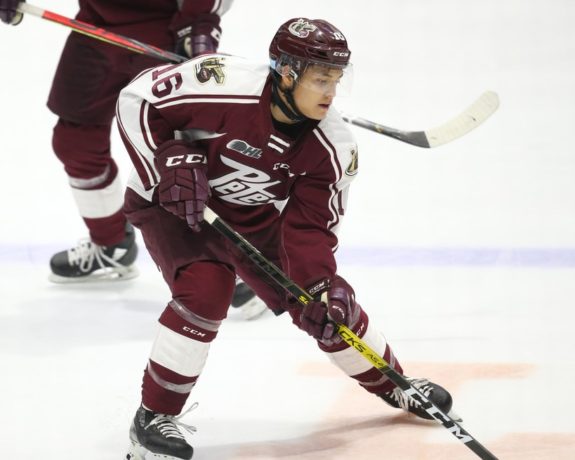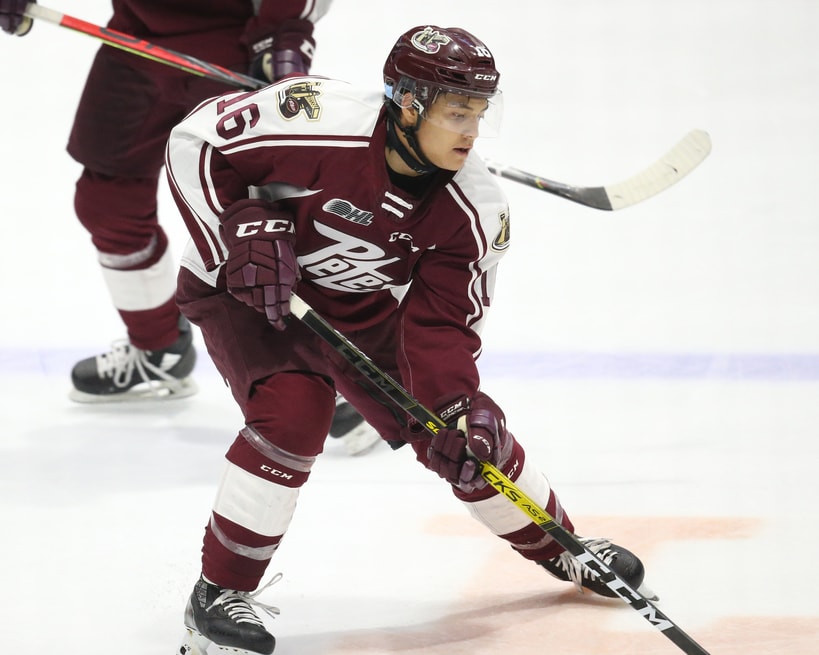 Robertson's gotten better since last year, so who knows what his impact will be this year? He can score; he's creative; he's got a motor that won't quit; and, he has great offensive IQ. He's probably both the Maple Leafs number one prospect and the biggest steal of the 2019 NHL Entry Draft.
What's Next for the Maple Leafs?
I'm not a betting man, but I have to think something's going on that's keeping news from being released about a possible start to the upcoming NHL 2020-21 regular season. January is sneaking up quickly. Is time running out for a Jan. 1 start date?
My guess is that the two sides – the NHL league office and the National Hockey League Players Association – are trying to negotiate what the regular season might look like. I would guess there's a proposal for a shortened season, which means that the NHLPA would ask its members to accept further salary reductions or deferrals. I believe that won't sit well with players.
Related: Chara to the Maple Leafs Rumor Is a Non-Starter
If the 2020-21 regular season is to begin on Jan. 1, a number of things need to happen. First, the 2020-21 season must be planned so that, however many games will be played, those games (including the Stanley Cup) will be completed prior to the Tokyo Summer Olympics that begin on July 23, 2021. Second, NHL teams must hold training camps. Those camps would take two weeks minimum.
Maple Leafs fans are not the only people anxious for the season to start. Today, in an article on Yahoo Sports, The Nashville Predators' general manager David Poile noted:
"Let's get the season started. I'm up for however it looks. Whatever the league and the PA think is the best way to get us back playing, whether it's with fans, some fans, no fans, TV being (more) relevant, if you will. Whatever it takes to get this season going and get it in place."
I'm sure he's not alone in that feeling.
---
---