Most North American hockey observers remember Viktor Tikhonov as a harsh taskmaster, who ruled over his players like a drill sergeant, barking out orders and letting them know who was in charge. Underneath that gruff exterior was a brilliant hockey mind who laid the groundwork for one of the prominent international hockey powerhouses that revolutionized the sport.
Viktor Tikhonov, The Player
Before his coaching career, Tikhonov was a defenceman in the Soviet Elite Hockey League from 1949 to 1963, splitting his career between VVS (Team of the Soviet Air Forces) and Dynamo Moscow during that span. In 296 games, Tikhonov registered 35 goals while winning three gold medals of the Russian National Championship for VVS and one gold medal with Dynamo Moscow. He also won a USSR cup with VVS in 1952.
Coaching Career
His coaching career began in 1964 as an assistant with Dynamo Moscow. He landed his first head coaching job in 1968 with Dynamo Riga. But it wasn't until 1977 when he landed the two biggest coaching jobs in Soviet hockey. Tikhonov was named head coach of CSKA Moscow, otherwise known as the Red Army and the Soviet National team. It was these two positions where Tikhonov made his mark.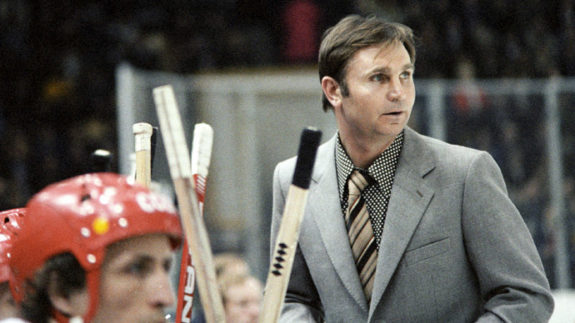 CSKA Moscow were already a dominant force in the Soviet Elite League, but they became legendary under Tikhonov, winning 12 straight Soviet titles from 1978 to 1989. Tikhonov also formed one the greatest lines in hockey history, the KLM line. Vladimir Krutov, Igor Larionov and Sergei Makarov dominated Soviet hockey as they lit up scoreboards throughout the USSR. Tikhonov went one step further as he used defenceman Vyacheslav Fetisov and Alexei Kasatonov with KLM line to form a devastating five-man unit. This unit was known as the "Green Unit" as they wore green jerseys at practice.
International Hockey Success
Tikhonov found more success on the international stage. Under his guidance, the Soviet Union won eight World Championships, two Olympic gold medals and the 1981 Canada Cup. Tikhonov won a third Olympic gold medal in 1992 under the Unified Team banner. But he experienced heartbreak as well.
---
Latest News & Highlights
---
The loss to the United States in the famed "Miracle On Ice" game at the 1980 Winter Olympics in Lake Placid saw Tikhonov face heavy criticism for pulling superstar goalie Vladislav Tretiak, after the first period. Tikhonov admitted his mistake in a book called "The Boys of Winter" by Wayne Coffey. An excerpt was published in the New York Times in 2005, where Tikhonov, through an interpreter, spoke of the ill-fated move.
"The biggest mistake of my career. Tretiak always played better after he gave up a goal. The decision was a result of getting caught up in emotions. After Tretiak gave up the rebound and let in the soft goal by (Mark) Johnson, my blood was boiling. It was my worst mistake, my biggest regret."
Tikhonov's temper showed following the loss when he went to Tretiak, Vladimir Petrov, team captain Boris Mikhailov and superstar forward Valery Kharmalov pointing his finger in their faces and telling them in Russian: "This is your loss! This is your loss." Defenceman Valery Vasilliev grabbed Tikhonov by the neck proclaiming: "I will kill you right now," before Russian officials separated them.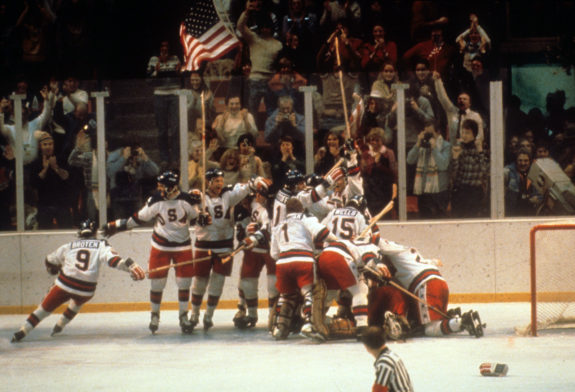 Tikhonov and the Soviets did recover the following year by winning the 1981 Canada Cup. The final, an 8-1 drubbing of Team Canada at the fabled Forum in Montreal, was Soviet hockey at its best. Tretiak was simply brilliant between the pipes, while Krutov scored an incredible goal in which he undressed Guy Lafleur and easily beat Canadian goalie Mike Liut.

Three successive Olympic gold medals cemented Tikhonov's legacy in hockey as one of the greatest coaches ever.
The Lasting Impact of Viktor Tikhonov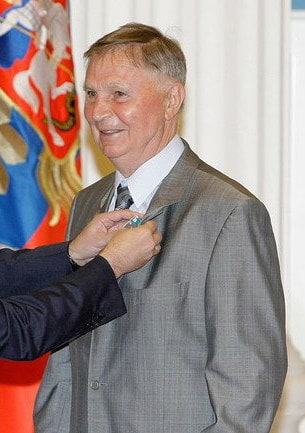 Tikhonov was known to hold intense training sessions that would include dry land training. These offseason workouts are now being used by many of today's NHL players, where fitness is a premium.
An autocrat at the best of times, Tikhonov wasn't afraid to cut players from the national team if he thought they would defect from the communist nation. Stars such as Pavel Bure and Vladimir Konstantinov were cut by Tikhonov prior to the 1991 Canada Cup because he feared they would leave the Soviet Union to join the NHL teams that drafted them.
Despite his dictating ways, Tikhonov was recognized by the IIHF as they inducted him into the Hall of Fame in 1998 as a builder.
His grandson, also named Viktor Tikhonov was drafted in the first round of the 2008 draft by the Phoenix Coyotes. The younger Tikhonov is currently playing for Kazan Ak-Bars of the KHL.
This article was originally published in November, 2014.