| | | | |
| --- | --- | --- | --- |
| Born: | April 20, 1958 | Draft: | 1978 Canadiens 201st Overall; 1983 Devils, 145th Overall |
| Hometown: | Moscow, Russia | Position: | Defense |
| Known For: | Hall of Fame | Shoots: | Left |
| National Team: | Soviet Union and Russia | Current Team: | Retired |
Viacheslav Alexandrovich "Slava" Fetisov (born 20 April 1958) is a Russian former professional ice hockey defenseman. He played for HC CSKA Moscow for 13 seasons before joining the National Hockey League (NHL), where he played with the New Jersey Devils and Detroit Red Wings. With the Wings, he won back-to-back Stanley Cups and was part of the team's Russian Five unit. After retiring from his playing career, he became the assistant coach for the New Jersey Devils. Having a very successful four years, he helped get the team to two Stanley Cup finals and one Stanley Cup victory. In addition to that, he won two Olympic gold medals and seven world championships. His Stanley Cup wins, Olympic gold medals, and World Championship wins make him a member of his sport's prestigious Triple Gold Club.
Fetisov was instrumental in breaking the barrier that had prevented Soviet players from leaving the Soviet Union to join the NHL. His actions not only resulted in a number of top Soviet players joining the NHL, but encouraged many of the best players from all over Europe to go to North America. Internationally, he was a long-time captain for the Soviet Union national team and is a two-time Olympic champion. In 2002, Fetisov led the Russian Ice Hockey Olympic team as GM and Head Coach, attaining a bronze medal. Considered one of the best defensemen of all time, he was voted as one of six players to the International Ice Hockey Federation's (IIHF) Centennial All-Star Team.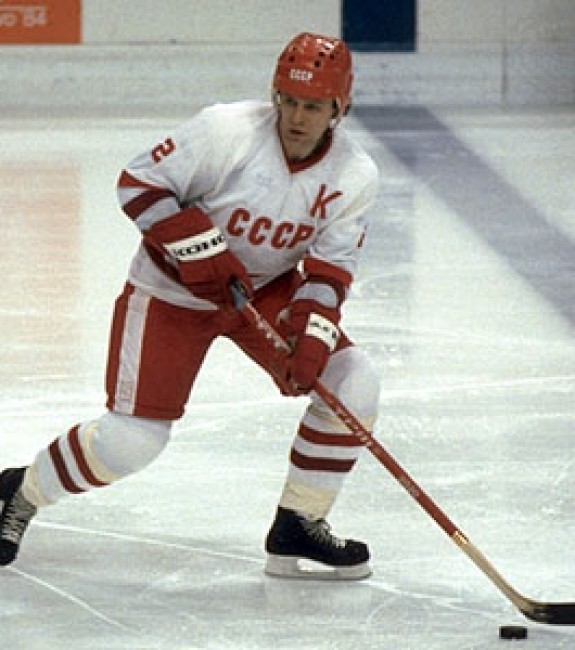 Viacheslav Fetisov Statistics
Deeper Dive
Achievements
IIHF European Junior Championships Gold Medal (1975, 1976)
IIHF World Junior Championships Gold Medal (1976, 1977, 1978)
IIHF World Championships Gold Medal (1978, 1981, 1982, 1983, 1986, 1989, 1990)
Canada Cup Gold Medal (1981)
Olympic Gold Medal (1984, 1988)
IIHF World Championships Silver Medal (1987)
Canada Cup Silver Medal (1987)
Olympic Silver Medal (1980)
IIHF World Championships Bronze Medal (1977, 1985, 1991)
Russian Order of the Badge of Honor (1978, 1981)
Russian Honored Master of Sports (1978)
Russian Order of the Red Banner of Labour (1984)
Russian Order of Lenin (1988)
NHL All-Star Game (1997, 1998)
Stanley Cup Winner (as player, 1997, 1998)
Stanley Cup Winner (as asst. coach, 2000)
Russian Order of Honor (1998)
Hockey Hall of Fame (2001)
Russian Order of Merit For the Fatherland, (4th Class, 2000; 3rd Class, 2005)
IIHF Hall of Fame (2005)
Russian Order of Friendship (2007)
Russian Diamond Award (2007)
IIHF Centennial All-Star Team (2008)
Honored Worker of Physical Culture, Russia (2008)
Sources