In today's news-dump, we've got another interview with Red Wings head coach Jeff Blashill, a look back on the 2017 draft class, and a couple of looks into the crystal ball. Let's dive in:
Blashill Likes His Team
Blashill recently did an interview with Ansar Khan from Mlive to discuss the additions to the Red Wings' roster as well as some players that will be key to their success in the upcoming season. Some highlights:
On Danny DeKeyser: "He was an extremely significant piece that when he went down it really hurt us. He had major back surgery, so you never know exactly how players are going to come back from that. If he's healthy and at 100 percent, that makes our team much better right away."
On Evgeny Svechnikov: "He's going to have to make a big impact on a night to night basis in some fashion to a degree greater than other guys. He can do it by putting points up. You can do it by bringing physicality and energy, where you change momentum of games. You can do it by becoming great at one particular area — the net front."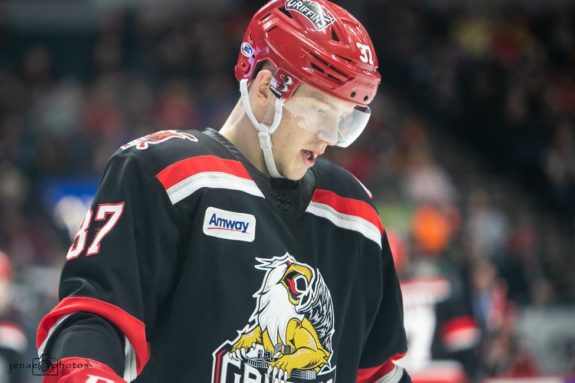 On Bobby Ryan: "He's gone through trials and tribulations over the last couple years and I was excited speaking with Bobby, seeing where he's at personally, how he feels going into the season, how excited he is to be a Red Wing. I'm hoping that all translates into a great year."
On Dennis Cholowski: "The one area Dennis can add more positives than some other guys is he does have ability, skill. Can he be more dangerous offensively? Can he be dynamic on the power play? If he can, that allows you to make more mistakes at times because you're adding those other positives and you don't have to try to play a mistake-free game."
One theme that echoes throughout this interview is that "Blash" definitely expects his team to have a much more successful season than the one they just endured. He is excited by the new additions to the roster, as well as hopeful that the team's up-and-comers can make an impact. Given that he is in the final year of his contract, Blashill had better hope that his expectations are met with results.
St. James Revisits the 2017 Draft
Helene St. James of the Detroit Free Press wrote about the lack of success so far from the Red Wings' 2017 draft class. The class, which was headlined by forward Michael Rasmussen (ninth overall), has only produced 78 games-played and 19 points – most of which come from Rasmussen during the 2018-19 season. St. James ellaborates:
"(Rasmussen) appeared in 62 games with the Wings in 2018-19, recording eight goals and 10 assists, but spent last season with the Grand Rapids Griffins because the Wings want Rasmussen (6-6, 220) to get comfortable playing center at the pro level. He projects as a bottom six forward who can increase his value as a net-front presence on power plays."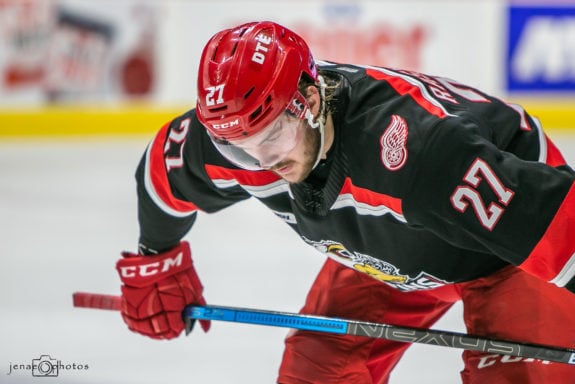 St. James goes on to point out that of the 11 prospects the Red Wings added in that draft, only six of them remain with the organization in some capacity.
Of the players that are still within the organization, Rasmussen, defenseman Gustav Lindstrom, goaltender Keith Petruzzelli and forward Jack Adams offer up some intrigue as to where they might fit into general manager Steve Yzerman's plan. While this class was far from a home-run, it is too soon to write it completely off, though a lot of the class's success will be directly tied to what the Red Wings inevitably get out of Rasmussen.
Looking Ahead to 2021-22
St. James also penned a piece looking ahead to the 2021-22 season and which prospects should be able to challenge for a roster spot that season. Filip Zadina (sixth overall, 2018), Moritz Seider (sixth overall, 2019) and Lucas Raymond (fourth overall, 2020) all made the cut, with others on the fringe of the lineup.
Two players that St. James put on the fringe are Rasmussen and Joe Veleno (30th overall, 2018.) While she repeated her bottom-six projection for the former, she had this to say about the latter:
"He'll probably need more time in the AHL so he can develop into the two-way center the Wings want him to be — he definitely has offensive skills, but he needs to balance them with being good in his own zone."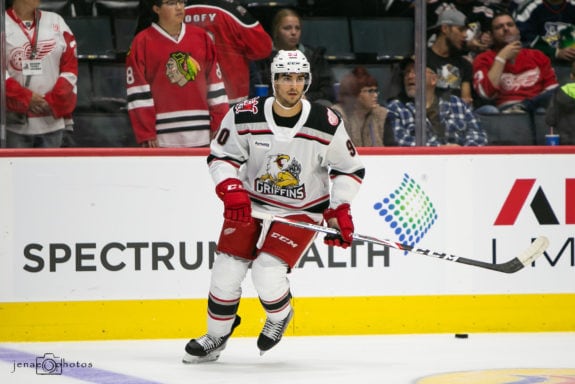 If the 2021-22 season is able to return to a sense of normal, both Rasmussen and Veleno should be among the team's top choices for a call-up in the event of an injury. Their availabilities will depend heavily on whether or not the AHL can hold a season as efforts to get the COVID-19 pandemic under control continue.
More…
Max Bultman of The Athletic recently wrote a piece where he projected whether or not the Red Wings are in a position to contend for the playoffs in 2023-24. The stipulations of the projection were that he couldn't bring anyone in from outside the organization (except for the 2021 draft) and anyone signed through the season had to be on the team. Here's the lineup he put forth:
| | | |
| --- | --- | --- |
| Lucas Raymond | Dylan Larkin | Filip Zadina |
| Tyler Bertuzzi | Joe Veleno | Anthony Mantha |
| Jonatan Berggren | Michael Rasmussen | Robby Fabbri |
| Robert Mastrosimone | Theodor Niederbach | Givani Smith |
| | |
| --- | --- |
| Albert Johansson | Moritz Seider |
| Carson Lambos | Filip Hronek |
| Dennis Cholowski | Antti Tuomisto |
Victor Brattström
Filip Larsson
What is clear from this exercise is that the Red Wings are on the right track when it comes to their rebuild. There are still some BIG holes to fill (no offense to Brattström or Larsson, but that tandem looks a bit dicey) but if all goes well, this looks like a roster that is capable of battling for a wild card spot.
Latest From THW
Stay tuned to The Hockey Writers for the latest Red Wings content and more!
---
---