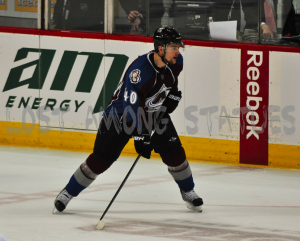 When you read the title of this article you thought one of two things.  How is that possible? -or- Who is Marek Svatos?  Today we'll answer both of those questions.
Back in February, our trade deadline preview focused on Dam Hamhuis and Svatos and the benefits each might bring to the Penguins in their quest for a Stanley Cup.  Neither found their way to Pittsburgh at the deadline, but Shero made a serious push for Hamhuis prior to free agency on July 1.  The 3rd round pick he sent to Philadelphia for the rights to the defenseman went to waste as the two sides could not come to terms and Hamhuis moved on to Vancouver.
Pittsburgh hole(s) on defense were plugged with the signings of prized free agents Paul Martin and Zbynek Michalek, but the question marks at wing still remain.  Gone are Ruslan Fedotenko and failed experiment Alexei Ponikarovsky, and only Arron Asham has come in the door.  While ESPN Insider suggested Asham may line up at wing on the top two lines, rest assured the hard-nosed former Flyer was brought in to fill a checking line role.
Bill Guerin's future remains in limbo, but with limited money available, his ship may have sailed with the Asham signing.  Guerin's back problems have become a bigger issue in recent seasons and it's not fair to expect him to play 82 games plus playoffs on Sidney Crosby's wing. (One idea that's been suggested to me is bringing Guerin in mid-season to save money and limit the wear and tear)
Expect Guerin's spot to be filled by Eric Tangradi.  The 6'4″ winger who came from Anaheim in the Ryan Whitney/Chris Kunitz trade had bad luck with injuries in recent seasons.  Most feel he'll spend a few months gaining experience and confidence in Wilkes-Barre of the AHL before a midseason call-up.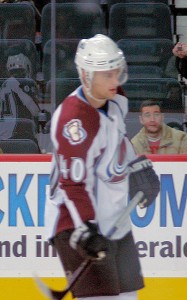 From what I saw of Tangradi at Prospect Camp last month, I fully expect him to not only make the NHL squad out of camp but also move to wing on Crosby or Malkin's line by opening night.  GM Ray Shero's lack of urgency in signing wingers suggests he may feel the same.
That leaves the Penguins with just over $1.4m to find another answer at wing.  One million dollars doesn't buy a sure thing at any position in the NHL, but when it comes to upside, Marek Svatos is the best option available for Pittsburgh.  He scored 32 goals in 2005 and 26 goals in 2007, but injuries and Colorado's depth at wing pushed him into a tough situation in recent seasons as we wrote in February:
Despite a slow start, first-year head coach Joe Sacco was happy with Svatos' effort before injuries derailed his season – a seemingly common theme in his young career. His defensive play slipped and in a new system that wasn't resulting in offensive production, Sacco was forced to move Svatos down the lineup and eventually to the press box as a healthy scratch.  The emergence of second-year winger Chris Stewart and rookie Brandon Yip, along with the veteran presence of Darcy Tucker all at right wing means Svatos is the odd man out.
A change in scenery was obviously needed and agent Richard Evans feels Pittsburgh may be a good landing spot for his client.  "Marek would certainly be able to provide offence for a team like Pittsburgh," Evans told THW Tuesday.  "Pittsburgh is a team that Marek would be very interested in joining…on paper it looks like a good fit — but ultimately that is up to Ray [Shero]."  A quick look at a few of Svatos' goals might remind fans of another former Penguin who clicked well with Crosby:
It's evident that the shift 5'10" winger has a knack for finding ways to get open in front of the net, much like Marian Hossa did during his brief stint in Pittsburgh.  Ryan Boulding of The Burgundy Blog agreed when I asked him to give THW insight on Svatos' Colorado career:
He's one of those people that have absolutely amazing hands, but may be moving just slightly too fast for it to really work out. I've seen him nearly pull off some amazing plays with fancy stickwork.

Svatos also has some of the most tenacious, puck-oriented instincts I have seen and he loves to sit on top of the crease or in the high slot. If he gets the puck while he's there, it's almost always a goal. And he is extremely fast as well. Just watching him skate and pay attention to his surroundings is exciting. When Joe Sakic hurt his back in 08-09, originally, Svatos saw some top line minutes and was actually leading the team in scoring for a good period.  He isn't afraid to play the body, though his size often sees him out muscled. I have seen him lay down some big hits, but he also likes to take hooking penalties. He gets his stick up quick.

He thrived under [current Penguins assistant Tony] Granato and it seems that the Penguins are the most natural place for him right now.
What other offers Svatos may get in the coming weeks remains to be seen.  "Once certain teams clear cap room we expect the market for Marek to expand, and we would expect to sign a one way contract at that time,'" Evans said.  At a reasonable price, the Penguins and Svatos could find mutual success this season.
Here is my best guess at the forward lineup we'll see October 7th against Philadelphia:

Disagree? Let us know why in the comments.