On the eve of the Gagarin Cup finals between Lev (Prague) and Metallurg (Magnitogorsk) Oleg Mosalev, KHL-TV commentator, shares with THW community his impressions from the semifinals and expectations for the finals.
THW: Oleg, contrary to our common forecast Lev managed to win the semifinal series against Lokomotiv (Yaroslavl). Has this been a result of deterioration of Loko's play? Or did the guys from Prague manage to improve their game in the short time between the quarterfinals and the end of the semifinals?
Yes, Lokomotiv was not as aggressive as it used to be in the games against Dinamo and SKA. Jalonen has managed to outplay King and prevented his colleague from getting crowned! Lokomotiv has failed in showing a fruitful attacking style, whereas Lev played cleverly against the opponents in home zone. Vehanen played a more reliable game as compared to his vis-à-vis. Plus, of course, the fact that Lev scored first in all the games and this almost always happened in power play situations is another proof that Loko's coaches have not managed to prepare the team for the semifinals properly. More than that, I always had a feeling that Lev was even not fully unfolding its potential!
THW: Speaking about the semifinals' pair Salavat Yulayev (Ufa) vs Metallurg: what did Salavat lack in order to seriously compete against the steelmakers from Magnitogorsk?
Many players simply lacked experience. Then, the skills of Magnitogorsk players were superior to those of Ufa. Koshechkin had more luck than Vasilevskiy, who can nevertheless be considered this season's discovery! Worth mentioning is the steelmakers' defensive zone game. In fact, that is how they have built their victory: laying a small brick on another one!
THW: Both semifinal series ended with obvious power advantage of their winners. Still, the losing teams have managed to win games (even if only one). Due to what factors were these bitter-sweet victories obtained?
It is hard to go the whole long way making only one breath. Both Metallurg and Lev have managed to secure a good advantage after the first few games and to have a right for making mistakes. Both winning teams misfired only once. But during the series their advantage was undeniable!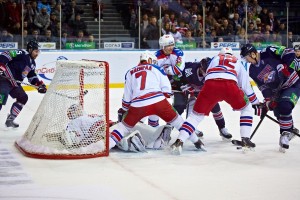 THW: Lev and Metallurg go into the finals tomorrow. Can you say who looks stronger before game 1? What are the reasons for this? And what the underdogs can do against their seemingly stronger opponents?
I am expecting 6 to 7 games in the finals! All the lines are more or less equal. If Lev manages to neutralize the starting trio of Metallurg, then they will have good chances for making a fierce competition on the road to Gagrin Cup! But I just cannot believe that the trophy could leave Russia!!!
THW: The home bases of the teams are located in different time-zones, even on different continents. Will the tours across continents result in acclimatization problems for players, coaches and teams generally?
After the series against Admiral there is nothing that can frighten Metallurg! And Lev has also got used to the KHL realities. So, I say there is no problem and every team has equal conditions!!
THW: What do you expect from the finals? What and who shall the supporters of the teams and hockey fans all over the world follow during the Gagarin Cup 2014 finals?
I do not expect open, spectacular hockey. There will be a lot of struggle going on, a lot of hard work. Both teams are good at power plays. The Koshechkin vs Vehanen duel is sure to take place. The team prevailing in these components of the game will be savoring champaign from the Cup!!! Wish all of us great hockey!!!!!!
THW: Thanks a lot, Oleg. And congratulations for your success in the KHL commentators' competition for working in the finals. Enjoy the series!
Hockey has taught me what passion is about and it continues to do so. That is why I have a strong intention to live my passion for the game.