Every team has prevalent jersey numbers. Players come and go, but those numbers are always worn. On the other hand, some numbers have never been worn, and those have only been worn once. Of course, the first number that a player has never worn will stay that way forever, at least in the Minnesota Wild organization.
Some find the tradition silly, and some find it very interesting, but regardless of what people think, number one has been dedicated to the fans since day one of the Wild franchise. While that's the first number in the list of unworn numbers, the rest are 50, 66, 69, 78, 80, 81, 84, 85, 86, 87, 88, 91, 93, 94, 98, and then there's 99. Everyone who's a fan of the NHL knows 99 is retired across the league for Wayne Gretzky.
To keep on the idea of retired numbers, the Wild recently retired their first in honor of a player, and that was the No. 9 for none other than their longest franchise captain, currently Mikko Koivu. With Koivu's being the only jersey retired, it's time to discuss the numbers that have only been worn once in their 22-season history, obviously not including 2023-24.
43: Warren Peters
This one goes back a little over a decade, and unfortunately, he didn't have a very long career. Warren Peters played just four seasons in the NHL from 2008-2012, and two of those seasons were with the Wild. During the 2010-11' and 2011-12' seasons, he was with the Wild and wore the number 43. No one in the organization wore it before him, and no one has worn it after. During his time in Minnesota, he played 69 games and scored two goals, four assists, and six points over those seasons.
46: Jared Spurgeon
Everyone knows this number, as Jared Spurgeon is still an integral part of the franchise. He's the team captain and has been with the organization for 13 seasons. Until researching this article, I wasn't aware that Spurgeon was the only 46 the Wild have ever had, but it's pretty fitting as Spurgeon is one of a kind, and so is his number.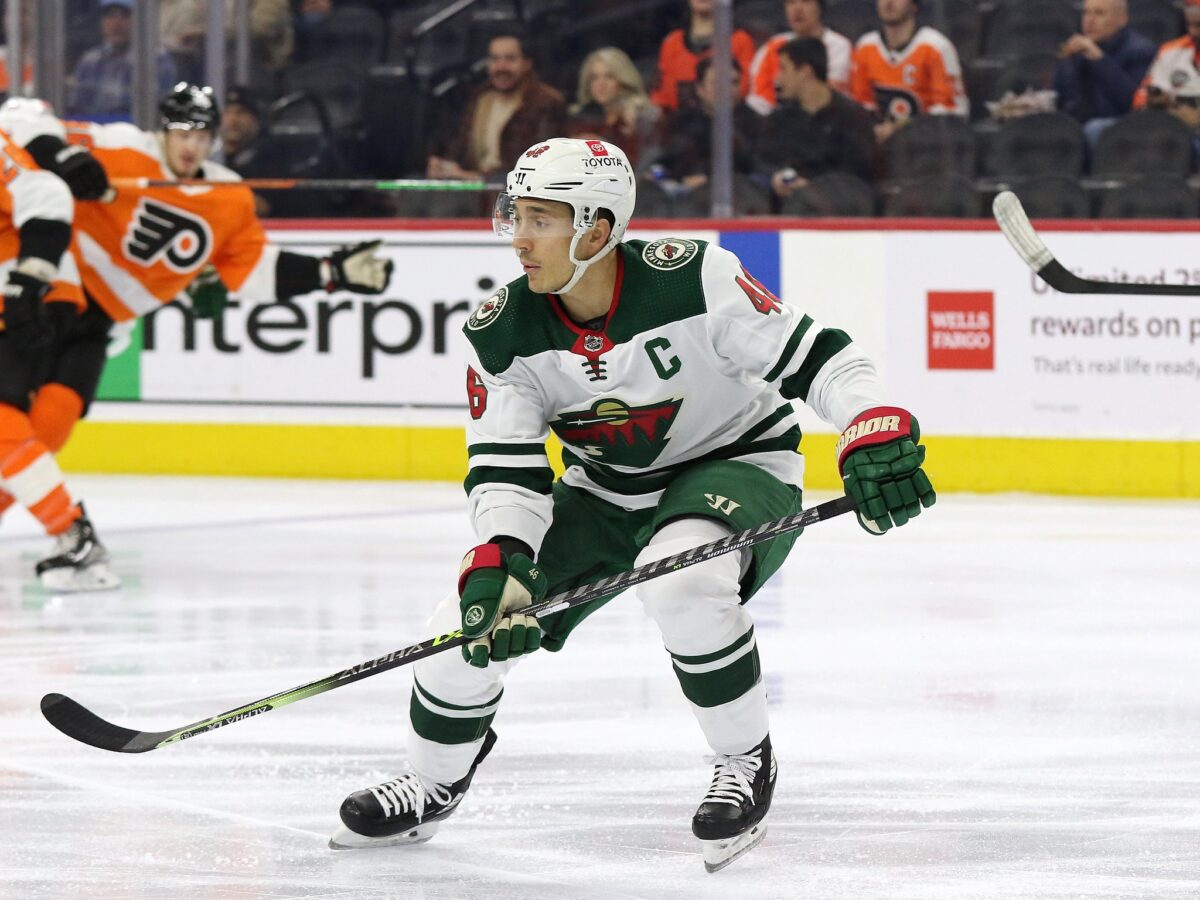 Over his first 12 seasons with the Wild, he's played in 851 games and accumulated 110 goals, 269 assists, and 379 points, but that's just his offense. He's one of their most potent defensemen, and it's important to note his defensive game, most notably his 1,461 blocked shots. He still has a lot of time left in his career, and hopefully, season number 13 will be even more successful for the lone 46.
51: James Sheppard
I'll admit, I almost forgot about James Sheppard despite the fact he was one of my favorite players in his very short time with the Wild. Unfortunately, he was also one of the most underwhelming players; even though he was a first-round pick in 2006, he went ninth overall. He was expected to do great things, and while his first two seasons were promising, his third went downhill, and his fourth was pushed back a season due to an injury.
Following his return from that injury, Sheppard was traded to the San Jose Sharks. He did make a small comeback but ultimately ended his career just seven years after it started. He spent three seasons with the Wild, and in that time, he played 224 games where he tallied 11 goals, 38 assists, and 49 points. As short as his career was in Minnesota, so was the number 51, as he's the only one to wear it in team history.
52: Connor Dewar
Everyone who follows the Wild these days knows this name, as he's shown some real promise, especially on the penalty kill that included three shorthanded goals. Connor Dewar made the full-fledged jump to the NHL this past season and decided to stick with the number 52. He's only played two seasons with the Wild, but that's translated to 116 games with eight goals, 16 assists, and 24 points, and his stats have been rising. Hopefully, Dewar will carry the number 52 strongly again this season.
54: Brett Bulmer
Brett Bulmer was a little more recent but still over seven seasons ago. He spent three seasons with the Wild from 2011-2016, with two one-year breaks. He played a total of 17 games and had three assists. He's been the only player to wear the number 54 for the Wild, and it appears it will stay that way for now.
57: Dakota Mermis
He has yet to make a permanent appearance in the NHL, but Wild fans are becoming aware of Dakota Mermis and his former number 57. He's still in the organization but recently changed his number from 57 to 6. He's been in the NHL since 2017-18 but didn't join the Wild until 2020-21 and has been with them since. He's played seven games over the last few seasons and has yet to record a point. Hopefully, with his number change will also come production change.
58: Mason Shaw
Mason Shaw is another player who changed his number this past year, going from 58 to 15. Obviously, several Wild players have worn the number 15, including Andrew Brunette and Matt Hendricks. He's been with the team for two seasons, one wearing 58 and the other wearing 15.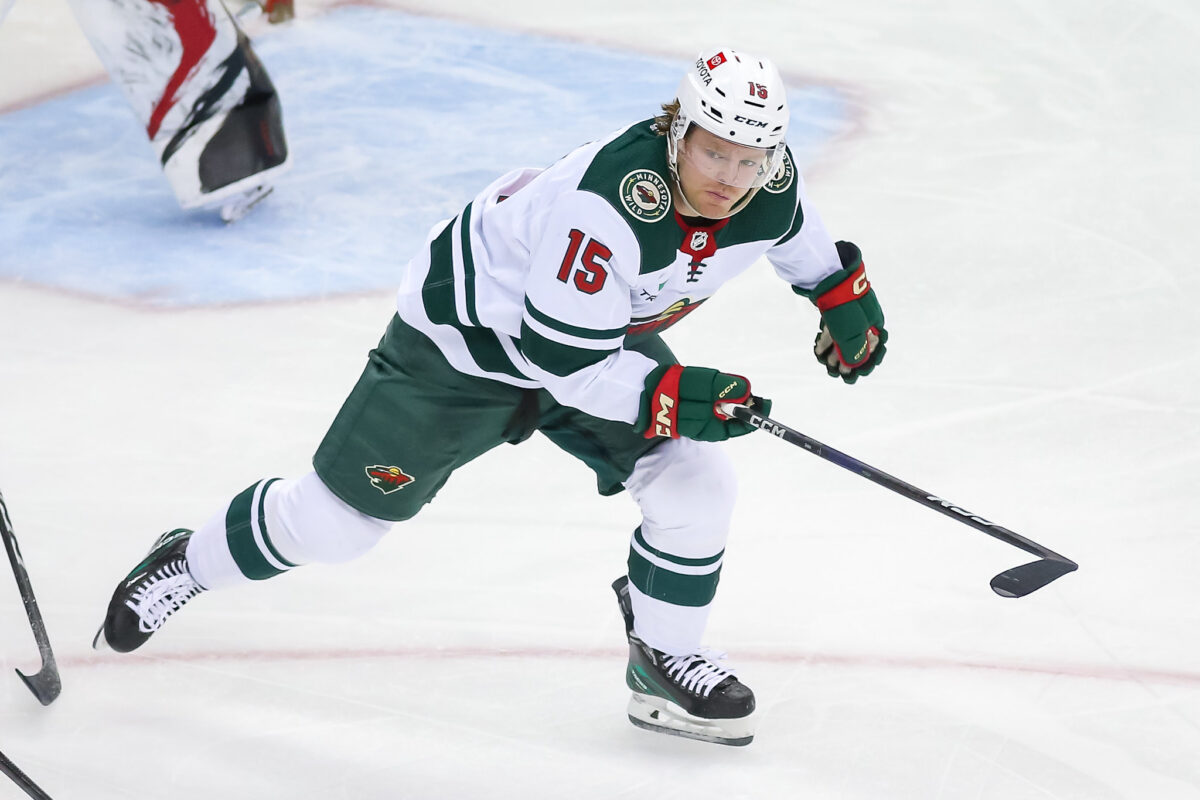 Over the past two seasons, he's played 62 games and recorded seven goals plus 10 assists for 17 points. He was on a solid streak until an unfortunate fall that resulted in his fourth ACL tear. Hopefully, he'll be able to pick up where he left off wearing number 15 this coming season.
61: Brennan Menell
The number 61 only graced the Wild bench for one season and just five games of that season. It was worn by Brennan Menell, who, to no surprise, recorded zero points in those five games. However, he did have four shots on goal and a penalty. He was quickly in and out of the lineup, and his number went with it.
64: Mikael Granlund
By far one of the Wild's best players to come and go and likely the best number 64 they'll ever have was Mikael Granlund. He played seven seasons for the Wild, which amounted to 461 games with 93 goals, 224 assists, and 317 points. He was one of the team's best offensive players then, and he wore number 64 for the entire time.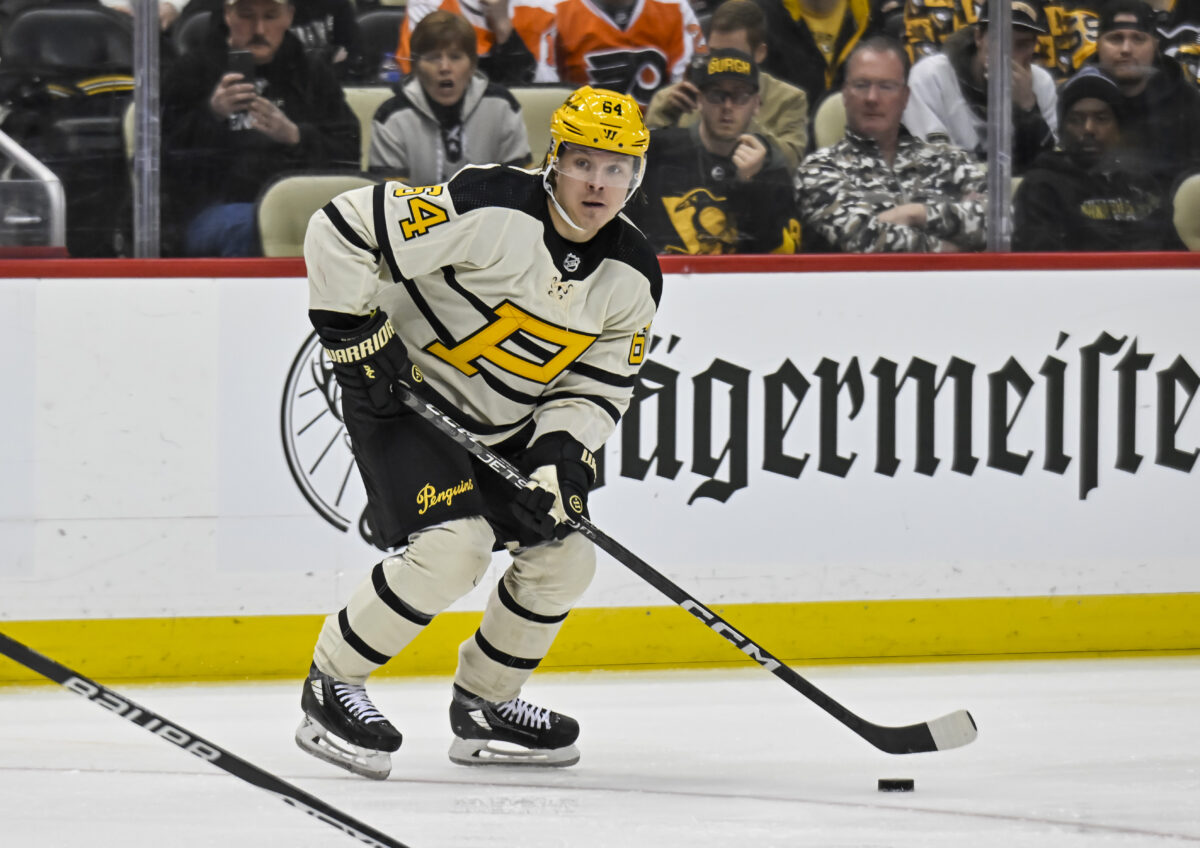 While he was strong at five-on-five, his power-play production was even better. Of his 317 points, 90 were on the man advantage, and 20 were power-play goals. His 929 shots on goal out of those 461 games were even more impressive. Hopefully, the next player to wear 64 will be as offensively strong as Granlund.
65: Tyler Cuma
Of all the players on this list, Tyler Cuma's number 65 was the shortest-lived of them all, with just one game played. His single appearance came back in 2011. He didn't register any points, but he did land in the penalty box. The next player to wear 65 will hopefully play more than one game and find a way to produce.
67: Benoît Pouliot
Benoît Pouliot started out his career with the Minnesota Wild, wearing the number 67. He spent four seasons wearing the red and green, and over that time, he played in 65 games with just nine goals and nine assists for 18 points. Like many, he was a promising prospect that didn't work out and moved on shortly after he arrived.
68: Damien Giroux
The number 68 recently graced the Wild lineup during the 2022-23 season and was worn by Damien Giroux. He played in one game last season and assisted on one goal for one point. However, he was at the end of his contract and was not extended a qualifying offer. So, like the number 65 before it, the number 68 was involved in just one game in one season. It'll be interesting to see who will wear the number 68 and what they can do.
70: Oskar Sundqvist
He spent less than a season with the Wild, but he made his mark. If they could've, the Wild would've re-signed him. That player is Oskar Sundqvist, and he wore the number 70 for his time in the Wild's organization. He played just 15 games for the Wild, and during that time, he recorded three goals and four assists for seven points. The Wild will miss Sundqvist and his number 70; hopefully, they find someone else just as fitting to wear it.
74: Samuel Walker
One of my favorite up-and-coming players for the Wild is Samuel "Sammy" Walker, and he chose the number 74 for his jersey, at least for now. He joined the NHL roster for one season, where he had two point in nine games. He has one season left and will be looking for every chance he can get to prove he deserves another contract. With the Wild's money issues, it may be difficult, but the number 74 will be around for at least this season.
75: Ryan Reaves
The player who went from most hated to most loved was the only player to ever wear the number 75 for the Wild. That player was Ryan Reaves, who unfortunately moved on but impacted Wild fans. He was on the team for 61 games and didn't add much offense, with five goals and 10 assists for 15 points, but his personality was everything.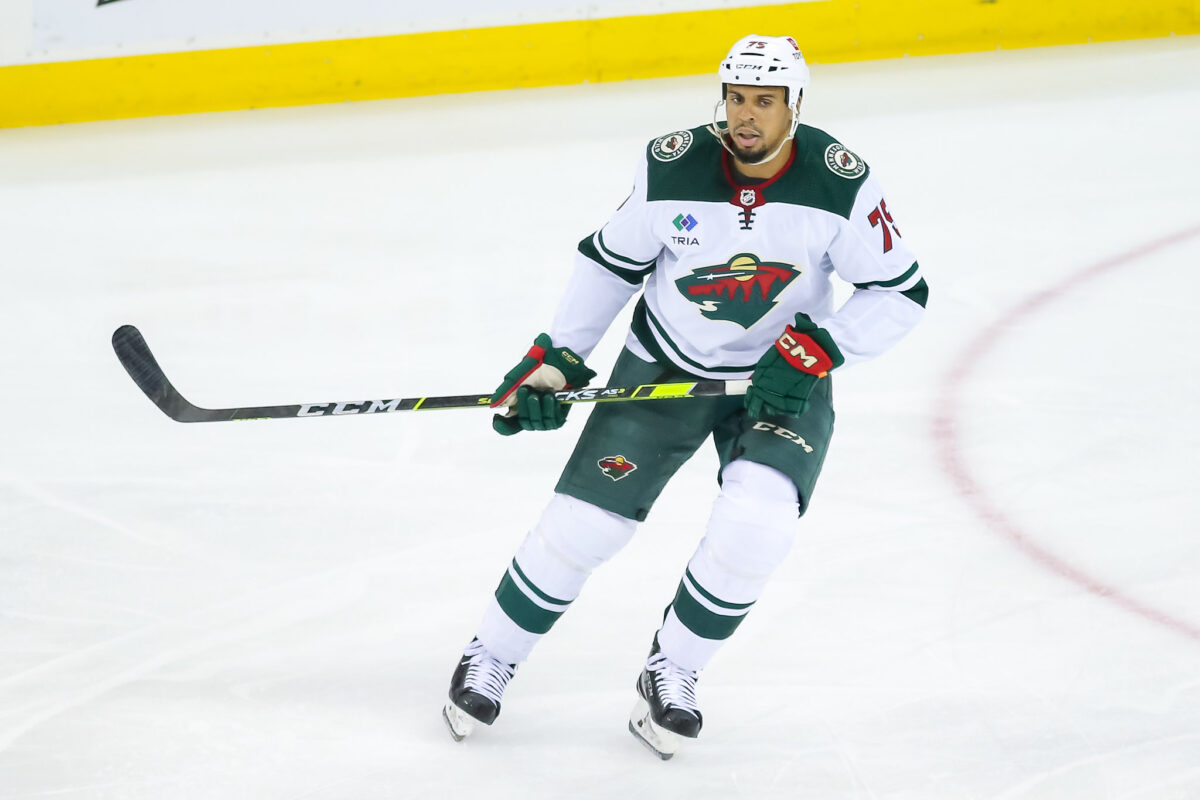 They will miss number 75 greatly between his physicality and contagious, assertive attitude. He had a way to lift the entire team and give them energy. Hopefully, someone will fill that position for the Wild, even if they don't wear the same number.
79: Jarod Palmer
Although I would've been in high school then, I don't remember seeing number 79, Jarod Palmer. However, he did play during the 2011-12 season, where he had a goal in six games. He also had 14 shots on goal but also four minutes in penalties. That was the only season the number 79 saw the ice; the same can be said for Palmer.
83: Matt Foy
Going back even further, I remember the name Matt Foy and his number 83. He played three seasons for the Wild back in 2005-2008 and again was a player who didn't provide a lot of offense. However, he knew how to throw his weight around. As the numbers get higher, fewer players wear them, and it'll be interesting to see if someone wears the number 83 again.
89: Frédérick Gaudreau
We're into a few current players now, and next on the list is number 89, Frédérick Gaudreau. He's been with the Wild for the past two seasons and has impacted the coaching staff and fans alike, some good, some bad. Out of those two seasons, he's played 158 games and amassed 33 goals plus 49 assists for 82 points.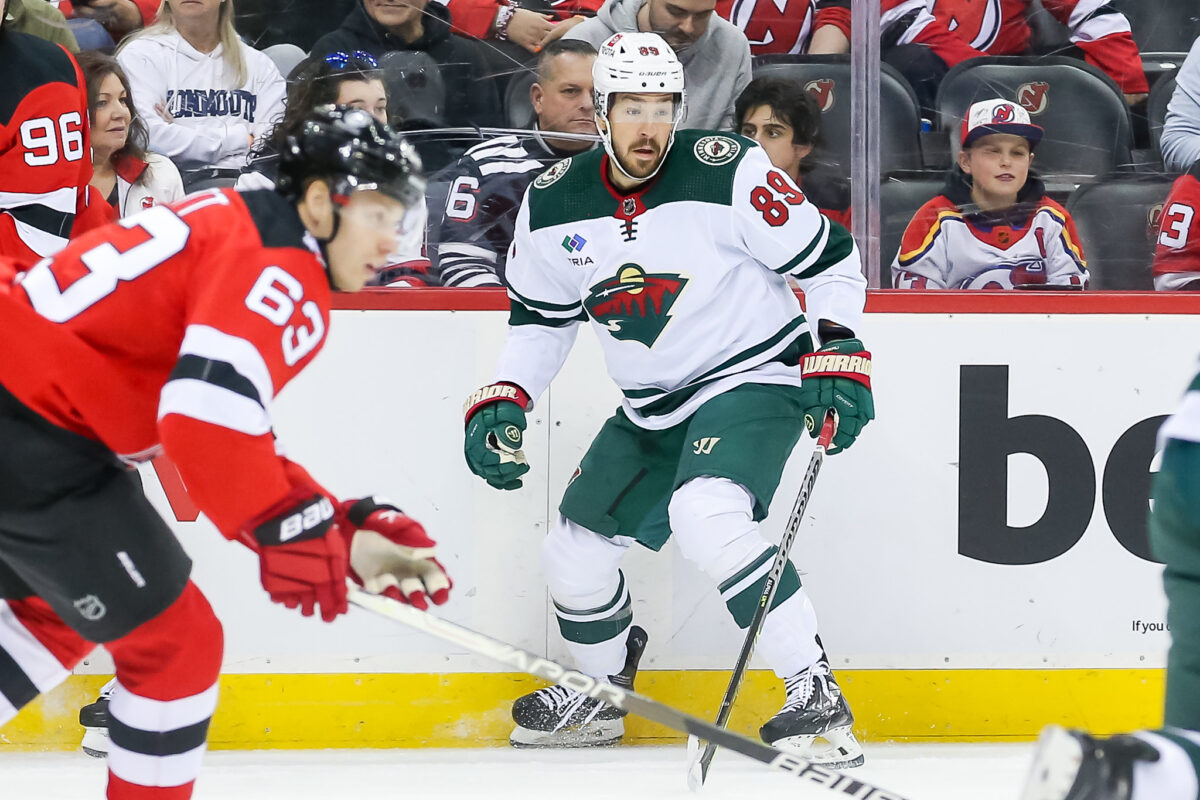 While his offense has been potent, his defensive game also deserves attention. Out of those 158 games, he's blocked 95 shots on goal and had 80 takeaways. Gaudreau gets a lot of heat for his lack of scoring, but last season he was their best shootout player, with eight goals scored during their shootouts. He just signed a new contract, so 89 will stick around for a while.
90: Marcus Johansson
Another current Wild player to make this list, Marcus Johansson, wears the number 90. He joined the Wild for the second time last season at the trade deadline and played 20 games. He scored six goals and 12 assists for 18 points in that time and was a roll until the postseason ended abruptly. His offensive show is the reason the Wild elected to extend his contract and keep number 90 around for two more seasons.
92: Branko Radivojevič
Branko Radivojevič is easy to remember because it's easily one of the hardest names I've ever had to pronounce. He wore the number 92 for the two seasons he played with the Wild. Over those seasons, he played in 155 games and had a decent offensive showing with 18 goals plus 23 assists for 41 points. He finished his NHL career with the Wild. The No. 92 followed suit and hasn't been worn since.
96: Pierre-Marc Bouchard
We'll finish this list with two of my favorite players, the first being number 96, Pierre-Marc Bouchard. The Wild player was known for his spin-o-rama moves and striking bursts of speed. He spent a decade in Minnesota and played 565 games, posting 106 goals and 347 points. He was an impressive skater to watch and left lasting memories with Wild fans.
Related: Top Wild Players to Draft in Fantasy Hockey 2023-24
---
Latest News & Highlights
---
Unfortunately, he had concussion issues, and it affected his career. Being a minor player, he was on the receiving end of many hits. Hopefully, the No. 96 96 will return and on a similar player with much finesse.
97: Kirill Kaprizov
Finally, by far, he's the best player on this list. He's likely to have his No. 97 up in the rafters when his career is over, Kirill Kaprizov. Obviously, he's been the Wild's guiding light the last few seasons but even with his rough patches, he's their best player. The only disappointing part of his career thus far was his postseason performance last season, but that's hopefully one minor blemish that will soon be forgotten.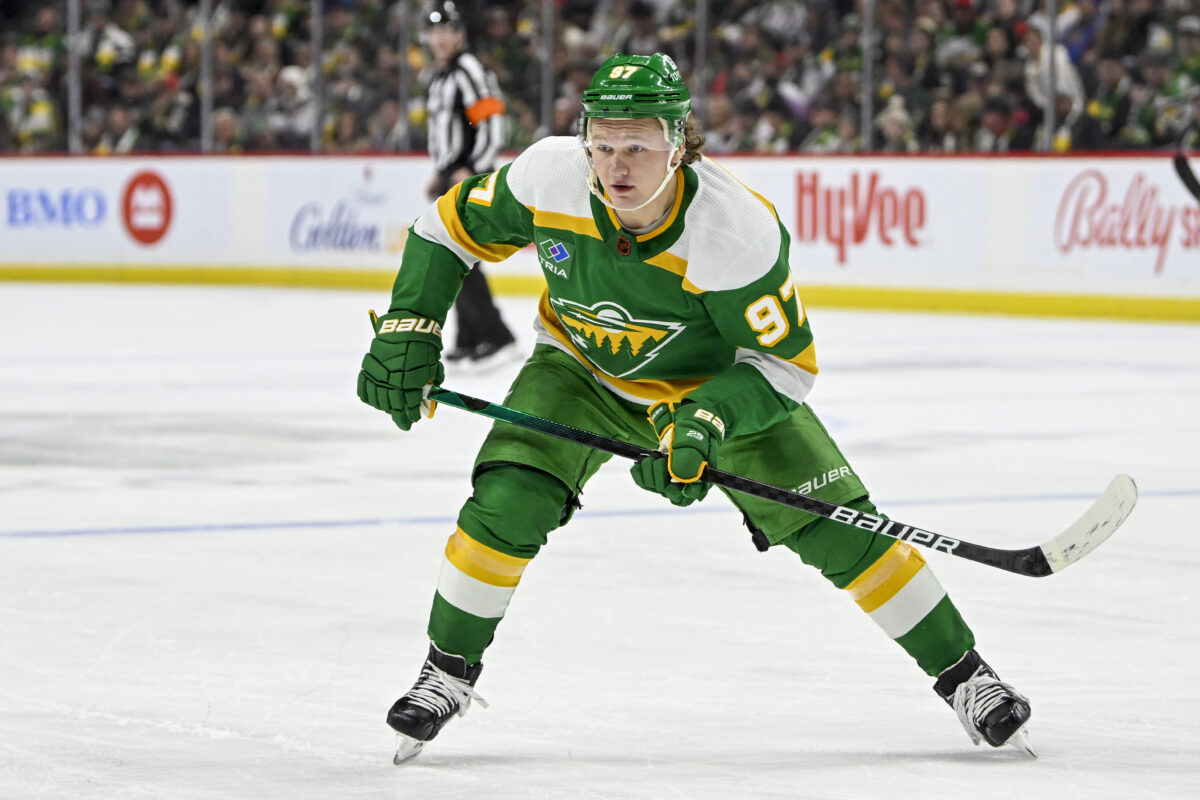 In his three seasons with the Wild, he's played 203 games with 114 goals and 120 assists for 234 points. He's already amassed more points than most of the Wild's players in a short time. Whenever Kaprizov's career ends, there will likely never be another 97 for the Wild, possibly another strong player but not 97.
Wild's Uniqueness
Clearly, the Wild don't have the 50-100-year history like other NHL teams, but they're starting to build a history with over 20 seasons now. Many of these players were quick in and out, young players trying to make their marks, and unfortunately, they fell short. However, several of them made their marks on the organization and continue to do so. Jersey numbers are a fascinating topic to research, and I can't wait to see more numbers over the years.
Jersey numbers were from hockeyreference.com
---

---