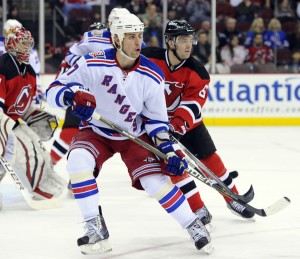 New York Rangers center Brandon Dubinsky was given a game misconduct and kicked out of Game 2 of the Rangers-Senators series just 2:15 into the first period. He was given the penalty for being the third man in a fight between Brian Boyle of the Rangers and Matt Carkner of the Senators.
Rule 46.16: Third Man In states "A game misconduct penalty, at the discretion of the Referee, shall be imposed on any player who is the first to intervine (third man in) in an altercation already in progress."
The key phrase here is "at the discretion of the Referee," which makes it a judgement call. This is a good rule the majority of the time as it keeps teams from ganging up on one player, but it was a bad call this time. There's no doubt Dubinsky came into the altercation late, but it was only in an attempt to help his teammate who was getting mugged in the corner. The problem comes from "altercation" being so loosely defined in Rule 46.3 as "a situation involving two players, with at least one being penalized."
Check out the video above. Carkner comes across the entire ice surface, checks Boyle with his elbow up high then immediately sucker-punches him twice bringing him to the ice where Carkner procedes to throw at least four haymakers at a vulnerable player completely unable to defend himself. Boyle didn't get so much as a roughing minor on the play, making the call of third man in during an altercation laughable.
Dubinsky wasn't trying to join Boyle in a beat down of Carkner, he was protecting a teammate, plain and simple. He doesn't throw a punch, just tries to stop an ambush the referee was standing around allowing to happen. It was the referee's decision whether or not to give him the game misconduct and by doing so, means he felt Dubinsky was giving Boyle an advantage in a fair fight.
Boyle is no saint himself, he threw a few punches at Senators defenseman Erik Karlsson in Game 1 to start what is becoming the nastiest series of the playoffs so far. But could he really be expected to just lay there and take it? Boyle only threw a few soft ones while Carkner was actively beating a fallen player, breaking one of the more sensible unwritten rules in hockey.
The dirty play wasn't done there, however, as the Rangers got even in the cheapshot department as rookie Carl Hagelin hit Senators captain Daniel Alfredsson with an elbow, receiving a major penalty. Alfredsson did not return to the game.
Dubinsky's presence was clearly missed as the Blueshirts blew two leads and lost in overtime on a goal by Chris Neil. The series will head back to Canada's capital tied at one game apiece and Game 3 is Monday at 7:30.
A native of Monroe Township, NJ, Tim received his Bachelor's Degree in Contemporary Journalism from Endicott College in Beverly, MA. A Flyers fan growing up, he has gone to numerous events including each installment of the Winter Classic, the Stanley Cup final and the 2010 Olympics.
In addition to The Hockey Writers, Tim also writes for The Good Point and interned with The Hockey News from Jan. to May 2011, contributing to their book Hockey's Most Amazing Records. Outside of hockey, Tim enjoys reading and watching movies and extreme sports such as snowboarding and skydiving.