The Buffalo Sabres enter regular season games 19 and 20 owning a 10-6-2 record and have gone 6-2-2 in their last 10. The team hits the road to take on a pair of western conference leaders Friday and Saturday night in Winnipeg and Minnesota with a three-game winning streak on the line.
Mixed among the steady built hype and storylines generated thus far by the blue-and-gold is a milestone years in the making. Casey Mittelstadt, just five days shy of his 20th birthday, will take the ice at Xcel Energy Center in St. Paul on Saturday night for the first time as a professional hockey player.
His hometown of Eden Prairie, MN, is 30 minutes west of the arena. The Sabres young forward could not have asked for a better gift. Well, unless it is paired with a win…and maybe a goal or two for number 37 in front of his family and friends in attendance.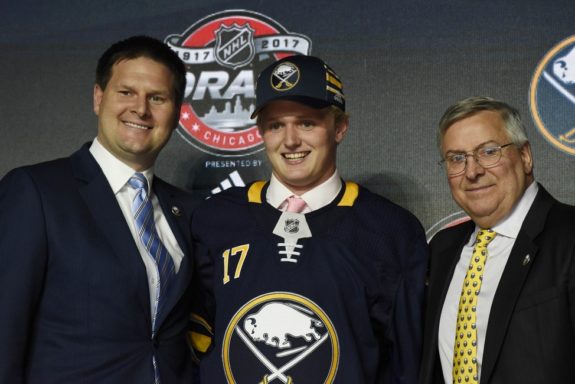 Homecoming is a common theme in late-November, a time when people all over North America travel many miles for food, fun, and reconnecting. The Mittelstadts undoubtedly circled Nov. 17 on the calendar as their former Minnesota high school hockey star would be coming home, too.
Though instead of turkey, stuffing, and mashed potatoes, he and his teammates come hungry for two points in the standings. The following is a recollection as to how he got here in a relatively short time, and thoughts of the anticipation of a successful career to come.
Related: Upstart Sabres Silencing Doubters
Mittelstadt's Road to Buffalo
He burst onto the scene as a teenager during his junior year of high school. It was a season that left many wondering if he would return to Eden Prairie to finish his varsity career and captain the Eagles. The USHL's Green Bay Gamblers were vying for his play time, or he could graduate high school early and enrol at the University of Minnesota to begin a college career.
But his yearning to battle one last time for a Class AA state title was too strong. High school hockey is to Minnesota what high school football is to Texas. The appeal goes beyond a game. In his senior year, the speedy center averaged 2.4 points per contest, was named "Mr. Hockey" as top high school player in the state, and became the Star Tribune's All-Metro Player of the Year.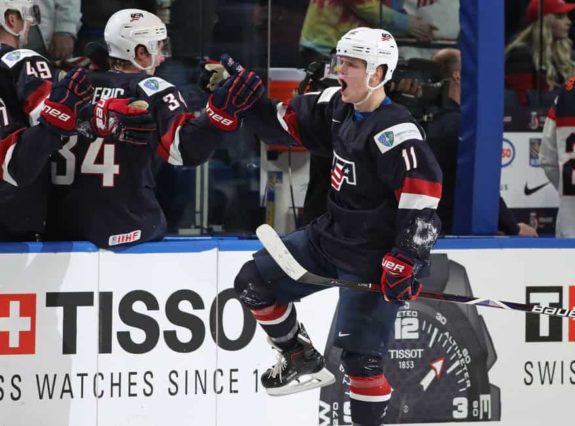 The team would lose in the semi-finals of the state tournament, coming up short of the ultimate goal, but he still claims that final season as the best year of his life (from 'NHL Draft: Casey Mittelstadt's unique path from high school to likely top 10 pick', USAToday HighSchool Sports, June 21, 2017).
Then came the NHL combine, where the 6-foot-1, 199-pound high school senior made a name for himself in an unexpected way. The combine is an event where on-ice highlight videos are put away. A player's skill takes a backseat to strength, conditioning, and personality. Mittelstadt's strength (or lack thereof) put him at the bottom of the performance list, but when the weekend ended, Buffalo still had him high on the draft board. After all, pull-ups or not, he is still capable of plays like this one.
The 2017-18 season featured the eighteen-year old's name on several jerseys. After the 2017 combine and entry draft, where he was selected 8th overall, Mittelstadt joined the Minnesota Golden Gophers, Team USA, and finally the Buffalo Sabres. His entry-level contract required that he leave Minnesota, but there was a job opportunity already awaiting in Western New York.
Thanksgiving Homecoming in Minnesota
General manager Jason Botterill envisioned that a pro sweater would be Mittelstadt's last for a while, but only time would tell if the top-six center could handle the rigours of NHL hockey. His first taste of action was a six-game clip to end the Sabres' regular season before taking four months off to prepare for his first full training camp. The 19-year-old tallied five points (one goal and four assists) in his extended debut, leaving a strong impression with Sabres brass and creating a new yearning to return to that lineup permanently.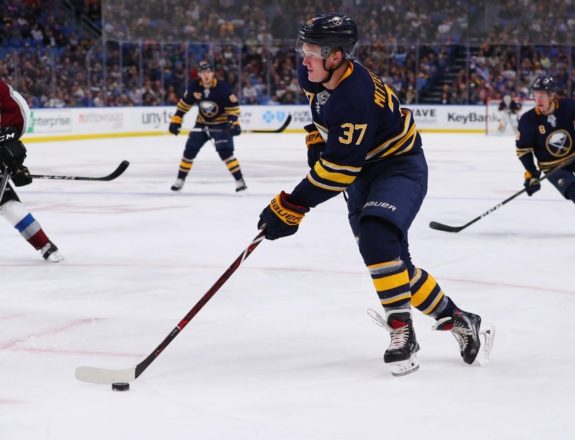 As summer turned to fall, a new crop of draft picks, free agents, trade acquisitions, and other camp invites accompanied the familiar Sabres faces for a new season. Mittelstadt arrived after an offseason spent at home instead of traveling for training, participating in both the team's Development Camp and Prospects Challenge.
The muscle memory of summers spent in Minnesota snaps back quickly once the temperatures rise. However, this new timeline carried a little more weight. Instead of beginning his sophomore year with the Gophers, his job was to earn a second line center roster spot behind Jack Eichel. That is a long ways away from a Minnesota High School hockey title.
Mittelstadt had a strong camp and preseason, one that warranted making the opening night roster. Despite the debut that occurred earlier in the year, returning to Buffalo with sights set on his first full NHL season is the latest chapter of a staggered journey. One that leads to Xcel Energy Center on Saturday night for a special matchup – a game he will truly never forget.
A Bright Future Ahead
There are countless examples of teams wavering with their high draft picks between the NHL and AHL level. Development is a tricky process where caution often comes into play and the fear of stunting a player's growth overpowers immediate gratification of having him on the roster.
You know you want to see this again.#SickMitts 🚨 pic.twitter.com/Iyf0NkIMtH

— Buffalo Sabres (@BuffaloSabres) November 12, 2018
That level of thinking has entered the minds of Sabres coaching and management, yet no. 37 remains with the big club, having played in all 18 games, learning to play in the NHL each night. His score sheet production is not what one would hope to see (averaging 0.33 points per game), but the offense will come. He is already showing some finesse in the shootout.
The statement made about Casey Mittelstadt and his playing for the Buffalo Sabres is that the team believes his breakthrough is coming. It may or may not be in Minnesota on Saturday, but that is certainly possible. His level of talent, worthy of a top-10 pick despite what combine statistics show, will rise to the NHL level with only one thing: exposure. His seeing, feeling, and experiencing the speed and lifestyle of professional hockey will mold him into a professional hockey player. The Sabres are slowly working to make that a reality.
There are few players capable of enduring what he has accomplished since 2016. But the teenager (for a few more days) has waded through top domestic and international competition with grace and ease. His hockey IQ, quick hands, speed, and powerful shot will combine to create one of the Sabres' best forwards. In the meantime, fans are pleased to enjoy his coming home on Saturday night to mark a moment that most could only dream to achieve.