As the Montreal Canadiens keep losing ground, Marc Bergevin's biggest card to play remains Alex Galchenyuk.
While the Habs' general manager did come out and say the team wouldn't give up on the forward after the team's 1-6-1 start, things are different now. It's a month later, the team is still doing badly in the standings coming off two straight embarrassing defeats and his desk chair is getting mighty hot.
"We won't give up on the kid," Bergevin on Galchenyuk

— Eric Engels (@EricEngels) October 25, 2017
Reports Bergevin is one of the most active GMs right now aren't doing anything to instill confidence in the notion that he'll keep his promise and not make a trade out of desperation. However, if it has to happen, there's no reason why the Canadiens can't come out on top… other than Bergevin having consistently undervalued the one-time 30-goal man.
Here are the top three scenarios in which it would be acceptable to move Galchenyuk:
3) Winger with Similar Upside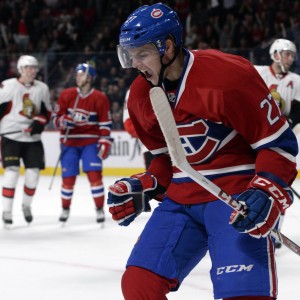 To be clear, any scenario in which the Canadiens get a mere draft pick in exchange, even if it's a first-round one in what should be a deep draft, would be unacceptable.
This is because Galchenyuk is a third-overall pick. Not only that, but the Canadiens have put five years into his development. It would be incredibly rare for a pick coming back the other way to be worth giving up the scoring winger/ center.
That's not even taking into account how Galchenyuk serves as proof of the organization's questionable development tactics. Michael McCarron, Nikita Scherbak, Jarred Tinordi, etc. The list evidencing the team's poor draft choices/ reputation when it comes to developing their prospects goes on and on. There are no guarantees the Canadiens wouldn't screw up another top-three pick regardless of that future player's potential.
Thankfully, because any trade Bergevin potentially makes would have to improve the team today, it's an unlikely scenario to say the least. As such, the absolute minimum the Canadiens would have to get in return is an established winger with similar upside. Even then, it would be a questionable decision as the Canadiens would essentially be admitting Galchenyuk as a center has failed as an experiment (if they haven't already).
This is the worst acceptable option for the Canadiens to pursue, but it is the most realistic. That's because the Canadiens' trading partner would essentially be banking on Galchenyuk's pedigree down the middle and his past success in the offensive zone to the point of being willing to give up a proven winger.
It's not as much of a gamble as you may think, with some rumors indicating Chris Kreider of the New York Rangers could be headed the other way. At face value, ignoring the role Kreider played injuring Carey Price back in the 2014 playoffs, it wouldn't be a half-bad move. Kreider is a big, fast body who's good for around 25 goals and 50 points.
However, you get the sense that's about where Kreider tops out at, whereas Galchenyuk only scratched the surface of his potential when he scored 30 goals two seasons ago. They may each have the same amount of seasons under contract before unrestricted free agency hits, but that's about the only thing similar about their games, including their relative upsides. Galchenyuk objectively has more, making this a bad hypothetical deal for the Habs.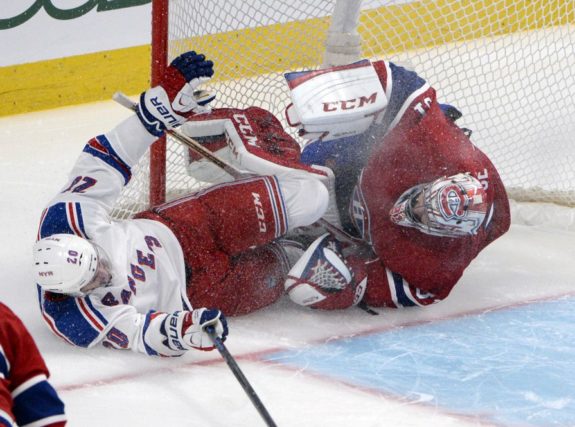 2) No. 1 Center
While this returns ranks as the second-most-acceptable one, it's arguably the least likely. Why would a team give up a No. 1 center of their own in exchange for Galchenyuk, who, for all intents and purposes, has failed to hold on to the same role with the Habs?
The only reason it would make sense is if the player coming back the other way is less skilled than Galchenyuk (meaning either on the serious decline or not actually a No. 1 center). That or they have fewer years under contract and are potentially headed to unrestricted free agency as we speak (like Kyle Turris was up until he was traded to the Nashville Predators).
On the off chance, Bergevin is able to secure the rights to a legitimate No. 1 center with at least a few years remaining under contract, the move would definitely be welcome by Habs fans. Of course, for Bergevin to land such a coup, it would mean him being forced to admit that Jonathan Drouin is not actually the team's No. 1 center. Don't hold your breath.
1) No. 2 Defenseman
The Canadiens arguably gave one up to the Tampa Bay Lightning in Mikhail Sergachev just to acquire Drouin. If Bergevin can pull it off though, there would be no harm in flipping Galchenyuk to replace what they just lost. In fact, it would be huge accomplishment.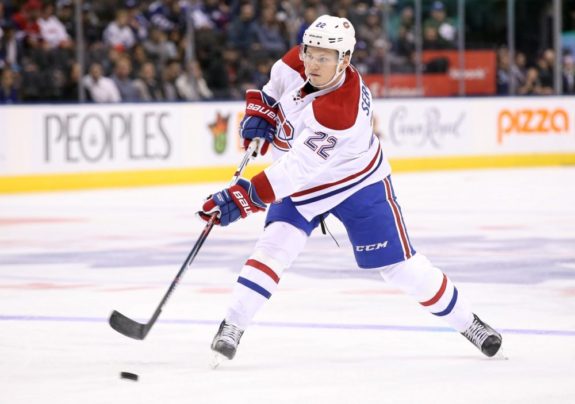 In essence, they would have just replaced Galchenyuk with a local boy and Sergachev with another puck-moving defenseman with top-pairing potential, because make no mistake: The Canadiens still need that puck-moving defenseman to play with Shea Weber into his twilight years and help to kick start the offense right now.
Of course, defensemen of that ilk are rarely available, unless they play for the Canadiens apparently. With Sergachev, P.K. Subban and Andrei Markov gone for starters, Bergevin has "effectively" (term is being used very loosely here) re-tooled his entire defensive corps over the last few seasons making the No. 2 spot the biggest hole in the line-up.
Nineteen-year-old Victor Mete has played admirably up to this point, but his three assists aren't getting job done and his diminishing ice time isn't doing him any favors. He hasn't played above 14 minutes since November 2. He hasn't played over 20 since October 20.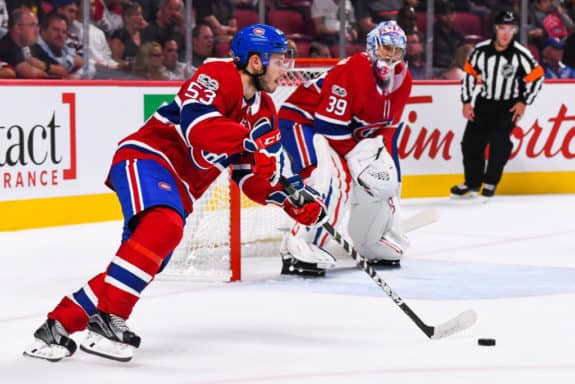 It's gotten to the point where Jordie Benn is slowly but surely catching up in terms of ice time as Weber's top partner. All due respect to Benn, but that is a disturbing turn of events, considering he typically tops out as an above-average third-pairing guy.
So, Bergevin getting someone to re-establish some actual depth on the left side? A No. 1 center would be an overpayment in this scenario, but the team has long since maintained Galchenyuk isn't one.
You get what you put in, in other words, with the Canadiens consistently shortchanging Galchenyuk on what he's owed in credit. Because of that fact, for Bergevin to make this scenario a reality, he would likely have to throw in a few other pieces. The question is what exactly and whether or not Bergevin would be mortgaging the team's long-term future for a short-term fix in so doing.
At that point, no, a Galchenyuk trade would obviously not be good for the Canadiens. It's clear the Habs aren't winning now, regardless of whether or not they miraculously eke out a playoff berth. The collective eye of the organization should be on the future past 2017-18. That's the only way a Galchenyuk deal makes any kind of sense.