Like any other NHL team, the Montreal Canadiens have their strengths and weaknesses. Which are which, though?
Habs Solid in Net (Obviously)
One short glance at their roster will reveal the biggest strength, in net, where all-star goalie Carey Price plies his trade. And, with Jonathan Drouin potentially placed on the right to complement Max Pacioretty on the left, the wings are in better shape than they used to be. Brendan Gallagher, Artturi Lehkonen, Andrew Shaw, Paul Byron and even newcomer Ales Hemsky further help to solidify the wings as a source of strength for the Habs.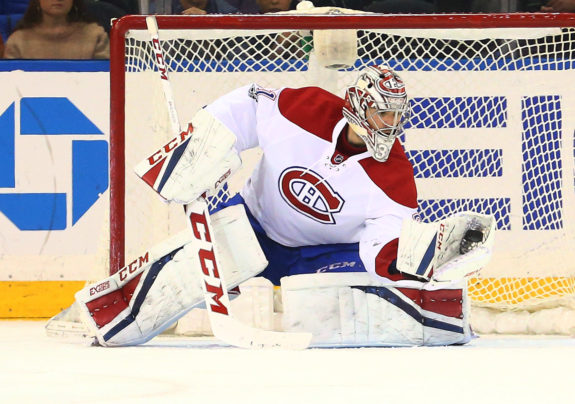 That leaves the defense and down the middle, at the center position, as the two biggest question marks moving forward, into 2017-18. Given the chance to improve one of those positions, which should general manager Marc Bergevin make his biggest priority in order to make the Canadiens a legitimate contender?
Canadiens Weak at Center
If you were to look at the official Canadiens roster page, one thing should stand out above all else: They have Alex Galchenyuk at center, which is incredibly surprising considering how last season ended, with Bergevin indicating at the team's post-mortem press conference that Galchenyuk's short-term future was on the wing.
Technically speaking though, head coach Claude Julien did have Galchenyuk take a few face-offs with Price pulled in Game 6 against the New York Rangers to end the season. He did lose both, though. On the bright side, maybe that was a vote of confidence for the future, based on what Julien had to say at that same press conference.
From the official Twitter account of the Canadiens:
"Ideally, we'd love to have [Galchenyuk] play center. You have to be good at both ends of the ice and you have to be responsible." -C.Julien

— Canadiens Montréal (@CanadiensMTL) April 24, 2017
Maybe the roster page isn't the best source of information, seeing as it lists the team's No. 1 center down the stretch, Phillip Danault, as a left-winger. And, truth be told, the strength down the middle would take a serious hit if Danault were to be moved to the side. The Habs are stronger with him where he is, but not because he's more valuable than Galchenyuk. He's not. Because, beyond those two, your top options at center become Tomas Plekanec and Torrey Mitchell.
Danault is no self-respecting contender's No. 1 center. However, the Habs could get away with slotting him on the second line, with the just-as defensively responsible Tomas Plekanec as the third-line pivot.
Galchenyuk vs. Drouin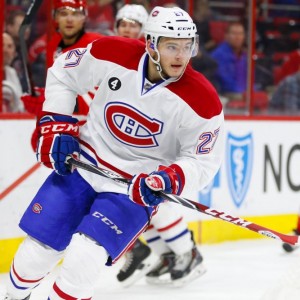 Much has been made of Galchenyuk's lack of defensive awareness. And, yes, he has some work do in that regard. Not as much as some would have you believe though, especially compared to Jonathan Drouin, whom many believe should be given a shot over him. The fact is, prior to his knee injury last December, Galchenyuk's offensive success overshadowed any issues people had pertaining to his play without the puck. Prior to getting injured, he had earned 23 points in 24 games, with Pacioretty and Alexander Radulov as his most common linemates.
Many are choosing to believe that losing Radulov to free agency isn't as big a loss as it seems, because the Habs have Drouin to replace him on the top line and Drouin has more upside at 22 than Radulov did at 30. They're not wrong in that one regard (losing Radulov does absolutely suck, though). Following that logic, wouldn't Galchenyuk have more success playing with Drouin?
Seeing as Galchenyuk also plays on the left, but Pacioretty would likely be the default option there on the top line, the only way the three play together is if Drouin sticks to the right, which is admittedly his off-wing. Nevertheless, he does have more experience playing there than at center, which is what many proponents of him being moved there are choosing to ignore. If you have the choice to play someone with experience and success, however limited in sample size, down the middle (i.e., Galchenyuk) over someone who, uh, doesn't, why make life more complicated?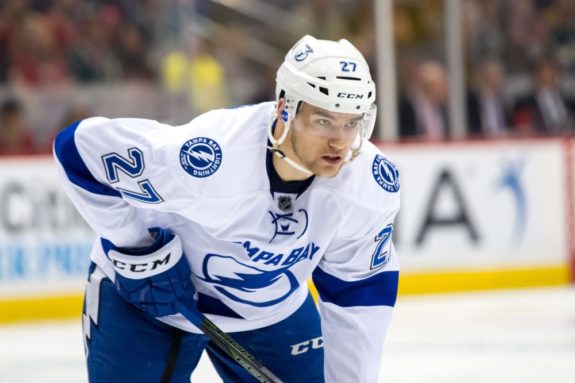 Drouin is a winger. Galchenyuk was drafted as a center, who is far from a lost cause there, in spite of what Bergevin has openly argued in the past, conveniently ahead of contract negotiations each time. The only real question is whether Galchenyuk has sufficiently rebounded from his knee injury to start 2017-18 off how he ended 2016.
No one can know for sure at this point, but there is nowhere the same level of uncertainty there as there is on defense right now.
Canadiens Weakest on Defense?
The Canadiens' defense is tale of two sides: the right, which is pretty much cemented, and the left, which is mud by comparison.
Wherever you fall on the P.K. Subban debate, Shea Weber, while a glorified shutdown defenseman, is still elite in that role and a legitimate No. 1 for the time being. Jeff Petry is meanwhile a very good top-four, puck-moving defenseman. They are the only right-handed shots on the team right now.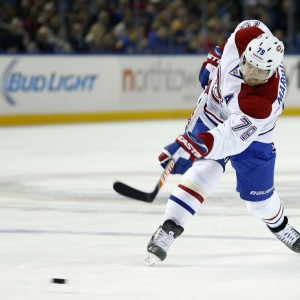 In sharp contrast the left side is put together with little more than duct tape and hope for the best, and that's not just in regard to Andrei Markov's knees, assuming he re-signs. Beyond Markov, who remains the Canadiens' best option to play with Weber, they've got:
Brandon Davidson, who provided the Edmonton Oilers with some stability as a top-four in 2015-16 when they were still bad defensively, which is like your boss saying how punctual you are to soften the blow of firing you for everything else,
Jordie Benn, who, despite being left-handed, is the best bet to line up on his off side, as he did to perfectly complement Nathan Beaulieu's offensive game… even though the Habs now lack the same type of puck-moving option on the left after they stupidly traded away Beaulieu in order to protect the former at the Expansion Draft,
A career bottom-pairing defenseman in David Schlemko, who, based on his puck-moving ability and upside, is only an upgrade if he's being compared to Alexei Emelin, who actually did get selected, and not Beaulieu,
Karl Alzner, who is actually being billed as the guy to replace Alexei Emelin, and, following Emelin's career trajectory, will likely be bottom-pairing caliber by the time his five-year deal runs out too (but with a higher $4.625 million cap hit) and
Jakub Jerabek, who is far from a sure thing to stay in, forget Montreal, North America.
Jakub Jerabek is protected by a european assignment clause if he can't make the team in Montreal.

— Renaud Lavoie (@renlavoietva) May 2, 2017
There is no way to look at Montreal's left-side as anything other than being worse than it was to start the previous season. Markov, if he returns, will be another year older. Emelin may be gone, but Alzner is in with a worse contract. And Schlemko, while a decent depth option, does not bring the offensive ability that Beaulieu did. While the Habs are weak at center, they are by far weaker here.
The Weakest Position of All
It's ironic, as Galchenyuk's defense seems to be a sticking point with management, one which could conceivably prevent the Canadiens from being a powerhouse down the middle. In reality, it's the actual defense that Bergevin built that looks like it may be the bigger issue.
The situation is of course ever-evolving, but it's important that it evolve with the game itself. In that sense, the Canadiens seem to have taken a monumental step back, from placing a premium on pack-movers who are able to get the puck out of the zone quicker to positionally sound stay-at-home types who let the play come to them.
Needless to say, the Canadiens are facing the sad reality where they cannot hope to mimic either the Western Conference-champion Nashville Predators renowned depth on defense or the Stanley Cup-champion Pittsburgh Penguins' renowned depth at center.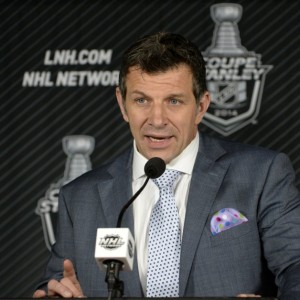 Plus, it should be noted, it's not like the Penguins wanted to be in the situation they were with their defense. Kris Letang, their undisputed No. 1 and one of those supposedly horrible-on-actual-defense types was injured throughout the playoffs, and Justin Schultz was as well by the end of it. And they suffered for it.
The Penguins won not just because of their depth at center, but in spite of their lack of depth on defense. They weren't making a statement of some kind, at least not the type the Canadiens seem to be trying to. And, in a copycat league, the Canadiens are seemingly on their ninth and final life before they need to start rebuilding.
If 2017-18 ends up on par with how 2016-17 did or worse, they'll have no other choice but to do it from the top down. At this point management may be the weakest position of all.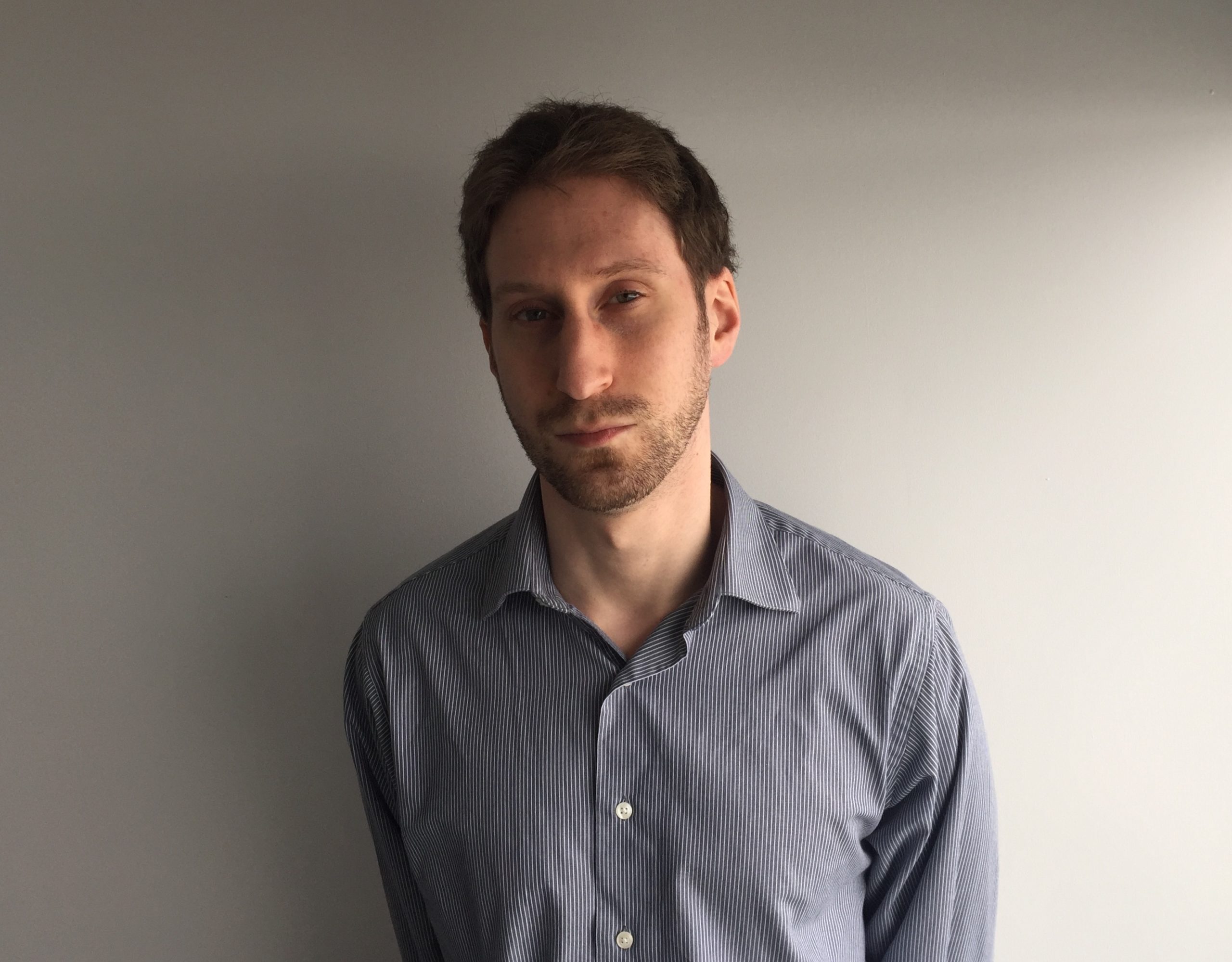 After 10 years of writing hockey, Ryan decided it was as good a time as any to actually join The Hockey Writers for the 2014-15 season. Having appeared as a guest on such programs as CBC Radio One's Daybreak, Ryan has also written for the Montreal Gazette and Bleacher Report and worked for the NHL itself and his hometown Montreal Canadiens. He currently writes about all things Habs for THW, with it being a career highlight for him to have covered the 2021 Stanley Cup Final as a credentialed member of the press.