No, new Montreal Canadiens forward Adam Cracknell will likely not make or break the team. It would have been nice if the former option were even realistic, though.
Holland vs. Cracknell
Granted, the Canadiens didn't give up much to get the depth forward, in the form of Peter Holland, whom general manager Marc Bergevin had signed this past summer. Nevertheless, the Canadiens gave up skill, age and term remaining on Holland's contract in the admittedly minor trade with the New York Rangers.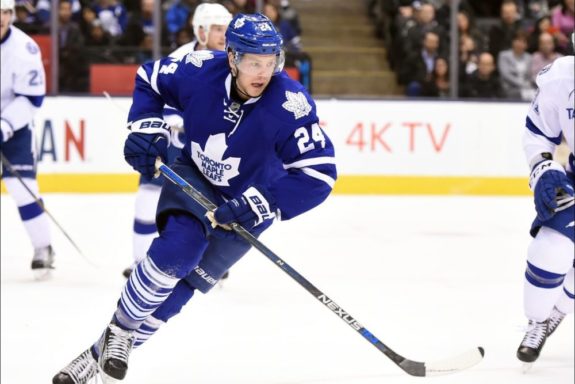 Holland was nevertheless a 26-year-old former-first-round pick (No. 15 in 2009) with a 27-point NHL season to his credit. In 20 games with the Laval Rocket in the American Hockey League, Holland had scored 18 points this season. He had one more year under contract after this one, at which point his two-way deal would pay him as much in the AHL as in the NHL. Not yet though.
In contrast, Cracknell is 32, with his "breakout" season taking place last year when he scored 10 goals with the Dallas Stars (16 total points). He was rewarded for his efforts with a new one-year, one-way deal, only to be claimed off waivers by the Rangers earlier this season.
Cracknell will report to the Rocket, where it's presumably hoped he will pick up his production relative to the two goals and one assist he had accrued in 15 games with the Hartford Wolf Pack.
Cracknell Trade Inconsequential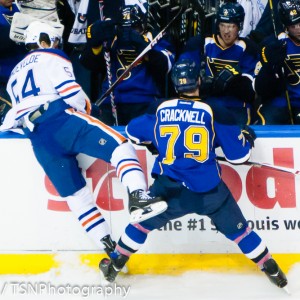 So, in summary, the Canadiens really only gained ground from an organizational standpoint to the tune of the 13 more pounds Cracknell weighs (both players are listed as being 6'2"). Which is fine.
Ultimately, this trade doesn't make a lick of difference to the team's fortunes. With Holland failing to make the Habs out of training camp and developing more into a top-tier AHLer than fringe NHLer, the Canadiens didn't lose much in the grand scheme of things.
Similar to the Torrey Mitchell trade from last week, it seems like more of a deal destined to give a now-ex-Hab a chance to upgrade on a less-than-ideal situation. It wasn't that long ago Holland put up back-to-back sixty-plus-game seasons with the Toronto Maple Leafs. At just 26, maybe he can again.
It would still be a welcome surprise for Bergevin to make a deal that positively impacts the team. Granted, his recent track record dating back to the P.K. Subban trade is not great in that regard and it's easy to sympathize with him here, because, to a certain extent, he's damned if he does, damned if he doesn't.
Bergevin Remains Front and Center
If Bergevin makes a big move, even if it looks great on paper, it looks like one out of desperation to save his job. If he stays complacent, it looks like he's not doing his job at all, watching his mediocre on-ice product tread water all the while.
In that sense, he deserves some measure of slack, especially with the Canadiens on a three-game winning streak heading into action on Thursday night, with a critical stretch of the schedule coming up as we speak.
The Habs are one point out of the last Atlantic Division playoff spot with the third-place Boston Bruins holding three games in hand. The Habs are tied with the Detroit Red Wings (one game in hand), but play them in back-to-back games starting Thursday.
In short, in spite of the team's horrid 1-6-1 start, the Habs can soon find themselves in a playoff spot thanks in part to the weak division in which they play. Slack is different than credit, though. The team needs to improve to a far greater extent than their current 11-12-3 record for him to earn any credit. That or he make trades that are both significant and decent.
The Cracknell deal is neither. It definitely won't help the team. That's for sure.