The losses keep piling up for the Sabres. After 25 games, Buffalo is officially tied for dead last in the league with a record of 6-15-4. The team is in the express lane to the golf course – its seventh consecutive season without seeing postseason action. They've become boring, depressing and unwatchable. The atmosphere in KeyBank Center is morgue-like. Funerals have more joy. Public libraries are rowdier.
It's time the team took a page from George Costanza of the 1990's hit TV sitcom Seinfeld.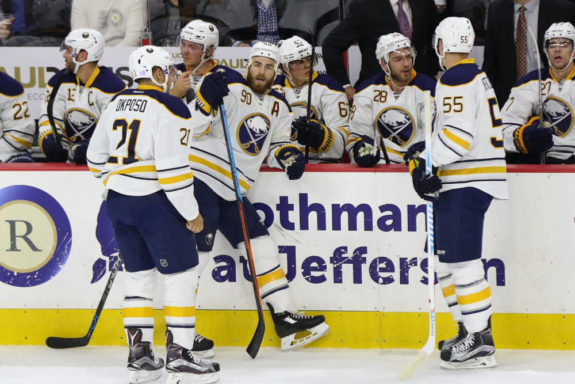 Do the Opposite
In episode No. 86 (21st of the fifth season), Costanza's luck had fallen on tough times; he was at rock-bottom. George shares with Jerry Seinfeld that every decision he's ever made has been wrong and that his life is the exact opposite of what it should be. Jerry logically concludes that since every instinct he has is wrong, then the opposite would have to be right.
With a new resolve, George starts doing the complete opposite of what he would normally do. Everything from that point becomes 180 degrees from his initial instinct, starting with ordering the opposite of his usual lunch.
He then confidently introduces himself to an attractive woman with the pickup line, "My name is George. I'm unemployed and I live with my parents." She is impressed by his gumption and agrees to date him.
Later in the episode, George's foray into the opposite world lands him an attractive girlfriend, a job offer with the New York Yankees, and an apartment that allows him to finally move out of his parents' house.
Taking a cue from George, here are a few things the Sabres should do to turn things around:
Line Combinations
Aside from Evander Kane, who has been a consistent producer on the first line, this team has completely lost its mojo. Kane is the only one in blue and gold to have more than seven goals. Only five Sabres have more than three goals.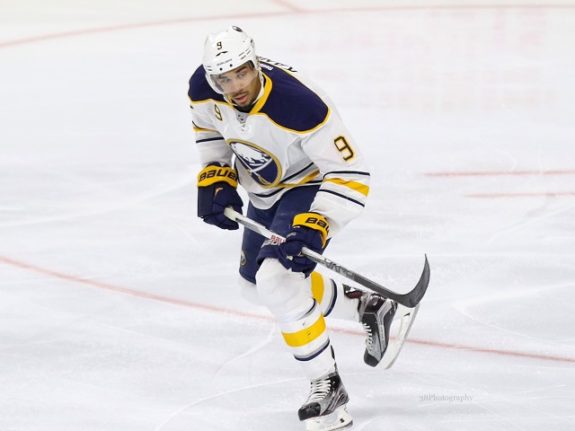 The Costanza "Opposite" Solution: Flip the lineup card upside down and give some of the goal-struggling players a chance to turn themselves into snipers.
Kyle Okposo has three goals in 23 games.
Zemgus Girgensons has one goal in 22 games.
Johan Larsson has one goal in 25 games.
Jordan Nolan has two goals in 23 games.
Matt Moulson has yet to light the lamp in 13 games.
Double shift these guys and they'll be filling the net faster than a rich kid filling his online shopping cart on Cyber Monday. And use them as the number one power play unit and they will soon be indistinguishable from Mike Bossy, Cam Neely, and Dave Andreychuk.
Defense
The Sabres blueliners have put several pucks in the net this year. Too bad they were deflections past Robin Lehner and Chad Johnson. They still have yet to light the lamp for their own cause and are the only team in the league with that dubious distinction.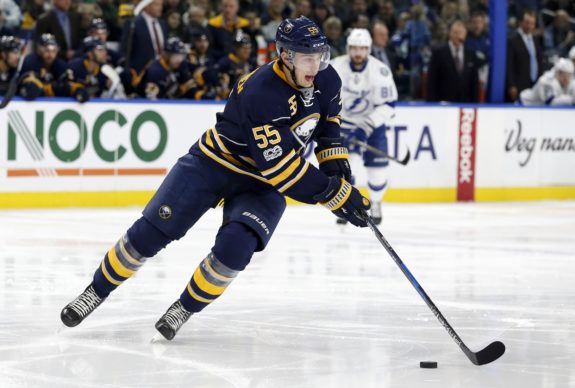 The Costanza "Opposite" Solution: Shuffle up the lineup and put them out as forwards. Give them every opportunity to drift deep into the zone and in the corners. Let them cycle the puck. Let them take face-offs too. Employ one speedy forward as an old-time-hockey rover to cover the blueline.
Housley
When Phil Housley became the 18th coach of the Sabres this past summer, he stated he wanted to play a fast, up-tempo game. It's a great instinct, but obviously not working.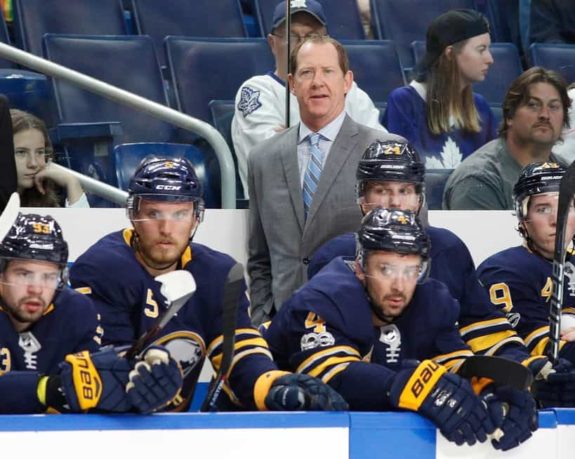 The Costanza "Opposite" Solution: Stop trying to play an up-tempo game. Don't even play a tempo game. Play a slow-it-down-til-you-make-the-New-Jersey-Devils-trap system seem like greasy fast lightning. Give the slow-footed players, of which there are many, a chance to thrive playing at their snail-like pace. Consider instructing all players that they are not to skate the length of the ice, from one zone to another, rather they are only allowed to move in patterns that mimic table-rod hockey pieces.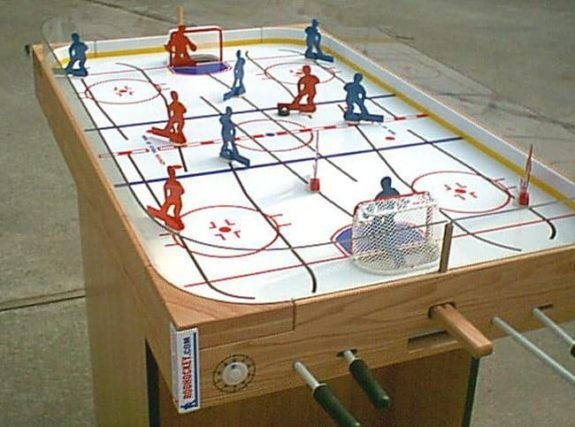 Power Plays
The Sabres power play has scored ten goals. They've given up seven shorthanded goals. After more than a quarter of the 2017-18 season, the Sabres are a measly plus-three with the man advantage.
The Costanza "Opposite" Solution: When the Sabres get a power play, use only four skaters. Or just plain decline the opposing penalties.
Going to the Net
While Housley is preaching his team to have a net-front presence, they have yet to establish a consistent one. Instead, their game involves far too much perimeter play. The lack of a dedicated skater who harasses and obstructs the opposing goaltender's view of the puck, and deflects shots or jams home rebounds, has the team with the lowest goals per game (2.20) in the league.
The Costanza "Opposite" Solution: Keep the puck on the perimeter. Require all skaters to touch the puck five times before a shot can be taken. Drive the defenders into mistakes from sheer boredom from not being challenged. Again, think opposite­–the further the Sabres are from the net, the closer they will be to scoring.
Responsibility
One of the glaring issues with the Sabres is their response immediately after giving up a goal. "We lose trust in the system and everyone tries to fix it themselves," said one of the players. As players stray from their responsibility and adherence to the system, things quickly fall apart.
The Costanza "Opposite" Solution: Jettison all thoughts of playing responsibly to the system. Open things up and play like drunk teenagers cherry-picking at the blue line. Leave the defensive zone early to provide a target for a clearing pass breakaway. When the puck goes into the corner, try to get at least three Sabres to hit the puck carrier, use one to block a pass and the other to fight for the puck. Cease all attempts at shot blocking, just clear the way and let the goalie do his job. And of course, encourage Lehner and Johnson to shoot and shoot often.
Captain
The team chose not to name a captain, instead having a shared leadership group. That's working out about as well as putting a mining executive and petroleum engineer in charge of environmental safety.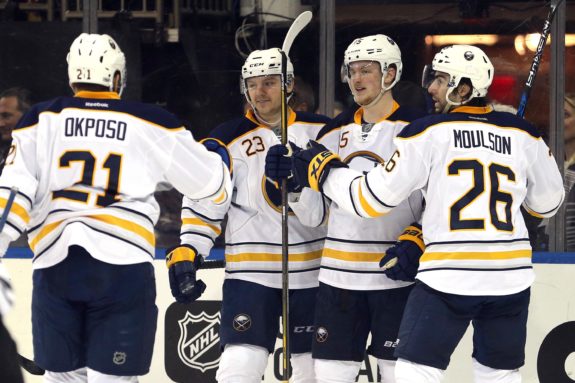 The Costanza "Opposite" Solution: It's time to staple the 'C' to someone who's willing to stand up for his teammates and change the tenor of a game, night in and night out. No, not Eichel. Not O'Reilly. Think deeper. Let's all rally around 24-year-old Russian defenseman Victor Antipin. Antipin speaks limited English so he clearly will make the most of his words.
Goaltending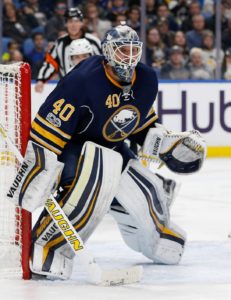 Robin Lehner is 5-11-2 with a 2.92 goals-against average and a .906 save percentage. Chad Johnson is 1-4-2 with a 3.59 goals-against average and a .885 save percentage. Both have had their moments but are routinely hung out to dry by their teammates. It's time to try a different tactic.
The Costanza "Opposite" Solution: It's high time to find the biggest person possible and have that person eschew the butterfly style entirely. Think Shaq. Or a Yokozuna – sumo wrestlers who have reached the sport's highest rank. Imagine Ovechkin or Stamkos trying to get a puck past a person featured on 'My 600 lb. Life'.
For the back-up, the Sabres should employ another George-style remedy: Find the smallest, least athletic/mobile person to play goal. Perhaps Millie Bobby Brown from Stranger Things would fill the bill. Jimmy Vee, the new R2D2 actor, would be excellent. Peter Dinklage is wrapping up his gig in Westeros, he might be available.  Maybe Darren Pang can be coaxed out of retirement.
Locker Room Interviews
How many times have we heard players after a loss saying "we need to be better" or "we need to start stronger" or "we need to play mad/with more desperation" and the ever-popular "play a full 60 minutes"? Fans and media are as tired hearing it as players are of saying it. Time to switch things up.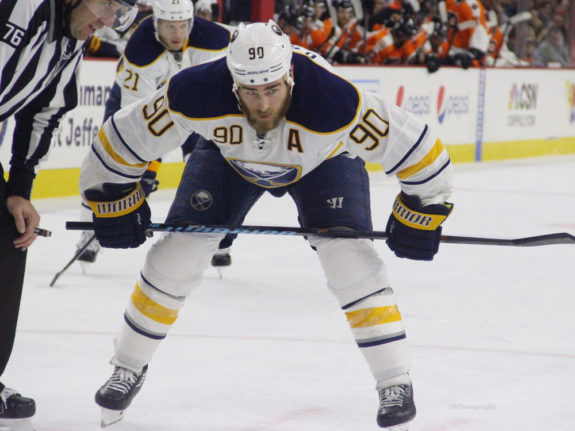 The Costanza "Opposite" Solution: Instead of trite excuses or sports clichés, players will perform Shakespeare's Sonnets or quote from Maya Angelou poems. Each player will spend practice time memorizing Tennyson, Frost and Lord Byron to prepare for better interviews and less stale bunk.
*Relax. It's satire.
---
Enjoy more 'Off the Crossbar' columns.
---