It is going to be a busy off-season for the Nashville Predators and general manager David Poile. With six unrestricted free agents and five restricted free agents on the team's active roster, Poile and his brass will have to make the difficult decisions of who to re-sign and who not to re-sign. To say they have their work cut out for them in the coming weeks prior to the beginning of the free agency period on July 1 would be an understatement.
The general consensus is that the Predators are not far from where they want to be — hoisting the Stanley Cup. A few unfortunate injuries and unlucky bounces caused Nashville to get bounced in the first round of the playoffs in six games by the Chicago Blackhawks. With just under $30 million to spend before reaching the salary cap, expect Poile to do his best to return a similar team to the ice for next season.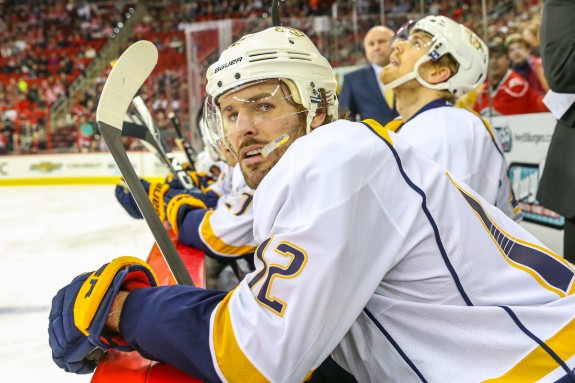 Nashville's biggest concern is getting its forwards under contract. Currently, only five on the active roster — Filip Forsberg, Paul Gaustad, James Neal, Eric Nystrom and Viktor Stalberg — are signed for next season.
The biggest priorities of the nine forward free agents are Mike Fisher and Mike Ribiero, the team's top centermen. Neither are likely to sign with another team this summer because of the family effect.
Fisher is married to country music superstar Carrie Underwood, who resides in Nashville when she is not on tour. In 2011, Fisher requested a trade to the Predators to be closer to his wife, and it happened. Since then, he has been a key component of the team's success as a leader and at the face-off dot. After returning from a ruptured Achilles injury, Fisher scored 39 points (19 goals, 20 assists) in 59 games last season.
From Adam Vingan of The Tennessean:
"Mike Fisher, we would love to have him back," Poile said. "He represents so much to our team, both on and off the ice. … He's a real leader. I truly feel that the best place for Mike is here in Nashville. As long as I'm the manager, he can play as long as he wants."

 

A extension similar to Fisher's current two-year, $8.4 million contract seems plausible. According to Fisher's agent, Todd Reynolds, the two sides aren't far off on the terms.

"That's the hope, for sure," Fisher said recently when asked about re-signing. "I love, obviously, this city and being here, part of this group. It's something that will have to be worked out here in the next little bit, but I'm pretty confident that something will get done and that I'll be back."
For Ribeiro, he and his family are looking for a city to call home. In the past two seasons, he has played for three different teams with the Predators being the third. Nashville appears to be the home Ribeiro has sought for. The 35-year-old emerged as the team's first line center and tallied 47 assists and 62 points in 82 games.
From Brooks Bratten of NashvillePredators.com:
"I believe [Ribeiro] and his family are very happy here in Nashville," Poile said. "I talked to him a few times during the season, but I'm looking forward to our exit meetings, and hopefully it's a marriage that wants to continue here in Nashville."

When a similar question was asked of Ribeiro at season's end, there was anything but uncertainty in his mind.

"I would love to be back."
Matt Cullen, the oldest player for the Predators at 38 years old, is on the opposite end of the spectrum. Last week, Cullen told his hometown newspaper he "wanted to be closer to home" next season. As a native of Virginia, Minnesota, only two places make sense if he wants to be play closer to home — the Minnesota Wild or Winnipeg Jets. However, if neither are interested, the UFA could retire after 17 seasons in the NHL.
Whatever the case may be, it is almost a certainty Cullen will not be a Predator next year.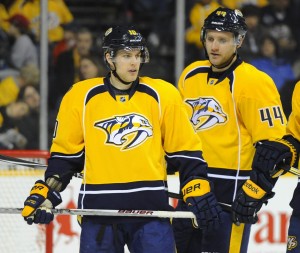 Two other UFA's unlikely to return to the Preds, as well, are defenseman Cody Franson and forward Michael Santorelli. Both were acquired from the Toronto Maple Leafs on February 15 in exchange for Nashville's first round pick in the 2015 draft, Olli Jokinen and prospect Brendan Leipsic. Franson nor Santorelli made significant impacts once joining the Preds, making it unfathomable that Poile re-signs either of them.
Santorelli had just 4 points (1 g, 3 a) and a -7 rating in 22 regular season games and scored once in four games during the playoffs. Meanwhile, Franson totaled 4 points (1 g, 3 a) in 23 regular season games and added 2 assists in 5 playoff games.
One of the more intriguing contract negotiations this summer for Nashville will be with UFA defenseman Anton Volchenkov. Last season, Poile signed Volchenkov to add veteran experience to a youthful defense core. The 33-year-old played in 46 games last season amassing 7 assists and a +4 rating. He also added a necessary additional physical presence at defense averaging 2.02 hits per game, which ranked second among Nashville defensemen behind Shea Weber.
With the Preds having just six defensemen on their active roster and a thin selection of depth defensemen to choose from this year in free agency, it makes perfect sense to re-sign Volchenkov to another one-year deal.
The most challenging re-signings involve RFA's Craig Smith and Colin Wilson.
Smith's 2-year, $4 million contract is expired, and he is expecting a well-deserved pay raise. However, after an 8 point scoring dip from 2013-14 to 2014-15, it will be hard to justify anything over $4 million per year in his new contract.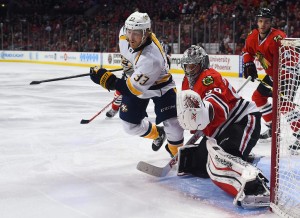 Wilson, coming off a similar 3-year, $6 million deal, is likely seeking approximately $4.5 million per year after having a career season offensively. In 77 games, Wilson notched 42 points (20 g, 22 a). He, then, scored five goals in the playoffs.
Neither are worth more than $4.25 million each, which leads me to believe both will elect arbitration.
After signing KHL goal scoring record holder Steve Moses and seeing how Kevin Fiala and Viktor Arvidsson are thirsty for regular NHL minutes for next season, there is not going to be a need to re-sign RFA's Taylor Beck and Calle Jarnkrok. Moses and Arvidsson can replace Beck and Jarnkrok, respectively.
One of the more underrated players on Nashville's roster is RFA Gabriel Bourque. He was heavily relied upon on the penalty kill, racking up 2:52 of average shorthanded time on ice per game, which led all Preds forwards and was second behind only Weber. It is hard to find a penalty kill specialist like Bourque, so Poile has to make a valiant effort to re-sign him.
Subscribe to our Predators stories to get email updates every time a new story is published.
Colin Fitts is a Nashville Predators staff writer for The Hockey Writers. You can follow him on Twitter, @FittsTHW.