The Montreal Canadiens signed P.K. Subban to his current eight-year, $72 million contract prior to the start of the 2014-15 season. That deal came after he played the prior two seasons on a two-year bridge deal with a $2.875 million cap hit. He had his two best seasons to that point during that deal with a Norris Trophy in 2013 and career highs offensively in 2013-14.
After that contract expired, Subban and the Canadiens went to arbitration with Subban seeking a one-year, $8.5 million contract and Montreal offering one year and $5.5 million. On the eve of the arbitration hearing, the two sides came together and signed his current deal. The resulting $9 million cap hit made him the game's highest paid defenseman and third-highest paid player overall. A full no-trade clause was included that was scheduled to kick in on July 1, 2016.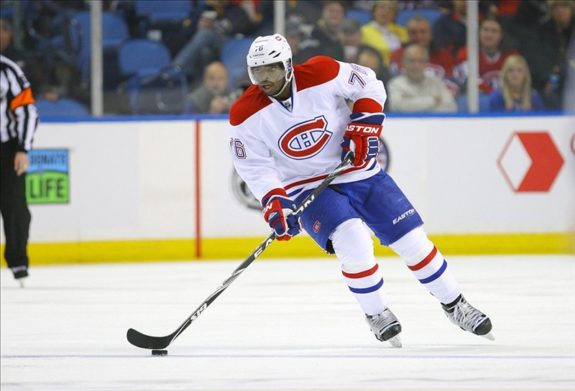 The contract was divisive among the Canadiens fanbase. Some saw the deal as an overpay for a player whose off-ice personality was distracting. Others felt it to be a fair deal and blamed general manager Marc Bergevin and head coach Michel Terrien for not using Subban to his fullest potential. The scrutiny finally reached a tipping point on June 29, 2016 when Montreal traded him to the Nashville Predators for Shea Weber.
In the four years since the deal started, Subban has had immense success. In 298 regular season games, he had 47 goals, 210 points, and averaged 25 minutes and 16 seconds of ice time. His best performance came last season with 16 goals and 59 points in 82 games while receiving Nashville's most difficult zone starts among their defensemen. The season culminated with a top-three Norris Trophy finish.
Subban's Comparables
Given that Subban remains the league's highest-paid defenseman and no other blueliner has a cap hit north of $8 million this season, there isn't a perfect comparison contract-wise. To compare his on-ice contributions with other defensemen, I'm using adjusted point shares, a Hockey-Reference metric that estimates the number of points a player contributed to his team's total. That number is then adjusted for 82 games to allow for simple comparisons.
Subban's top-three seasons by adjusted point shares were 2014-15 with 12.4, his Norris Trophy season in 2012-13 with 12.2, and 2017-18 with 10.5. Three defensemen that provide close comparisons with Subban are Drew Doughty, Brent Burns, and Victor Hedman.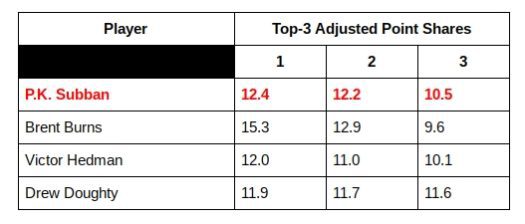 On July 1, the Los Angeles Kings signed Doughty to an eight-year extension with an $11 million cap hit that runs from 2019-20 through 2026-27. The deal will make him the league's highest-paid defenseman by $2 million, at least until Erik Karlsson signs his next contract. Last season was Doughty's best with 10 goals and 60 points in 82 games and he led the league for the third straight season in defensive point shares with 7.3.
He had six fewer goals and one fewer point than Subban and was a Norris Trophy finalist for the third time in the past four seasons. His top-three seasons by adjusted point shares were 2009-10 with 11.9, 2017-18 with 11.7, and 2015-16, when he won his Norris, with 11.6.
In 2017-18, Burns played his first season of the eight-year, $64 million contract the San Jose Sharks signed him to in Nov. 2016. As the league's best offensive defenseman, he had his best season in 2016-17, his Norris Trophy campaign. In 82 games that season, he had 29 goals and 76 points.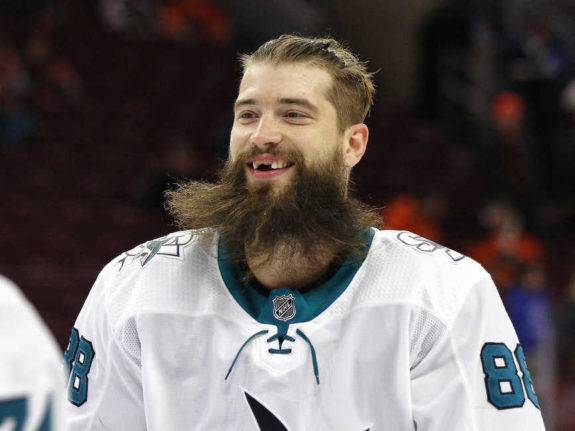 Compared with Subban's best season, Burns bettered him by 13 goals and 17 points while his $8 million cap hit is lower than Subban's. Burns' best season by adjusted point shares was in 2016-17 with 15.3, which led the league. His second-best was in 2015-16 with 12.9 and 2014-15 rounds out his top-three with 9.5.
Finally, Hedman, this year's Norris Trophy winner, will play the second year of his eight-year, $64 million contract this fall. The Tampa Bay Lightning locked him down through the 2024-25 season when they signed him to the deal on July 1, 2016. His $7.875 million cap hit is fourth-highest at the position, yet a bargain given that the deal went into effect during his Norris-winning season. He may have won the 2018 Norris, but his best season came a year earlier when he had 16 goals and 72 points in 79 games.
That goal total ties Subban's highest but he had 12 more points than Subban has ever had. Hedman's top-three seasons by adjusted point shares were the past three seasons. His high was in 2016-17 with 12.0, he contributed 11.0 during his Norris-winning campaign last season, and his third-highest was in 2015-16 with 10.1.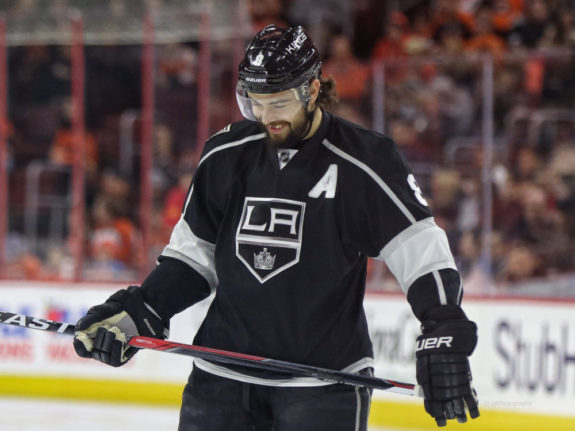 Of the three defensemen, only Burns has a better single-season peak than Subban by adjusted point shares. Burns' 37.8 combined point shares over his three-year peak are quite a bit higher than Subban's 35.1. Doughty's 35.2 combined point shares are higher than Subban's even though Doughty didn't have as high of a peak but also didn't have as low of a floor as Subban. Meanwhile, Hedman had a lower ceiling and floor than Subban.
 Subban Contract Details
Subban's eight-year contract went into effect for the 2014-15 season when he was 25 and expires when he is 32. The contract had a no movement clause that was scheduled to kick in after two years, but the Predators chose not to honor the clause after acquiring Subban.
Of the contract's full $72 million value, $25.5 million is in signing bonuses. He received $13.5 million of the bonus in the first four seasons, doesn't receiving any bonus money in 2018-19 or 2019-20, and the final $12 million of the bonus is paid over the last two years of the deal. He receives his largest base salary amounts between years three and six of the deal with at least $9 million paid each season.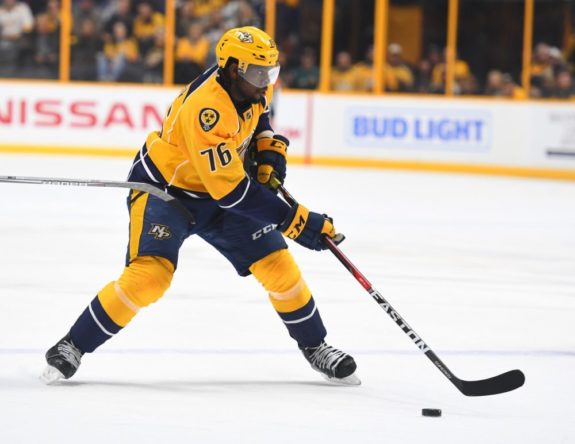 His contract also has lockout protection included as 75 percent of the $8 million he will earn in 2020-21 and 2021-22 are paid in signing bonuses. Because players aren't paid their salaries but still receive bonus money during a work stoppage, if a stoppage occurs in 2020-21 as is expected, Subban will be paid $6 million that season.
Is Subban's Contract Fair?
Although Subban has been the league's highest-paid defenseman the past four seasons, most would agree that he has not been the best blueliner during that span. Most people would say Karlsson, with a Norris Trophy win and two more top-two finishes, has been the best defenseman in the past four seasons. Or perhaps it's been Doughty, who is considered one of the game's premiere shutdown defenders. Regardless, both players had a lower cap hit than Subban between 2014-15 and 2017-18.
Yet it's not fair to write off Subban's contract as unfair to his current team, the Predators, or to the signing team, the Canadiens. His lofty cap hit was born out of difficult negotiations with Montreal's front office and their unwillingness to give him a long-term deal out of his entry-level contract. Still, he also isn't a bad defender and is at worst a top-10 blueliner in the league.
He has the sixth-most points and point shares among defensemen over the past four seasons while playing in fewer games than Burns, Doughty, Karlsson, and Roman Josi. Subban also receives more difficult five-on-five zone starts than other elite defensemen. In 2017-18, Subban started in the defensive zone 36.9 percent of the time and his lowest percentage over the past four seasons was 30.5 percent in 2015-16.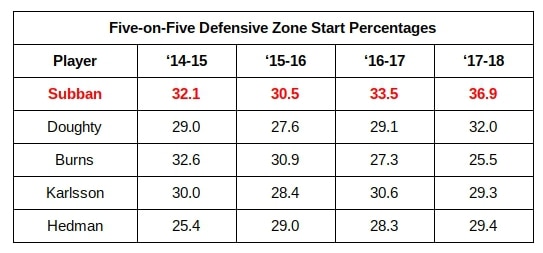 By comparison, of Doughty, Burns, Karlsson, and Hedman, only Doughty's 32.0 percent was above 30 percent in 2017-18 and Burns' 32.6 percent in 2014-15 is the highest among those four since 2014-15. In 2017-18, the Predators still managed to control 51.3 percent of shots and 57.5 percent of goals with Subban on the ice and partnering with Alexei Emelin, who was abysmal without Subban.
So, Subban may not bring the offensive threat that Karlsson or Burns do. He may also not be as strong of a one-on-one defender as Doughty. But he is one of the game's best two-way defensemen, capable of scoring timely goals from the point while comfortable in his own zone. When his contract went into effect in 2014-15, his cap hit represented 13 percent of the team's $69 million salary cap. Now, in 2018-19 with a $79.5 million salary cap, his contract represents only 8.83 percent, a percentage that will further decrease as the salary cap increases.
Subban's contract also bridged his peak years. Had he hit free agency at 28 or 29 like Doughty was expected to and Karlsson is scheduled to, his cap hit would be around Doughty's $11 million. Instead, he's locked down through his early 30's with no trade protection. Additionally, with an increasing salary cap, Subban's cap hit will be minuscule compared to what Karlsson, Alex Pietrangelo, and Dougie Hamilton could command in the next few offseasons. So, yes, Subban's contract is fair even if a bit controversial.
*All stats and information came from Hockey-Reference, Corsica, Natural Stat Trick, and THW's Salary Information Pages