The Nashville Predators fell to the Winnipeg Jets in the second-round of the 2018 Stanley Cup Playoffs. Rather surprisingly, Eeli Tolvanen did not influence the outcome — a reality which few have discussed.
Signed by the Predators the moment the KHL postseason came to a close, Tolvanen's impending arrival appeared to represent the boost of high-end skill which Nashville desperately required ahead of their playoff push. In fact, the Predators went all out to ensure that they were successful in signing Tolvanen — offering the native of Vihti, Finland a fully-loaded contract and one typically reserved for first overall picks in the NHL Draft.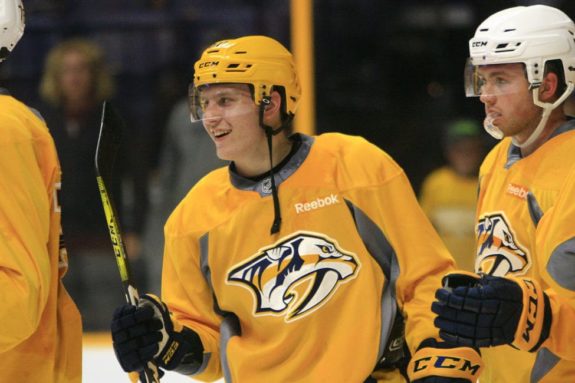 However, Tolvanen skated in a mere three regular season games for Nashville before being glued to press-box for his team's postseason run.
So, with offence hard to come by and their season on the line, why didn't Nashville afford their promising young sniper with a taste of playoff hockey?
Tolvanen's Track Record of Triumph
The Predators' refusal to afford Tolvanen with playoff ice time is difficult to comprehend, and especially so considering the youngster's track record of success at both the professional and international-level.
In 2017-18, Tolvanen enjoyed a season for the record books — smashing a number of records in the KHL before representing Finland on the international stage in three different tournaments.
KHL Gain
As a key member of Jokerit in the KHL, Tolvanen dominated his opponents despite his young age of just 18-years. Although standing 5-foot-10 and 180-pounds, Tolvanen was not out-competed by his older and more physically mature counterparts, netting a whopping 19 goals and 36 points in his 49 games played as a rookie.
This unprecedented level of offensive production on the part of Tolvanen smashed the KHL's previous record for points scored by a player under-20 — a mark set by current Washington Capitals star Yevgeni Kuznetsov during Traktor Chelyabinsk's 2010-11 KHL campaign.
International Fame
As if an appearance in the KHL All-Star Game wasn't enough, Tolvanen made sure to make his presence felt during the 2018 Winter Olympic Games.
Despite skating as one of the tournament's youngest players, Tolvanen quickly became one of its most dynamic and productive. Through his five games played for Finland during the Olympic Games, Tolvanen collected an incredibly impressive three goals and nine points — an offensive total which ranked as the tournament's second-best.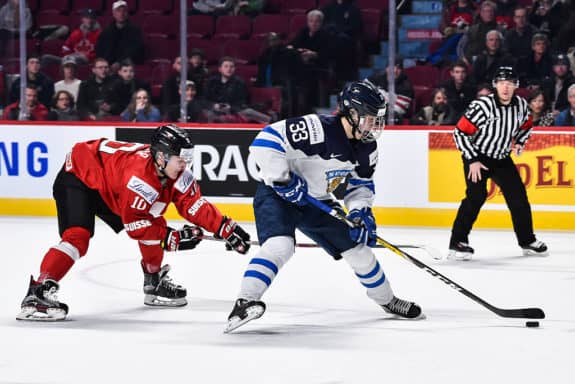 As a direct result of his stellar play, Tolvanen was named to the Olympic All-Star Team — an honour which accurately encapsulated the jaw-dropping on-ice abilities which he displayed.
In addition to his dominance in the Olympics, Tolvanen also took part in the 2018 WJC and WC for Finland. Capable of competing against a wide array of opponents regardless of their age, experience, or skill level, Tolvanen established himself as a premier NHL prospect and one capable of making an immediate impact at hockey's highest level.
Or so it seemed.
Hitting a Sour Note
When Tolvanen arrived in Music City, it appeared as though he would step into the Predators' lineup and provide crucial depth scoring ahead of Nashville's impending postseason run.
Unfortunately, Tolvanen's ascension to the NHL-level began on a sour note.
As mentioned earlier, Tolvanen failed to register a point in his first three NHL games as was sent to the press-box for the duration of the Predators' unsuccessful playoff run. This decision on the part of Head Coach Peter Laviolette turned out to be both dubious and unproductive, as Nashville managed to score a mere 19 goals — or 2.7 per game — against the Jets after netting 3.6 goals per game in their series with the Colorado Avalanche.
Compounding this precarious decision by Laviolette was his curious lineup choices on a nightly basis. Despite receiving minuscule contributions from a number of his depth players, Laviolette refused to insert Tolvanen into the Predators' lineup — instead opting to grant valuable ice time to his underperforming veterans.
Predators' Poor Playoff Performers

Player

Games Played

Goals

Points

Avg TOI

Turris

13

0

3

15:58

Jarnkrok

7

0

1

12:26

Fisher

12

1

1

11:14

Salomaki

8

0

0

10:26

Hartnell

4

0

0

9:32
As can be seen in the table above, five key players underperformed for Nashville during the playoffs yet continued to earn playing time in games of immense importance. What's more is that when injuries befell the Predators, Laviolette chose to rotate through his veteran forwards — opting for players lacking considerable speed and skill in a series dominated by high-end talent and blazing skating.
So, would inserting Tolvanen and his high-end skill-set into Nashville's lineup in place of those listed above have changed the outcome of the Predators' postseason push?
Potentially.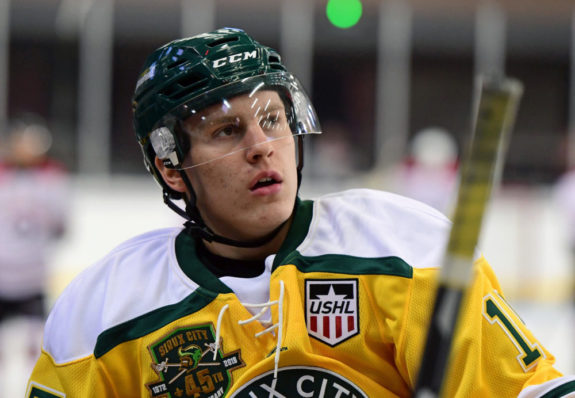 However, it is far too difficult to accurately determine whether or not Tolvanen's presence would have shifted the course of Nashville's tumultuous second-round series in their favour. Yet, given how quickly and assertively the Predators acted in their signing of Tolvanen — a player they viewed as a potentially integral piece of their playoff run — Laviolette's decision to overlook the youngster is questionable to say the least.
Yes, Tolvanen will become a force for Nashville in the near future and for years to come. However, exactly why the Predators chose to sign Tolvanen only to scratch him throughout the playoffs is a question which we may never hold the answer too.