Rankings:
Minnesota
Clarkson
Wisconsin
North Dakota
Cornell
Boston College
Harvard
Robert Morris
Quinnipiac
Boston University
The Round-Up
1. Minnesota Golden Gophers
Minnesota rebounded nicely from last week's shootout loss to Ohio State with a shutout sweep of Minnesota State this weekend. They beat the Mavericks 4-0 at the Hockey City Classic at TCF Bank Stadium on Friday evening, and followed it up with a 5-0 victory in Mankato on Sunday. Not enough has been said about the play of first-year starter Amanda Leveille, who's been tasked with filling the shoes of Noora Räty. After the two shutouts, Leveille now has a .948 save percentage and 1.19 goals against average while facing the fifth-highest shot total of any goaltender with a winning record.
2. Clarkson Golden Knights
Despite piling up 55 shots on goal, the Golden Knights could not get a win against Yale on Friday and instead settled for a 3-3 tie. The Bulldogs were able to take advantage of their opportunities and though Clarkson kept pace, they couldn't pull away. There's no question that the Golden Knights were the dominant team, but they just couldn't do enough to close out the victory and prevent Yale from hanging around. Clarkson followed up the tie with a 4-1 victory over Brown. They were just as dominant in that game but didn't give the Bears much to work with at all, completely stalling Brown's offensive efforts.
3. Wisconsin Badgers
Wisconsin  swept Bemidji State with a 6-0 win on Friday and a 3-1 win on Saturday. The Badgers were led by two-goal efforts from Brittany Ammerman and Kaitlyn Harding in that first win, as well as a shutout effort from rookie netminder Ann-Renée Desbiens. Desbiens has played well for Wisconsin of late, but the team was nonetheless probably very happy to see first-string goalie Alex Rigsby make her return on Saturday afternoon. Bemidji State's not the strongest opponent, but the Badgers still did a good job of getting shots to the net and converting their chances.
4. University of North Dakota
North Dakota beat St. Cloud State 4-0 on Friday night, then closed out the sweep with a 3-1 win on Saturday afternoon. Freshman goaltender Lexie Shaw picked up her first career shutout in the victory on Friday. There were some stretches where the Huskies broke up UND's attack and spent some time in the offensive zone themselves, especially in that second game, but North Dakota earned the majority of the chances. St. Cloud State didn't spend the weekend pinned in their own zone, but UND still created some good scoring chances and took control of the game when it had to by scoring two goals after going down 1-0 to the Huskies on Saturday.
5. Cornell Big Red
After beating Dartmouth 3-0 on Friday, the Big Red fell to Harvard by a score of 3-1 on Saturday. Cornell put out a strong effort against the Big Green, led by Taylor Woods' two-goal game. Since making her return from an injury, sophomore forward Jess Brown has been a nice addition to the line-up, and tallied a goal and an assist this weekend. The Big Red took it to the Crimson for the last 40 minutes of Saturday's game, but could not cash in and tie up the game after Harvard took a 2-1 lead in the second. Cornell's goaltending couldn't quite match the Crimson's, which is a difficult task for anyone, but the fact that they came up empty despite their chances in the last two periods really hurt them too.
6. Boston College Eagles
Boston College had a solid weekend against Vermont, sweeping the Catamounts with a 5-2 win on Friday and a 2-0 win on Saturday. Though the Eagles' goaltending situation was a little unstable earlier in the year, Corinne Boyles has once again emerged as the team's number one netminder, turning aside all 34 of UVM's shots in that second game. Vermont was able to skate with BC for most of the series, but the Eagles really took control of both games, especially in the third period on Saturday, when they fired 21 shots at Catamounts goaltender Roxanne Douville. They still need to prove they can do the same against top teams, but BC did a nice job of capitalizing against a team with some talent.
7. Harvard Crimson
After escaping their game against Colgate with a 5-4 win, the Crimson defeated Cornell 3-1 to earn some huge ECAC points. In that game against the Raiders, Harvard found itself down 4-2 at the beginning of the third period, but scored three goals in less than four minutes to come away with the victory. The Crimson wouldn't have to claw back from any deficits the following afternoon; they jumped out to a 1-0 lead in the first period, and Marissa Gedman scored to give them a 2-1 lead in the second. Harvard's very comfortable playing with a lead with Emerance Maschmeyer in net, and so the fact that they were ahead for the whole game really played to their strengths.
8. Robert Morris Colonials
Robert Morris tied Quinnipiac 1-1 on Friday afternoon, then earned a huge 5-1 win against the Bobcats on Saturday. It was a big weekend for the Colonials' power play, which scored three goals, including the tying marker late in the third period on Friday afternoon. Rebecca Vint also had a big weekend, scoring two goals and four points in the victory and assisting on the lone goal in the tie. She's been a huge game-breaker up front for Robert Morris this year, but the Colonials as a whole also did a good job of not letting Quinnipiac gain too much momentum and run away with anything, especially on Friday afternoon.
9. Quinnipiac Bobcats
The Bobcats didn't get the results they wanted in either game against Robert Morris. They were able to generate plenty of shots and quality scoring opportunities on Friday, but they could only get one in the net, which has been their downfall this year. Quinnipiac can regularly pressure and control the pace of the game, but they don't always make opponents pay for it on the scoreboard, where it counts. Things started to fall apart for the Bobcats on Saturday, when they gave up four-straight second period goals. Quinnipiac is capable of scoring goals on any team in the country, but when their top guns hit a cold spot, they can't always find secondary scoring.
10. Boston University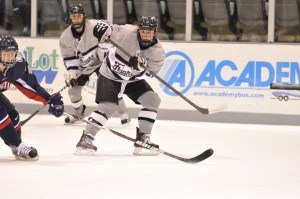 The new year hasn't treated Boston University well. The Terriers lost two Hockey East games this week after falling to Providence 4-3 on Friday and to Northeastern 4-2 on Sunday. BU's defense gave up more than 30 shots in both games, and though goaltender Kerrin Sperry has been leaned on heavily all season, she couldn't do enough this weekend to help the Terriers earn a victory. Boston College now has some breathing room for first place in the conference, but a couple of results going BU's way could turn everything around again. Boston University just needs to get itself back on track after the past few games and focus on better defensive play.
In The News
This week's headlines from around the women's hockey world
Three Stars of the Week
1. Jamie Lee Rattray, Senior, Forward, Clarkson: Rattray's goal against Yale on Friday was her 150th career point, which puts her first for Clarkson all-time. She totaled two goals and an assist on the weekend, and is now just a goal away from breaking the Golden Knights' record in that category, too.
2. Jaimie Leonoff, Junior, Goaltender, Yale: She made a whopping 52 saves on 55 shots to help the Bulldogs tie Clarkson, 3-3.
3. Michelle Karvinen, Senior, Forward, North Dakota: She netted both the game-tying and game-winning goals to help lift UND to a 3-1 win on Saturday and a season sweep of St. Cloud State.
Play of the Week
This toe drag and snipe from North Dakota's Andrea Dalen, at the 1:54 mark of the video below.