In the middle of January, roughly three dozen of the top draft-eligible players in the Canadian Hockey League converged on Calgary for the annual BMO CHL/NHL Top Prospects Game. The Hockey Writers was there in full force, with contributing editor Ryan Pike and managing editor Chris Ralph taking in the game and the surrounding festivities. While neither was looking at any player in particular, we both took in the game with an eye towards who would stand out.
To that end, we tracked scoring chances – shots (blocked, missed or on-net) taken from the area between the crease and the top of the face-off circles – to see who was driving play in a game filled with the top players in their age bracket.
WHO STOOD OUT
Nikita Scherbak – Team Cherry/Saskatoon Blades (WHL)

The hockey world may have had their eyes out primarily for the guys at the upper-end of the Central Scouting rankings, but Scherbak – who entered the game as the 24th-ranked North American skater – really stood out. He was all over the ice, creating chances in all three periods and generating nine scoring chances off of his stick alone. The Russian import definitely upped his draft stock with an energetic, creative game. He didn't have any points, but he made a big impression.
Sam Reinhart – Team Cherry/Kootenay Ice (WHL)
While Scherbak may have surprised onlookers in leading the game in scoring chances, the second-best player in the game wasn't all that surprising. Generating seven chances and chipping in a goal and an assist in the process, Reinhart proved to many why he's been long talked about as one of the top players in the 2014 draft class.
Jake Virtanen – Team Orr/Calgary Hitmen (WHL)
Playing in his home rink, Hitmen forward Jake Virtanen continued his string of strong play. Keenly aware of what brought him to the dance, Virtanen brought his physical presence to the fore. He also had two really strong stretches in the first and third periods that contributed to him creating six scoring chances. He had three on a single shift in the first period alone.
Brendan Lemieux – Team Orr/Barrie Colts (OHL)
The son of NHL veteran Claude Lemieux had a gritty effort, contributing with hits and a goal by going to the rough areas of the ice. He also had four scoring chances.
Connor Bleackley – Team Cherry/Red Deer Rebels (WHL)
One of the more underrated guys in the draft class, Bleackley has been a rock for the Red Deer Rebels this season. He continued his effective play in Calgary, creating four scoring chances but failing to find the score-sheet.
Michael Dal Colle – Team Cherry/Oshawa Generals (OHL)
Just outside of the upper-echelon of the NHL draft rankings, Dal Colle used his size, speed and shot to create offense. He had four scoring chances and score a goal in a losing effort. His line with Sam Reinhart and one of Ivan Barbashev and Nikolay Goldobin was always dangerous.
OTHERS WHO IMPRESSED
Aaron Ekblad – Team Orr/Barrie Colts (OHL)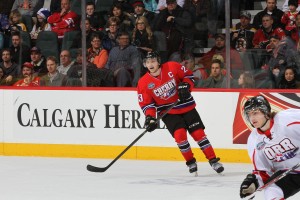 The Top Prospect format is hard on defenders, as we see a laundry list of strong offensive players unleashed on a group of defensemen and goaltenders who have the deck stacked against them. Ekblad kept his head above water against Team Cherry's best and set up two goals. He was especially dangerous when Team Orr had a power-play.
Mason McDonald – Team Orr/Charlottetown Islanders (QMJHL)
The most impressive of the four netminders who participated, McDonald was peppered with shots in the first period as Team Cherry pressed. He made 14 stops in the first period and his efforts kept Team Orr in the game long enough to find their legs.
Nikolay Goldobin – Team Cherry/Sarnia Sting (OHL)
Goldobin got better as the game progressed, eventually joining Team Cherry's top line for the third period. He was a spark plug in all three zones, creating a partial break-away on a smart coverage read early in the game and nearly tying the game late.