Blake Speers had a taste of pro hockey before. At the start of the 2016-17 season, he made the New Jersey Devils opening night roster and played in their first three games. After going pointless in those games as a third/fourth liner, the club returned him to his junior team, the Sault Ste. Marie Greyhounds for more seasoning where he would finish out his second season as captain of the team he called home for four seasons.
This past season the 21-year-old Speers started and finished his first full pro season with the Binghamton Devils in the AHL and he'd be the first to tell you that he certainly had his ups and downs there. But that hasn't altered his perspective or goals for the upcoming campaign that is quickly approaching as we finish out the dog days of August.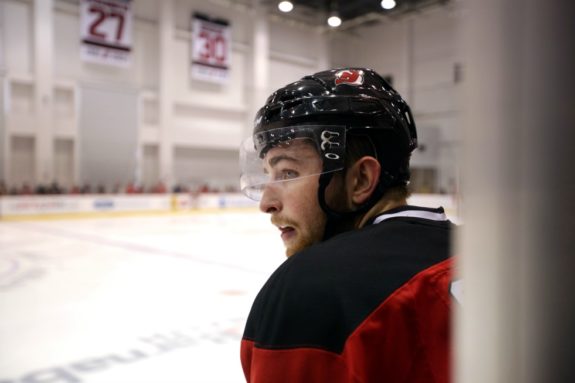 Blake's Bad Breaks
"It was obviously a huge learning process. It clearly didn't go as well as I had expected, or hoped; or how a lot of other people expected," Speers admitted following the completion of the Devils' annual Development Camp in July. "But that's the way things work. Things aren't always going to go the way you want them to and that's where you have to show some grit. You have to come out of it stronger than how you came into it. I absolutely, 100 percent believe that I came out of that with the learning experiences and the knowledge to really move forward in my career, and really take that next step next year. I also believe that it had to happen in order for me to become an NHL player," he added. "Going through hard times only makes you stronger in the end."
Over 62 games in the AHL with a team that found itself at the bottom of the standings for a majority of the season Speers finished with 19 points (12g-7a). But over his final eight games with Binghamton, he seemed to turn a corner and started playing like the player who was a force with the Greyhounds (215 points in 217 OHL games) — putting up five goals and two assists (including two multi-point games) for a team that was long eliminated from making the playoffs.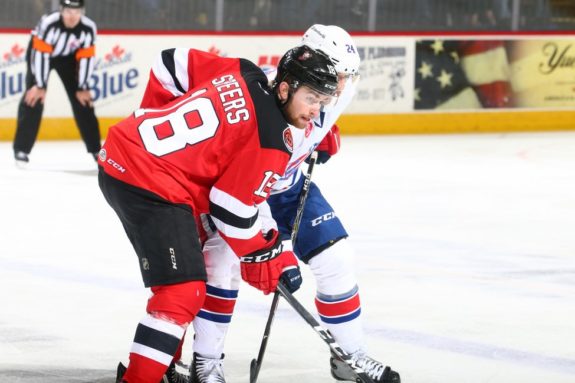 Developing Devils
"You never want to struggle on your own, and especially close friends – you never want to see them struggle. But Nate (Nathan Bastian) and I were in a pretty similar position coming in as first-year guys who both had our fair share of struggles, but it was good because we were able to relate to each other about it. We had a lot of dialogue about it and I believe we were able to help each other move forward and have pretty strong second halves for ourselves," said Speers.
"He'd probably tell you the same thing. It's nice to have someone to help you through it, especially when it's your first year on your own and you don't have your parents around as much, your billet family isn't there. It can be an uncomfortable situation going from a team that you're with for maybe four years to a new team with older guys. You feel a lot of pressure to impress people. I think one major thing both of us learned is you have to really just focus on yourself, focus on self-improvement and you'll get there eventually."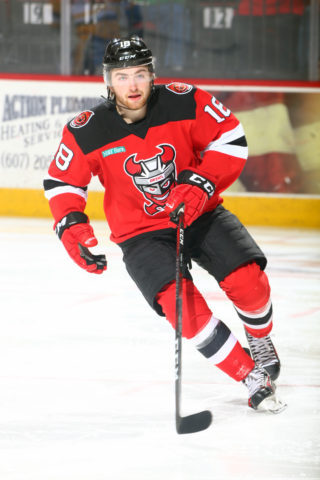 Born Leader
At the development camp, Speers took it upon himself to take on more of a leadership role, which he hopes that the coaches noticed. Perhaps it was some of those same qualities that led him to be a captain for two seasons in the OHL. "It's an awesome opportunity, especially being one of three or four guys that have been here a long time now. You see a young guy come in here, or maybe a Euro come in here, and you want to make an impact on them – find a way to make them feel more comfortable," said the Devils 3rd round pick (67th overall) from the 2015 NHL Draft. 
"You want to give them one piece of advice that they can learn from you, and come away saying, 'hey (being in) Jersey taught me this' or whatever it is they take away. It's a great opportunity (for me) to show the brass and the staff here that I can take on that responsibility, that I'm willing to be a good teammate, and help guys along. It's been a lot of fun."
One Goal
He left the camp with one goal in mind, to come back in September and be better than he was when he made his NHL debut in 2016. To come back with the knowledge he gained in his trials and tribulations with Binghamton and compete for a spot as an NHL player. "I think overall we had a really good group of guys here, which is one thing that made it a lot of fun. I think we came out of this and made a lot of new friends and personally, I'm looking forward to the opportunity to potentially play with a lot of these guys in the future."
"In terms of off-ice stuff that we learned and culture stuff that we learned, and continue to build on from the previous three years for me – I'm coming out of it with a very, very clear mindset and a clear blueprint of what needs to happen for me to be on this team come this September."