It wasn't the outcome he wanted, nor felt he deserved, but what Eddie Lack's first start with the New Jersey Devils finished as a hard-luck 5-3 loss to the Boston Bruins that involved a controversial goal. It also involved some sloppy special teams' play from the Devils that ultimately led to their demise, but overall – the game was an improvement from the night before: a 6-1 rout at the hands of the Columbus Blue Jackets in Ohio.
The loss was the fourth in a row for New Jersey after they had won three consecutive a week earlier. Lack (22 saves on 26 shots) was acquired in an AHL trade on December 30 for defenseman Dalton Prout and was called up to the NHL on February 4 after recovering from a minor injury, and the Devils in need of a goalie with NHL experience.
Three times on the night the Devils battled back from one-goal deficits to tie the Bruins before their fourth goal midway through the third period became the winning goal, but it was the second Boston goal (second shorthanded as well) that everyone was focused on after the game ended.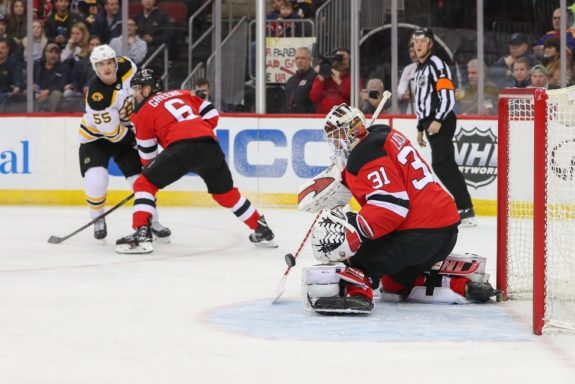 Bruins' forward Tim Schaller stuffed the puck in at the left post with 3.0 seconds left in the opening period after Taylor Hall fumbled a pass from Lack, but as far as the Devils netminder is concerned the puck never crossed the goal line. "I haven't seen anything that says it (the puck) was in," Lack said while sitting in his stall after the game. "I guess I just have to trust the ref if he says it was in. But I haven't seen that it was in, on any replay. I didn't feel that it was in."
"My stick was there. My blocker was there. My glove was over it. If the ref says that it was in then it was in," he added with a shrug. "He didn't say anything, and then their (Boston's) guy yelled and I felt like he changed his opinion. It's one of this plays where I was hoping it wasn't going to be a goal when they looked at it, but yeah."
Puck was never in. pic.twitter.com/65dB5IUhZU

— Deb Placey (@DebPlacey) February 12, 2018
New Jersey's coach John Hynes wasn't exactly pleased with the ruling of a goal on the play, but he sort of understood that if there was no definitive video evidence to overturn the call on the ice that it would stand; whether that ruling or rule interpretation is right or wrong is a debate for another day.
"There's no conclusive evidence that the puck crossed the line, it was a quick call on the ice. I'd say that's a disappointing ruling," Hynes admitted during his post-game press conference, where he also said he was not given an explanation. "It is what it is."
Devils "Disappointed" After Bruins' Goal Confirmed by Replay https://t.co/CRv6e6tz7n pic.twitter.com/vBdruaZZ3s

— Scouting The Refs (@ScoutingTheRefs) February 12, 2018
The first two goals that Lack would surrender in the opening period were both scored inches from his goal line – the first coming on a deflection in the wrong direction by Nico Hischier. But to his credit, the 30-year-old goaltender battled throughout the game, despite all of the weird goals.
"I stuck with it, I got better and better the longer the game went. It's been a while since I started a game in this league, so I was excited to start and it obviously wasn't the start (of the game) that I was looking for," Lack said with a chuckle, "But I was battling. I haven't seen any of the goals really, that's something I'll go over with Rollie (Melanson, Devils goalie coach). This was a disappointing one. There are things that I can look at and do better myself; I'll learn from this."
https://twitter.com/patrickdodson/status/962856043335356417
The goalie, who was making his second appearance for New Jersey and first start in the NHL since November when he was with the Calgary Flames could only shake his head and laugh in disbelief over his bad puck luck on the night. "I really felt like the boys played a good game in front of me, I felt we deserved so much more than we got. The first one maybe I turned my head a little bit too soon, I should've stayed on it," lamented Lack. "The fourth one too, it bounced on the ice and up (over me). That's one of those one-in-a-million plays."
"We just have to keep working, but that's one (game) that I definitely think we deserved better." Lack deserves another start at least, with Cory Schneider out ("Cory's not going to be around this week," said Hynes) and the Devils have another four-game week on tap: at Philadelphia Tuesday, vs. Carolina Thursday, at Tampa Saturday, at Carolina Sunday. It would seem to make sense that Lack and Keith Kinkaid could split the four games depending on how they go.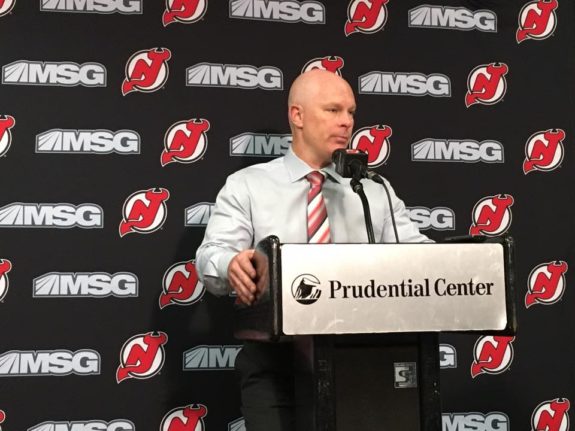 "I was very happy with our decision to put Eddie in net," Hynes said. "He played well enough to earn himself another start so we'll talk about that. Is it a consideration, yes. I was really happy with the response of our team tonight; we played a game that we certainly played well enough to win but didn't get the end result. But we can build on it."
Dan Rice is in his 9th year of reporting for THW & has covered NJ Devils home games for 15+ years at various websites. He began his journey working for legendary broadcaster/writer Stan Fischler from 2002-04 & completed an internship at the ECHL; he also has been writing features for the NWHL (nwhl.zone) website since 2016.