The Pittsburgh Penguins are fresh off of a disappointing first round playoff exit where their goal scoring, uncharacteristically, dried up. It was later revealed that forward Evgeni Malkin had an ankle injury, David Perron had a rib injury and Patric Hornqvist was playing with a fully broken rib. Add on to that missing four of their top six defenders — Kris Letang, Christian Ehrhoff, Derrick Pouliot and Olli Maatta — and it's a miracle the Penguins even made the playoffs.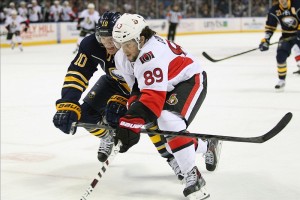 First-year general manager Jim Rutherford has already acknowledged that the impending free agent class is quite weak, but the Penguins still need a top six forward, or two.
That means the Penguins will have to continue their active trade practices and make an offseason move or two.
The second potential team the Penguins could negotiate with is the Tampa Bay Lightning. They have a plethora of young forwards and simply do not have room for all of them on their roster.
Take a look at Part 1 – Oilers trade Options
Take a look at Part 2 – Tampa trade Options
This will be the third and final edition of evaluating trade options and the focal team is the Philadelphia Flyers.
Background:
Why would the Flyers potentially trade player to their division and state rival Penguins? Simply, the Flyers have had serious problems with the salary cap over the past few seasons and it does not look to improve over this summer.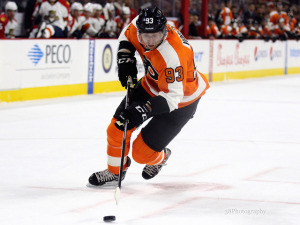 According the HockeyBuzz.com, Philadelphia only has $7.5 million in cap space for the upcoming season and has 11 forwards, 7 defenders and 1 goaltender under contract.
Given the Flyers tendency to aggressively spent in the free agent market, they need to shred some salary. Additionally, Philly has many overpaid players on their roster and it will only get worse after this season when Jakub Voracek, Brayden Schenn and Sean Couturier will all be looking to get significant raises.
It was also reported that Philadelphia plans to resign Michael Del Zotto this offseason. He is coming off of a contract that paid him only $1.3 million and Del Zotto is coming off of his best season to date.
Sean Couturier to the Penguins?
It might not be as crazy as it first sounds. The Flyers have very few valuable trade chips and after four seasons of Couturier failing to breakthrough offensively, his tenure in Philadelphia might be over.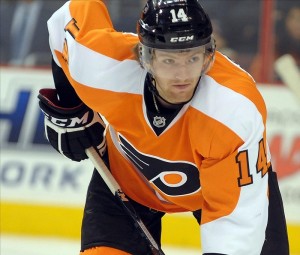 The 8th overall pick in 2011 has played in 287 games, scored 45 goals, 73 assists and is a career +15 skater.
2014-2015 stats: 82 games played, 15 goals, 22 assists, 37 points, +4 skater, 28 PIM, 10.1% shooting percentage
The addition of Couturier would give the Penguins a defensively sound third line center and add more of an offensive punch to the bottom six.
Starting at age 19, he began proving he could defend against some of the best players in the entire NHL. Couturier has been part of a Flyers squad that has annually frustrated the Penguins and his play could certainly be used in Pittsburgh.
Concerns:
The Flyers are looking to move on from Couturier because he has not developed more offensively. Even if he would not improve upon his career high of 39 points in 2013-2014, he would still be an upgrade for the bottom six.
Outlook:
At only 22 years old, Couturier certainly still has room to develop and the Penguins need to get younger, faster and cheaper. His cap hit is only $1.75 million and could easily fit under the cap.
If Couturier on the block (as rumors have suggested) the Penguins should try to make peace with their state rival and explore what they would be looking to get in return.
What about Brayden Schenn?
Another one of the Flyers young centers that might be on the trading block is Brayden Schenn. The Flyers have very limited trading chips this offseason and Schenn is one of them.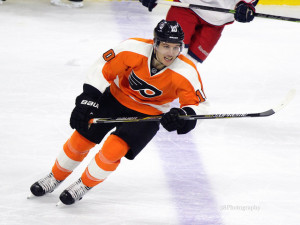 The 5th overall pick in the 2009 draft has played in 274 games, scored 58 goals, assisted on 76 more and is a career -22 skater.
2014-2015 stats: 82 games played, 18 goals, 29 assists, 47 points, -5 skater, 34 PIM, 11.5% shooting percentage
Schenn is coming off of his finest season in Philadelphia, but he still has underwhelmed for a 5th overall pick. He is much less defensively sound than Couturier, but has more of an offensive flair. Brayden Schenn is entering the last year of his deal that will count for $2.5 million against the salary cap.
Concerns:
With Sidney Crosby and Evgeni Malkin already on the roster, adding an offensive minded third line center might not be the best course of action for the Penguins.
Additionally, Schenn might be looking for a big pay raise this summer and Pittsburgh does not have the cap room to make that happen.
Summary:
Former NHL superstar Jeremy Roenick believes to fix the Flyers, both Schenn and Couturier must be traded.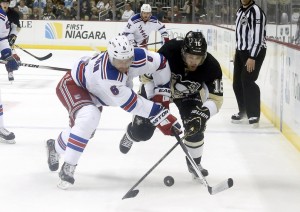 Philadelphia's loss should be Pittsburgh's gain in this situation. Of the mentioned players, the Penguins should seriously explore bringing either to Pittsburgh.
But Couturier is the more logical choice, as he is a defensive sound third line center, who could break out offensively. Couturier is also cheaper than the Penguins current third line center, Brandon Sutter.
In return for either of these players you can bet the Flyers will ask for Sutter in return and that's perfectly fine. Brandon Sutter is an overpaid, underwhelming and overrated player who provides little for his salary of $3.3 million per season.
Take a look at Brandon Sutter's HERO chart, courtesy of Own The Puck.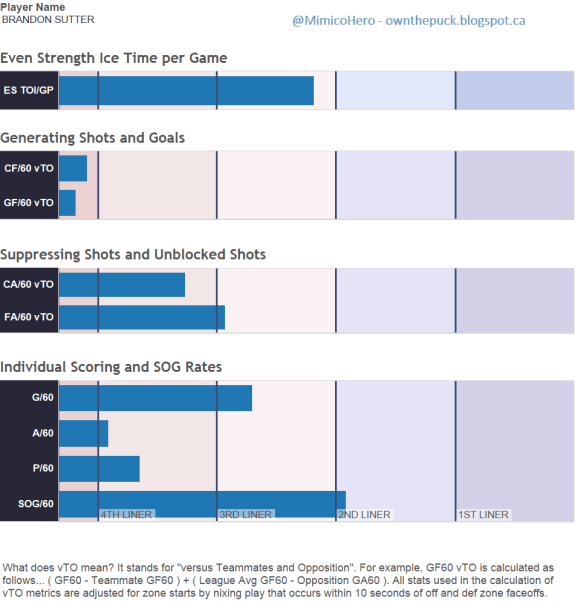 The visual interpretation shows that Sutter simply isn't getting it done for the Penguins. However, for some unknown reason, he has a very good reputation among NHL GM's and is considered a valuable trade chip.
The Penguins should explore trading Sutter to Philadelphia for Couturier, as a change of scenery could benefit both players. It might be a swap of players, but if it isn't the Penguins should sweeten the deal to acquire Couturier.
Michael Pityk is an analyst who has written for numerous sites since beginning his professional career. He's acted as a credentialed member of the media for the Philadelphia Phillies, Philadelphia Flyers, Pittsburgh Pirates and the Pittsburgh Penguins. His work has been featured in Sports Illustrated, The Sports Journal, MSN, PensLabyrinth, Montreal Hockey Talk, ESPN Pittsburgh, The Hockey Writers, Todays SlapShot and The Bleacher Report. He formerly was the editor of Pens Labyrinth and an analyst for The Sports Journal. Michael presently acts as an NHL Analyst for The Hockey Writers