Defenseman Ryan Pulock was drafted 15th overall by the New York Islanders in the 2013 NHL Entry Draft and has been in the Islanders' system for a few years now. He should be close to becoming an NHL regular however, he's failed to stick with the big club and has played just 16 games in his short NHL career.
At the start of the 2017-2018 season, Pulock wasn't in the lineup. Certainly, the Islanders could use his big slapshot but head coach Doug Weight opted to go with veteran defensemen Dennis Seidenberg and Thomas Hickey instead.
He finally got his chance on Thursday night against the New York Rangers and capitalized with an assist on Anders Lee's power-play goal. But the question remains, will he cement his spot in the lineup or get sent down again?
Play Pulock
The 23-year-old has good size and skating skills with the ability to chip in offensively. In his four-year WHL career with the Brandon Wheat Knights, Pulock totaled 64 goals with a career-high 23 goals in the 2013-2014 season. That same season, he registered 40 assists for 63 points.
Pulock's time with the Islanders' AHL affiliate, the Bridgeport Sound Tigers, was up-and-down and lacked the consistency he displayed in junior hockey.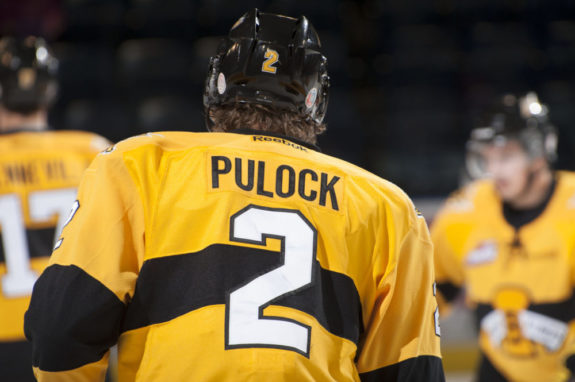 However, his last season with the Sound Tigers was his best. In 55 games, he scored 15 goals and 31 assists for 46 points.
Many of Pulock's goals are scored on the power play, a dreadful aspect of the Islanders' game. He has 22 goals in his AHL career including 13 power-play goals in the 2014-2015 season. The Islanders have just one power play goal this season, for a 4.3% success rate, well below the average NHL power play conversion percentage of 18.98%.
At 3-3-1, the Islanders' slow start can be attributed to their sluggish performance with the man advantage. Starting the 6'1 defenseman would be the perfect addition to jump-start the team's power play and change the team's momentum. With frequent lineup changes still common this early in the season, the time to play him is now.
The Crowded Blue Line
This offseason, the Islanders re-signed defensemen Adam Pelech and Dennis Seidenberg to a four-year and one-year contract, respectively, despite that their blue line already has Nick Leddy, Johnny Boychuk, Calvin DeHaan, Thomas Hickey, and Scott Mayfield.
Many predicted that Pulock would start over fellow young defensemen Mayfield and Pelech. Yet, six straight healthy scratches to start the season would indicate that isn't the case.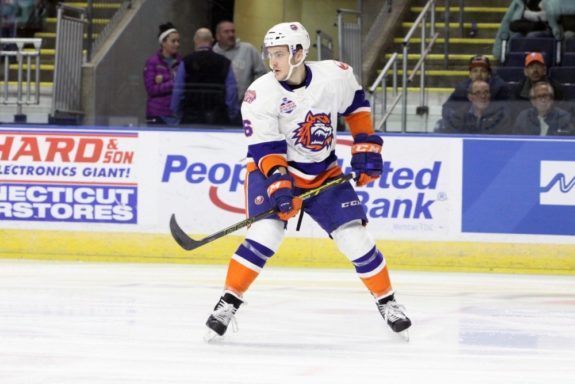 The Islanders have a logjam on defense and have many prospects that will be ready soon. Devon Toews, 23-years-old, leads the charge and is predicted to be ready for the NHL in the next year or two. He is followed by talented prospects such as Sebastian Aho, Parker Wotherspoon, and more. Toews is going into his second season with the Sound Tigers and is already meriting a call-up. After four years, why is Pulock not in the same boat?
Maybe It's Coaching
Former Islanders head coach Jack Capuano preferred to play veterans over younger players because of their experience. When Doug Weight was named head coach after taking over midway through last season, many hoped that philosophy would change. Weight even made a point of it, telling the media that he would have no problem playing rookies over veterans. Through seven games, it looks like Weight hasn't taken his own advice.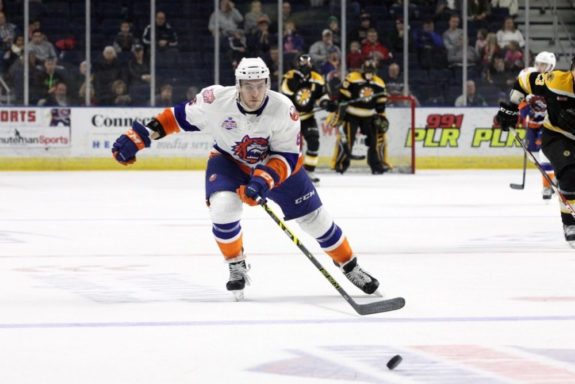 Joshua Ho-Sang, who registered 10 points in 21 games in his rookie season began the season as a healthy scratch. Second-year forward Anthony Beauvillier was looking to build off his rookie season but was a healthy scratch for the third game in a row against the Rangers.
Sure, the blame could lie on Pulock who has had more than enough time to get ready. But, what if it has to do with the Islanders' inability to effectively develop young talent and give them enough playing time? After all, is 16 regular season games enough to judge a player at the NHL level?
Pulock is the same player that prevented the Islanders from getting Matt Duchene because management wanted to hold onto him and believe highly in him. Now, they need to let his 105 mph slap shot loose.
John Cavanagh is a Journalism major in his third year at St. John's University in Queens. He's an aspiring sports journalist, and writes for his school paper called "The Torch". He also covers the New York Rangers for Blue Line Station, and now the New York Islanders for The Hockey Writers.