The beginning of the National Hockey League's unrestricted free agency period is a little more than a month away and John Carlson has yet to re-sign with the Washington Capitals.
It's not very often that a legitimate first-pairing defender heads to the open market, however, exactly such appears to be the case with Carlson. Fresh off of a career year with the Capitals in 2017-18, during which time he recorded a whopping 68 points, Carlson is set to become a UFA and will surely demand a massive raise.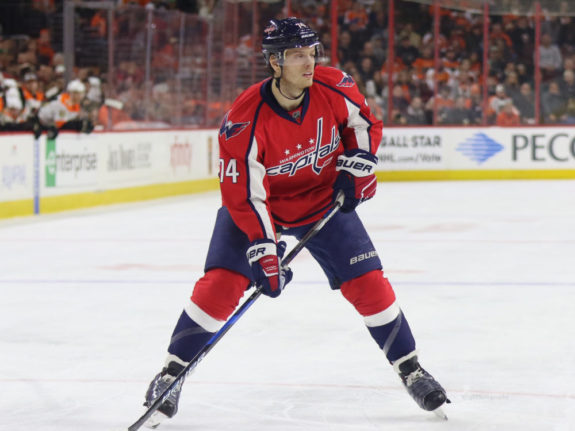 Finances, however, are why Washington will likely have to allow Carlson to find a new home this offseason. With little financial flexibility heading into their 2018-19 season, the Capitals will not be able to pay Carlson what he is truly worth unless the franchise can offload salary through a trade or other transaction this coming summer.
Related: 3 Struggling Capitals Essential for a Comeback
So, with Carlson set to hit the open market on Jul. 1, 2018 and explore his options, it's time to take a look at five potential landing spots for the elite defender. And, although some destinations may be more realistic than others, each franchise listed below boasts a bevy of reasons to chase Carlson this offseason.
1. Washington Capitals
Projected 2018-19 Cap Space: $8.6 Million
Franchise Status: Perennial Contender
Carlson has spent the duration of his nine-year NHL career in Washington with the Capitals. This reality will surely push both Carlson and Washington to come to a contract agreement which would cement the defender's presence in the Nation's capital long into the future.
Now 28-years-of-age, Carlson has plenty of hockey ahead of himself and appears to be rounding into his prime as a perennial Norris Trophy contender. With size, speed, smarts, and a scoring touch, Carlson's all-around game would provide the Capitals which much needed stability on their blue line in both the immediate and long-term future.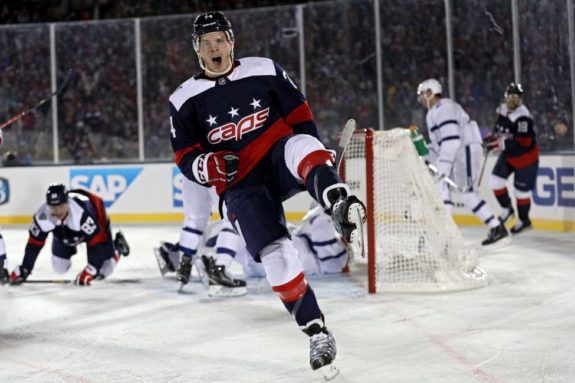 In 2017-18, Carlson enjoyed his best season with the Capitals — averaging 24:49 of ice-time per game while leading the NHL in scoring by defenders with 68 points in 82 games played. Further, once Carlson's 15 goals scored and excellent defensive play within his own zone are also considered, the native of Natick, Massachusetts becomes a legitimate top-pairing defender for which is no substitute.
The only factor which could complicate Carlson's prolonged presence in Washington is the Capitals' current financial situation.
With a little less than $9 million in projected cap space available ahead of their 2018-19 season, Washington would need to be extremely creative in order to re-sign Carlson to a contract reflective of his on-ice abilities. Clearly deserving of $8 million or more per season, re-signing Carlson would stabilize Washington's blue line but likely sacrifice the franchise's all important roster depth in the process.
2. Boston Bruins
Projected 2018-19 Cap Space: $9.6 Million
Franchise Status: Rising Contender
The Boston Bruins progressed to the Eastern Conference Semi-Final during the 2017-18 campaign, only to be bounced from the Stanley Cup Playoffs by the Tampa Bay Lightning. Despite a hard-fought series, the Bruins' lack of depth on defence contributed greatly to their demise, as a rash of injuries quickly exploited the team's need for greater skill, ability, and consistency on the blue line.
As a native of Massachusetts, Carlson could eye a return to his home state as a UFA this off-season.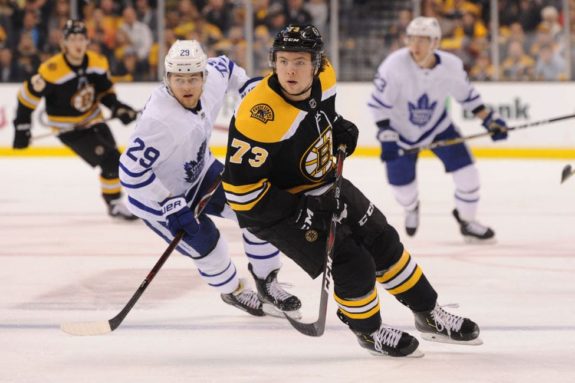 Boasting a blue line comprised of aging veterans, middle of the road blueliners, and up-and-coming top prospects, the Bruins would do well to add Carlson — a defender who would bring experience and composure to Boston's unique defence-core. Although, like the Capitals, the Bruins would have to shed salary in order to nab Carlson, he would likely prove to be a natural replacement for Zdeno Chara — a surefire Hall of Fame defender nearing the end of his storied career.
Related: Boston Bruins Offseason Outlook
When it comes to contract specifics, Boston would have to convince Carlson to take a hometown discount in order to join the Bruins' steadily progressing franchise. Although Chara will surely come off of the books in the near future, young standout Charlie McAvoy will need to re-sign in two years' time — a reality which would force Boston to back-load Carlson's contract if interest between the two parties did, in fact, exist.
3. New York Islanders
Projected 2018-19 Cap Space: $28.2 Million
Franchise Status: Fringe Competitor
With over $28 million in projected cap space ahead of their 2018-19 season, the New York Islanders could re-sign John Tavares and improve their blue line this offseason — an area of their roster which led directly to their downfall during the 2017-18 campaign.
Although the Islanders will need to offer contracts to the likes of Calvin de Haan, Thomas Hickey, and Ryan Pulock in order to bolster their blue line, New York stands poised to add an elite-level player to their roster through free agency this offseason. Although many would argue that player is Tavares, the Islanders could add an excellent defender too if the organization's finances are managed appropriately.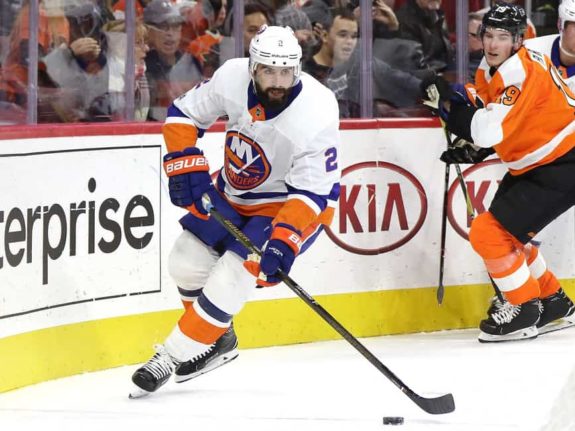 Yes, Carlson could and should demand upwards of $8 million per season in his next contract. Fortunately, New York stands more than capable of meeting Carlson's conditions, as the franchise should have well over $10 million to play with if Tavares and the defenders mentioned above all come to reasonable terms on new deals.
Related: Islanders Need Missing Fourth-Line Link
Now, although the Islanders will also need to lock-down a capable starting netminder, the impending arrival of Linus Söderström on an entry-level contract could ease any financial complications arising from Carlson's addition if the young goaltender is capable of succeeding at the NHL-level. With a ton of work head of themselves this offseason, adding Carlson could be the piece the Islanders desperately need to compliment their impressive crop of talented young forwards.
4. Colorado Avalanche
Projected 2018-19 Cap Space: $23.1 Million
Franchise Status: Rising Contender
With the exception of the Vegas Golden Knights, the Colorado Avalanche were the NHL's most surprising team in 2017-18. After finishing their 2016-17 campaign with an abhorrent 48 points, the Avalanche rebounded this season — skating to an impressive 95 points and a berth in the Stanley Cup Playoffs.
Although the franchise fell to the Nashville Predators in the first-round, Colorado battled exceptionally hard and pushed the Presidents Trophy-winning Predators to a decisive sixth-game. Founded upon blazing speed and sensational skill, Colorado proved to the hockey world that they are much closer to competing for a championship than many had thought.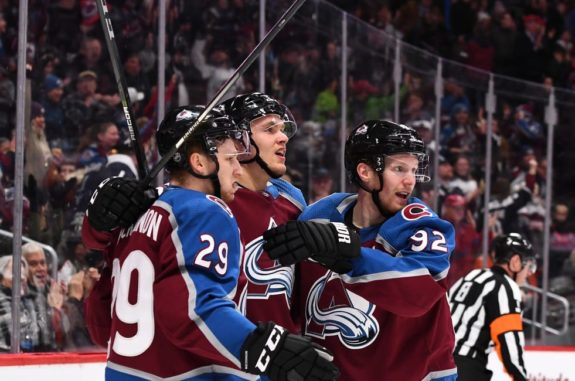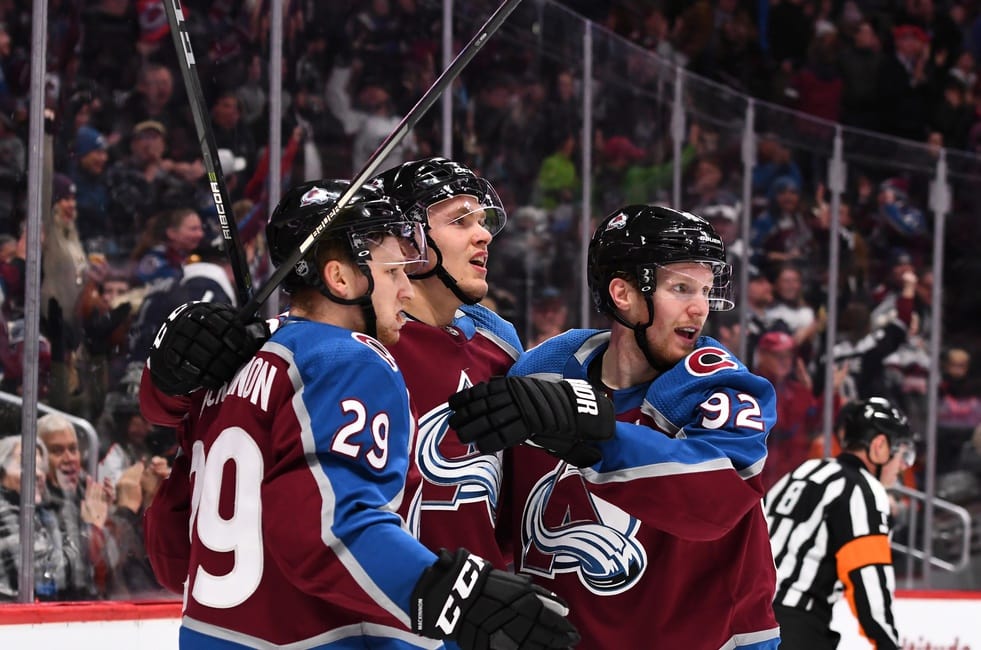 However, if the Avalanche wish to drive further into the Stanley Cup Playoffs in years to come, they will need to strengthen their blue line. Woefully thin, Colorado's current defence-core is a mixture of proven players and those battling hard to secure their standing as full-time, everyday NHL competitors. With a whack of money to spend this offseason, Carlson could prove to be an incredibly attractive option for the Avalanche, who currently lack a legitimate top-pairing defender.
If able to land Carlson, Colorado would boast a strong trio of defenders considering the existing presences of both Tyson Barrie and Erik Johnson. Further, with Cale Makar set to arrive in Denver sooner rather than later, the Avalanche could boast an excellent top-four and one capable of competently supporting Colorado's crop of young forwards.
5. Carolina Hurricanes
Projected 2018-19 Cap Space: $27.3 Million
Franchise Status: Stagnant Competitor
The Carolina Hurricanes fell short of the Stanley Cup Playoffs in 2017-18, marking the ninth-consecutive season in which the franchise has failed to reach the postseason.
As has been the case in years passed, the Hurricanes suffered from an inability to score goals and defend with consistency. Although offensive help may be on the way given the Hurricanes' high draft position this season, the franchise would do well to add a two-way defender capable of defending his own zone in addition to supplementing his team's offensive attack.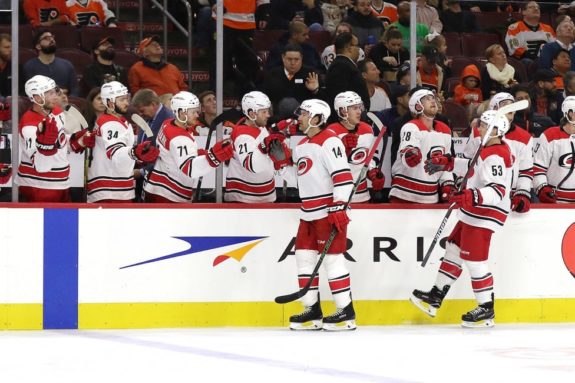 Having scored a career-high 68 points this season, Carlson could be the perfect candidate to fill this role. In 2017-18, Noah Hanifin led all Hurricanes defenders in scoring with 32 points in 79 games played —  a relatively meagre total and one not capable of mitigating Carolina's scoring woes. However, if Carolina were to add Carlson in addition to a player such as Andrei Svechnikov in the coming draft, the two could combine to alter the Hurricanes' stagnant trajectory.
Related: Andrei Svechnikov – 2018 NHL Draft Prospect Profile
Further, with a ton of money available to spend and only a handful of players to re-sign, Carolina could potentially offer Carlson his greatest financial opportunity on the free agent market. Although the Hurricanes may not be the ideal destination for free agents given the tumultuous history of their hockey operations department in recent years, a move to Carolina could bode well for Carlson and the Hurricanes' on-ice success.