The Toronto Maple Leafs have traded forward Peter Holland to the Arizona Coyotes for a conditional sixth-round draft pick in the 2018 NHL Entry Draft, the team announced on Friday.
#TML will only receive a 2018 sixth-round pick if the #Coyotes re-sign Holland or trade him, Chayka said.

— Sarah McLellan (@sarah__mclellan) December 9, 2016
The trade puts an end to speculation about the 25-year-old center's future in Toronto, after Holland's agent, Joe Resnick, spoke with Lou Lamoriello on Nov. 29 and a decision was made that Holland would not accompany the Maple Leafs on their road trip.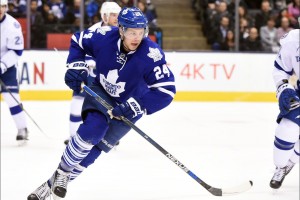 Holland hasn't dressed for a game with the Maple Leafs since playing just 9:41 in the team's 4-2 victory over the Washington Capitals on Nov. 26.
Holland re-signed with the organization earlier this summer but the events leading up to the deal seemed to raise questions about his future with the team at that time. As a restricted free agent this offseason, the Toronto native elected to go to arbitration. The Leafs placed Holland on waivers on July 22, just before his arbitration hearing scheduled for July 25.
After Holland cleared waivers, the team signed him to a one-year, $1.3 million contract to keep in a Leafs' uniform. However, things got off to a shaky start in 2016-17, as Holland skated in just eight games and registered one assist and a minus-two rating. He was often a healthy scratch and averaged under 11 minutes of ice time when he did figure into the Leafs' lineup.
Friday's trade comes after Holland posted career-highs in games (65), assists (18) and points (27) just a season ago.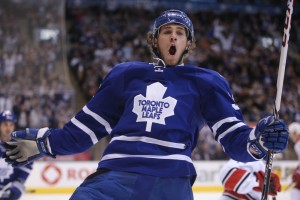 Holland started this season by centering the fourth line, but with the depth of the Maple Leafs' crop of rookies, Ben Smith replaced him in the lineup and Holland had a hard time dressing in games or receiving playing time when he did.
Josh Leivo, a 23-year-old forward who has registered five goals in 12 games this season, will likely be activated by the Maple Leafs from injured reserve in order to fill the spot that opened with Friday's trade.
Josh Leivo is ready to return for the Leafs. Wouldn't be surprised to see him play in one of their games this weekend.

— James Mirtle (@mirtle) December 9, 2016
The Coyotes are excited about the addition of Holland to the team's lineup and he figures to play a bigger role as he continues his sixth season in the NHL.
Coyotes GM John Chayka on Holland: "Peter is a big, solid centerman with good NHL experience. We look forward to having him join our team."

— James Mirtle (@mirtle) December 9, 2016
Odds and Ends
— The San Jose Sharks recalled defenseman Mirco Mueller from the American Hockey League's San Jose Barracuda, the team announced on Friday. The 21-year-old Swiss blueliner has registered six points in 17 games with the Barracuda this season.
#SJSharks recall defenseman @muellermirco from the @sjbarracuda. https://t.co/ACVQwvNAtm pic.twitter.com/xLfppQR9MO

— San Jose Sharks (@SanJoseSharks) December 9, 2016
— Earlier this month, Detroit Red Wings general manager Ken Holland discussed the idea of a wild card play-in game for the playoffs, which would bring the number of playoff teams to 18 from its current 16. However, NHL Commissioner Gary Bettman sees no reason to change things right now.
I'd love to see a play-in game but Bettman said there's zero appetite to change playoffs: "We think the structure we have now works."

— Craig Custance (@CraigCustance) December 9, 2016
— Former Pittsburgh Penguins star Kevin Stevens plead guilty to a federal criminal charge conspiring to sell oxycodone, according to the Boston Globe. Stevens entered the plea in United States District Court in Boston and his sentencing hearing is set for March 28.
— The NHL has voted Winnipeg Jets owner Mark Chipman and Montreal Canadiens owner Geoff Molson to the league's executive committee, according to The News Oberver's Chip Alexander. The news comes after the second day of NHL's Board of Governors meetings in Palm Beach, Florida. Chipman and Molson replace Carolina Hurricanes owner Peter Karmanos, Jr. and the late Ed Snider, the former owner of the Philadelphia Flyers who passed away earlier this year.