In today's NHL rumors rundown, the Pittsburgh Penguins cleaned house on Friday, firing a number of executives. What's next for the team? Meanwhile, the Anaheim Ducks have chosen not to renew the contract of head coach Dallas Eakins. Gabriel Landeskog will likely miss the rest of the season, including the playoffs for the Colorado Avalanche, the Ottawa Senators have informed Nick Holden he won't be back, and finally, will Paul Byron ever return to the lineup for the Montreal Canadiens?
Penguins Fire Those Responsible For Playoff Miss
The Penguins have relieved President of Hockey Operations Brian Burke, General Manager Ron Hextall, and Assistant General Manager, Chris Pryor of their duties, it was announced today by Fenway Sports Group. Search for new hockey operations leadership will begin immediately.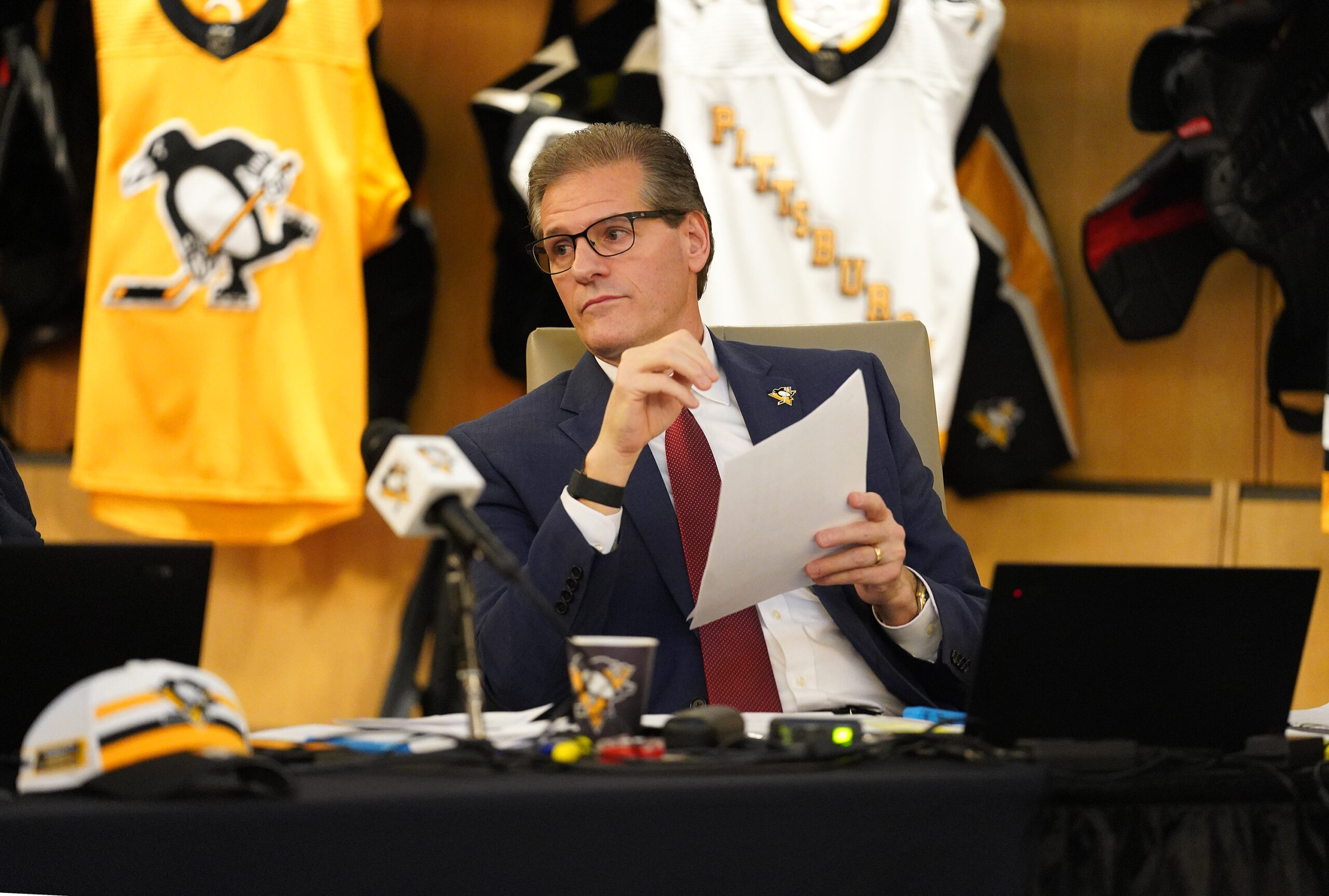 John Henry and Tom Werner issued the following statement: "We are grateful to Brian, Ron, and Chris for their contributions to the organization over the past two seasons, but we feel that the team will benefit from new hockey operations leadership. While this season has been disappointing, we believe in our core group of players and the goal of contending for the Stanley Cup has not changed."

During this transition, managerial duties of hockey operations will be shared among Director of Hockey Ops, Alec Schall, WBS General Manager/Manager of Hockey Operations, Erik Heasley and Hockey Ops Analyst, Andy Saucier. Head coach Mike Sullivan will also assist during the transition.
Ducks Not Bringing Dallas Eakins Back as Coach
Elliotte Friedman is reporting that the Anaheim Ducks will not bring head coach Dallas Eakins back next season. While the Ducks were a rebuilding team looking to finish near the bottom of the standings so that they had a better shot at Connor Bedard (which they did), the feeling might be that Eakins is not the man to lead this club through their transition.
Eakins was in the final year of his deal and his contract will simply not be renewed.
Gabriel Landeskog to Miss the Playoffs
The Colorado Avalanche announced that captain Gabriel Landeskog will not play in the 2023 Stanley Cup Playoffs due to a knee injury. Landeskog, 30, has missed the entire 2022-23 regular season and will not be able to return for the post-season despite the hope the Avalanche might get him back.
---
Latest News & Highlight
---
Landeskog was asked about his hockey future and responded, "It's been a long road up until this point, but I'm hopeful and I'm optimistic. I'm confident I'll come out on the other side of this." He did not have a date that he figured he would be able to return, meaning he's not 100% certain he'll be back for the start of next season either.
Nick Holden Won't Return to the Senators
The Ottawa Senators have informed defenseman Nick Holden he won't be back next season, says Postmedia's Bruce Garrioch. Holden's plan is to plans to test free agency. With the emergence of rookie Jake Sanderson and with the team having traded for Jakob Chychrun, Holden wasn't a priority. Holden, 35, was a serviceable defender during his time in Ottawa.
Paul Byron Undecided on Playing Future
Montreal Canadiens forward Paul Byron missed the entire 2022-23 season due to a lower-body injury. It was his second injury-filled season (he played just 27 games the year before) and Byron informed the media that the doctors have still not cleared him to return to the NHL.
According to TVA's Renaud Lavoie, he will make a decision on his playing future over the summer and if he doesn't return to the ice, Byron expressed his desire to remain with the team in a different capacity, particularly in player development. Byron says Montreal management's answer on a front office role will influence his decision on whether to continue his career. In other words, if the Canadiens want to hire him, he'll likely retire from the league as a player.