In today's NHL rumors rundown, the Chicago Blackhawks are telling teams they'll have only a limited window to prep for a Patrick Kane trade in the event they make the forward's shortlist. Meanwhile, the Boston Bruins are getting on the Jakob Chychrun sweepstakes.
---
---
Are the Edmonton Oilers and Los Angeles Kings trying to get leverage back on their side in a potential blockbuster deal? And, are the Calgary Flames unsure about adding because of where they sit in the standings? Finally, is there any truth to rumors that Jim Rutherford might want out of Vancouver?
Blackhawks Telling Teams to Be Ready
Pierre LeBrun noted during the TSN Insider Trading segment this week that the Chicago Blackhawks are telling teams that have an interest in Patrick Kane to be ready to make a transaction as they'll want to move quickly if Kane gives the green light to be moved. These teams will have 7-10 days to prepare themselves for a deal, says LeBrun.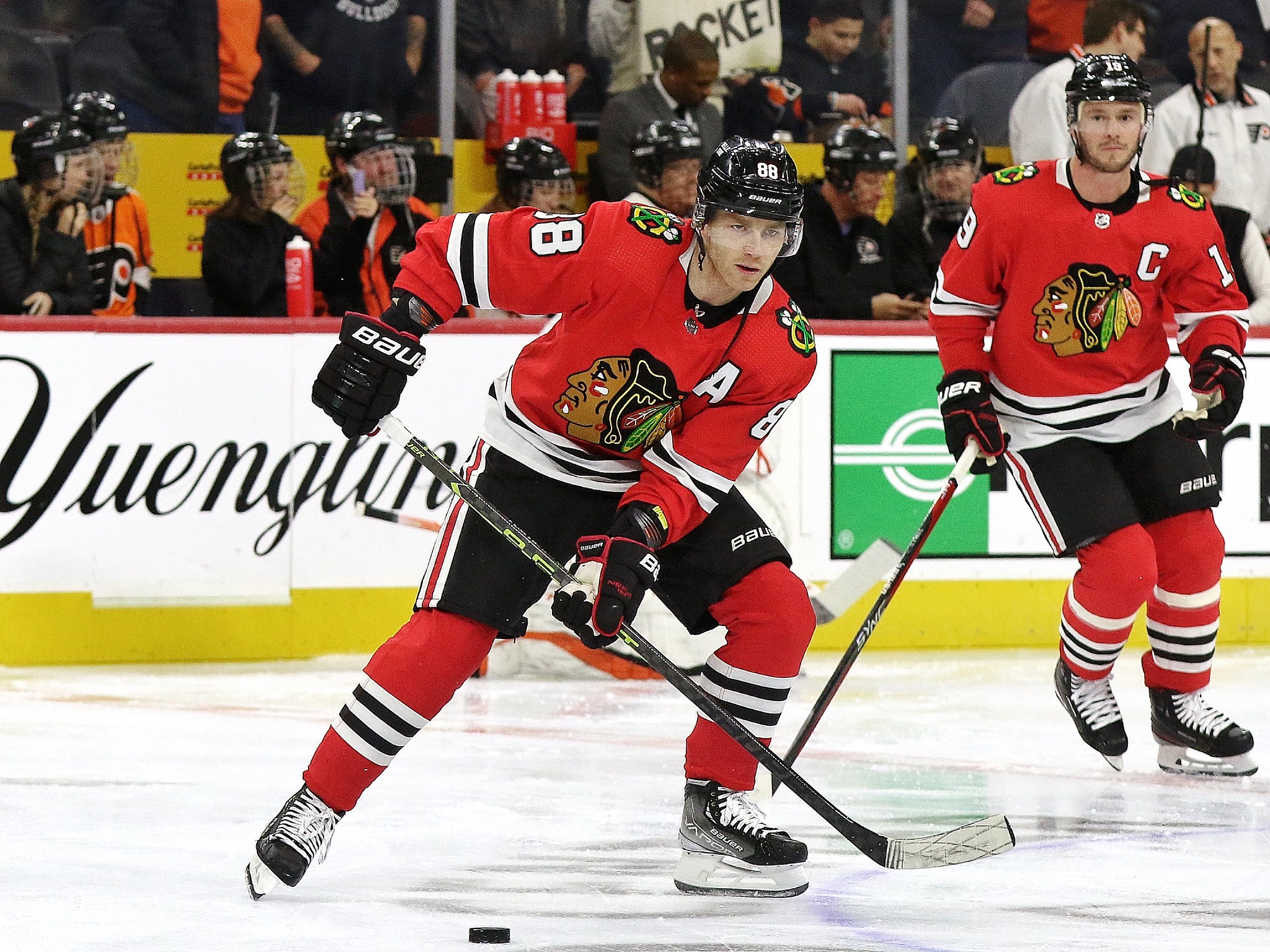 LeBrun notes that agent Pat Brisson said a decision is coming "relatively soon" from Kane. That could be that he's comfortable moving or that he wants to stay throughout the rest of the season. There are mixed reports on whether Kane has already been presented with a list of teams that have shown interest. David Pagnotta of The Fourth Period reports:
"In addition to Patrick Kane, I can confirm Jonathan Toews has also been presented with a list of teams that have expressed interest in trading for him. And like Kane, while things can change, no decision is expected until closer to the trade deadline."
Latest on Jakob Chychrun Trade Talk
LeBrun also says the Boston Bruins have also come into the picture for defenseman Jakob Chychrun as they have inquired with the Arizona Coyotes about a trade. Friedman adds in his 32 Thoughts column, "I mentioned before that Boston has looked at left-shot options such as Jakob Chychrun and Vladislav Gavrikov. The Bruins also appear to be considering Luke Schenn on the right."
LeBrun adds that both the Los Angeles Kings and Edmonton Oilers have similar targets when it comes to left-handed defensemen, and both have also expressed interest in Chychrun. As what might be deemed Plan B and Plan C, LeBrun notes that both the Kings and Oilers have talked to Montreal about Joel Edmundson, and to the Columbus Blue Jackets about Gavrikov. LeBrun says, "But believe me, the Kings and Oilers are waiting for these prices to come down, they don't want to let emotions take control."
Jim Rutherford Denies Wanting Out
A couple of reporters have dug into rumors that Jim Rutherford might not be happy in his position with the Vancouver Canucks. Both Rick Dhaliwal and Elliotte Friedman have tried to get to the bottom of the rumors and both have come back saying there's nothing to them.
---
Latest News & Highlights
---
Friedman writes in his latest 32 Thoughts column, "Jim Rutherford denies he is considering resigning from the Canucks. Vancouver's got a lot of decisions to make, on and off the ice, but he's determined to lead that process."
Flames Like Luke Schenn But Aren't Sure If They're Buyers
Friedman notes that the Calgary Flames are believed to be in on Luke Schenn but might need to wait to see if it makes sense based on where they sit in the standings to add him. The playoffs are not guaranteed for Calgary and with news of Chris Tanev's injuries, things are looking more complicated by the day.
Friedman also writes that there's been a push internally in Vancouver to hang onto Schenn and only move him if the price is right. Because there is plenty of interest, the ask will go up and a team might give the Canucks what it takes to trade the player.