In today's NHL rumor rundown, the Edmonton Oilers may have temporarily solved their goaltending issues but there's certainly a question mark surrounding the direction they're being forced to go. The Florida Panthers have told star center Aleksander Barkov trade rumors aren't true. The Winnipeg Jets have canceled practice and are their already alarms bell being sounded based on Frederik Andersen's play for the Toronto Maple Leafs?
Oilers Claim Gorsenick
The Edmonton Oilers were in a bit of a jam when it came to their goaltending. Mike Smith was being ruled unfit to play which left the team with little in the way of an experienced backup. As such, the team claimed Troy Grosenick off the waiver wire Saturday. The only problem is, he doesn't have much NHL experience either.
While he's got more games than either of the Oilers other options — Stuart Skinner or Oliver Rodrigue — Grosenick, 31, has two games of NHL experience. He's been a solid netminder at the AHL level for both San Jose and Nashville and a .919 and .920 SVP last two seasons.
This may not be a long-term solution and some feel the Oilers might still be in the market to add someone. The names Antti Raanta, Michael Hutchinson and Jimmy Howard have been mentioned when talking about Edmonton's goaltending options.
In other Oilers news, head coach Dave Tippett notes that Joakim Nygard will make his season debut tonight and Devin Shore will slot in at centre for Jujhar Khaira who comes out of the lineup. Tyler Ennis is also now available after sitting out last game with a few bumps and bruises after blocking a shot on opening night.
Zito Denies Trade Barkov Trade Rumors
TSN's Frank Seravalli reported Thursday that Barkov was drawing interest from rival general managers and while Seravalli did say Panthers GM Bill Zito was not interested in making a trade, the GM felt it necessary to approach the player anyways.
Florida Hockey Now reporter George Richards notes that both sides spoke and that Barkov joked about it. "Bill talked to me right away, he told me they aren't true," said Barkov. He added, "So it's all good and I am concentrating on the start of the season. Thank you for mentioning this is my first time being mentioned in trade rumors."
In other Panthers news, the team might be feeling the backlash of the rumors they might sit defenseman Keith Yandle and end his iron man streak. He was on the ice this morning with the game group at practice and head coach Joel Quenneville hasn't ruled out Yandle still playing in the Panthers opener. Considering it seemed like a done decision that Yandle was going to sit, it's an interesting shift in thinking.
Related: Maple Leafs' Andersen off to Another Slow Start
Alarm Bells With Andersen Already?
Just a couple of games into the the Maple Leafs season, there is already talk about the performances of their starting goaltender. Andersen has allowed nine goals in two games and questions about his play thus far have some who cover the team already worried.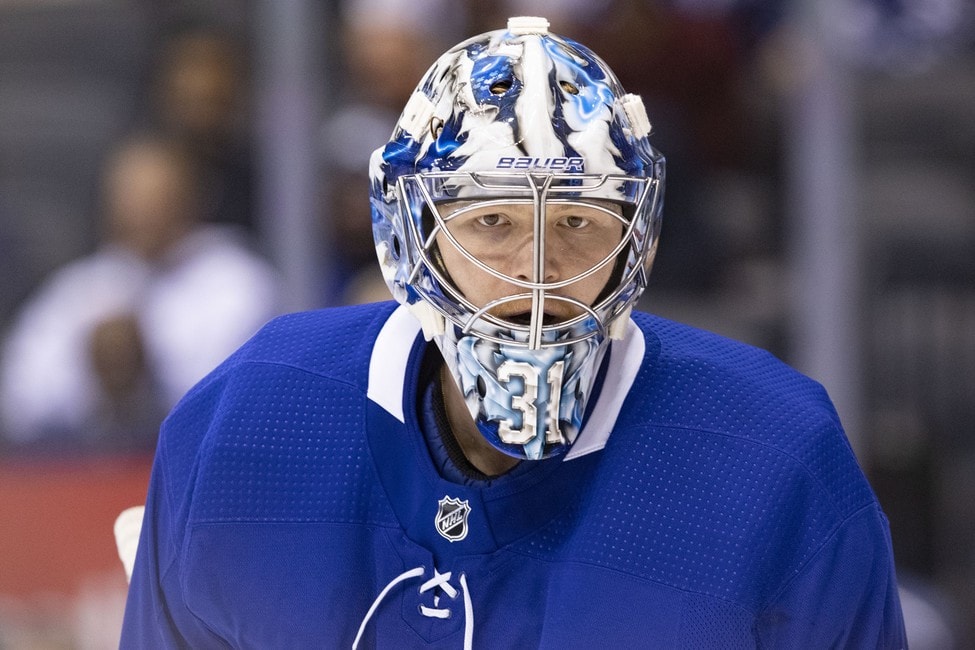 Chris Johnston of Sportsnet says the questions are fair but it's not time to sound the alarm bells yet. If the team is another few weeks down the road and the results don't change, everyone will have the right to freak out. For now, it's just best to understand that Andersen has a history of slow starts.
Jets Cancel Practice
The Jets are the latest to cancel a practice due to Covid-19 concerns. The team made their announcement early Saturday morning.
As per the statement, the canceled practice was made out of an "abundance of caution due to potential exposure of COVID-19" and that no further information is available at this time.
---
---
Catch up on all the latest NHL Rumors