In today's rumor rundown we look at a few returning names to the NHL and one name nobody thought might have trade value around the league. What's going on with Ilya Kovalchuk, who might actually be considering returning to the NHL for a non-Eastern Conference team? Slava Voynov might be looking at making a comeback in the NHL but will it be with the team he left? Finally, Milan Lucic was a dead man walking in Edmonton, but now that there might be some actual interest in the forward, are people starting to second guess their desire to send him on the next bus out of town?
LA Kings Interested in Ilya Kovalchuk?
There are few hockey insiders reporting that Ilya Kovalchuk was in California and meeting with NHL teams about a return. He is listed as one of the free agents to watch his summer and Darren Dreger of TSN said, "Ilya Kovalchuk in California this weekend. Visited with the LA Kings yesterday and will meet with the Sharks tomorrow." These are really the first Western Conference Teams that have shown interest or that rumors existed Kovalchuk might be interested in. It was long rumored that he might choose an Eastern Conference team like New York or New Jersey.
John Hoven said,"The Kings met Ilya Kovalchuk, but wouldn't say that he's Plan A for them. Their main priority is to add offense this offseason, as well as getting younger and faster."
It will certainly be interesting to see where he signs and he should be a quality offensive option for an NHL club on a shorter-term deal.
Related: NHL Rumors: Blues Looking to Spend, Hartnell, Lucic, More
Slava Voynov Situation
Former Los Angeles King, Slava Voynov was also recently rumored to be wanting to return to the NHL and has been cleared to re-enter the United States after criminal charges forced him to leave in the first place. Dennis Bernstein wrote, if Slava Voynov gets clearance to return to the NHL, he doesn't believe that he'll return to the Kings.
https://twitter.com/A_Kalnins/status/1005378605466124288
The Kings terminated his contract after pleading no contest to a charge stemming from a domestic dispute. Interestingly, speculation is that his permission to re-enter the U.S. is not new. NHL.com's Igor Eronko reports that Voynov received that permission more than a year ago and traveled to the U.S. last summer and might have been feeling out the waters at that time. July 2 is the first day that Voynov can apply for a U.S. work visa.
Related: NHL Rumors: Neal, Perron, Carlson, More
Actual NHL Interest in Milan Lucic?
It's interesting to see how fans react when they want to see a guy traded and then when there's talk of actually trading him. There seems to be a little bit of that going on in Edmonton with the Oilers and Milan Lucic. All season, as Lucic struggled and after the Oilers missed the playoffs, fans and insiders were calling for Lucic's head. News broke a few days ago that the Oilers were, in fact, looking to move Lucic and his allegedly untradable contract and that he'd agreed to waive for the right situation. After fans were all over the Oilers for signing Lucic in the first place, some people are now starting to wonder if trading him is a good idea.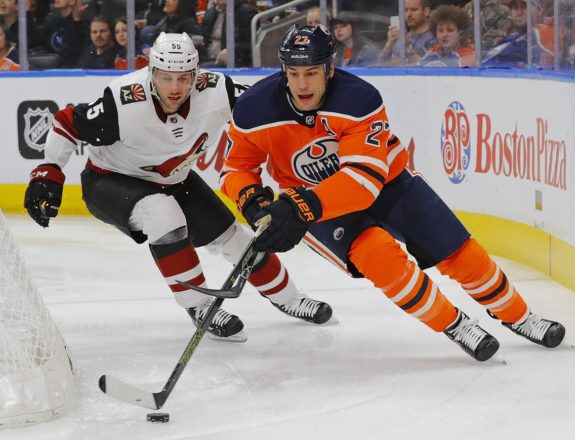 Jim Matheson of the Edmonton Journal wrote about the team having options but maybe holding back a little. Back in 2016 the Montreal Canadiens wanted Lucic and were one of the teams competing with the Oilers to sign him out of free agency. They had also offered him seven years and possibly more money than the Oilers but Lucic chose Edmonton and the chance to play with Connor McDavid. If the Canadiens still have interest, Matheson was wondering if Lucic for Andrew Shaw might be something both sides would consider? Of course, Matheson adds, "Just theorizing. I'm in no rush to move Milan. He's had one bad year in last 8."
David Staples also thinks there might be a bigger market for the tough forward than most people think. The Oilers are assumed to have to sweeten the pot to move Lucic and his contract but anyone that thinks they'll move the 10th overall to do so is way out to lunch.
This is not to suggest that either one of these two guys were harping on Lucic all season or loudly defending him but it sounds like there may be a market for Lucic and with the reality of a trade setting in, are people starting to get cold feet? Or, is this more about what the team might have to give up in addition to Lucic to make it happen?