In today's NHL rumors rundown, one insider believes that after the way things have gone downhill since the 2018 playoffs, there is an inevitable split coming between the Washington Capitals and Evgeni Kuznetsov.
---
---
Meanwhile, could the Edmonton Oilers target someone like Connor Brown on an interesting league-minimum deal? Travis Hamonic says he wants to stay with the Ottawa Senators. Finally, what kind of money is Cam Talbot looking for on an extension in Ottawa?
Friedman Thinks a Kuznetsov Trade is Inevitable
We reported earlier this week that a blog called Russian Machine Never Breaks (RMNW) found an article a while back that Evgeny Kuznetsov asked for a trade and still wants out. The player has since commented and said he's not sure where these reports are coming from. Elliotte Friedman seems to believe there is friction between the two sides and that both are unhappy with the relationship. A trade is likely coming.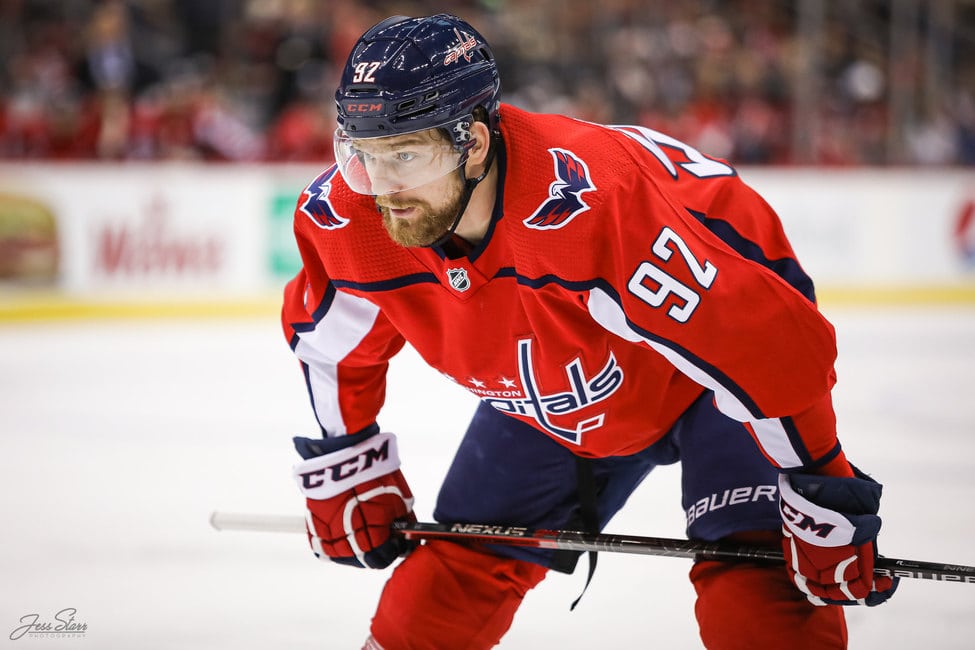 The NHL insider noted during the 32 Thoughts podcast that Kuznetsov got a big contract after he was an incredible player for the team during their Stanley Cup run. It was a contract he earned. But, things have changed and said, "if he was playing like the way he was in 2018, they're not looking to trade him and also, somebody's happy to take him." Friedman added, "He just hasn't been at that level, which makes it harder on the team and harder to make a deal in a tight cap world. But it says to me, this is coming at some point. Can't say exactly when, but it's coming."
Could Oilers Target Connor Brown to a League-Minimum Contract?
During the show, Oilersnation Every Day with Tyler Yaremchuk, an interesting theory was mentioned suggesting the Edmonton Oilers might try to explore signing a player to a league-minimum deal heavy with performance bonuses — which don't count against the salary cap that season. It was suggested that GM Ken Holland has a chance to ink a solid player where the contract would only show $775k (league minimum), "and then whatever bonuses are hit by that player they are applied to next year's cap."
---
Latest News & Highlights
---
Typically, this stipulation is reserved for players 35 and over, but it can also be applied in cases where someone under 35 has been on long-term injury reserve for a certain number of days. That opens the door to targeting someone like Connor Brown who the Oilers have had an interest in before.
The Oilers won't be spending big money this summer on free agents, choosing instead to lock in their own guys and make difficult decisions on who they might need to let go. If someone like Brown is excited about the option to play with the Oilers' potent offense, there could be a value deal there.
Travis Hamonic Wants to Re-Sign With Senators
Ian Mendes of The Athletic writes that defenseman Travis Hamonic is looking to sign another deal with the Ottawa Senators and doesn't want to go anywhere. The pending UFA is finishing up a deal that pays him $3 million and says he doesn't want to look at other options if there is a role for him on the team.
Related: Senators' Tyler Kleven Set To Make NHL Debut
Mendes cites Hamonic who said:
"I love it here. And I want to say that from the bottom of my heart. My wife and kids are so happy here. They are really settled here. And the community has really welcomed us. On a personal level, this is a no-brainer. And with the hockey team, this is headed in the right direction. This organization is on the upswing."

source – 'How Travis Hamonic found a home with the Senators and why he wants to stay in Ottawa' – Ian Mendes – The Athletic – 03/30/2023
Cam Talbot Wants $5 Million
The crew from TSN 1200 talked about comments Dean Brown made suggesting Senators goaltender Cam Talbot has been approached twice by the team to see if he'll consider signing a contract extension. Speculation is that Talbot, 35, is seeking somewhere close to $5 million.
The belief is that if this number is accurate, the Senators will likely walk away and look for another option in goal. It's not clear what term Talbot might be asking for. The hosts of the show believe that $5 million number might not be an annual figure considering his age and health concerns.
Players Unwilling to Touch Escrow to Up the NHL Salary Cap
According to multiple sources, at his introductory media conference, new NHLPA executive director Marty Walsh says players are "open to any conversation" about raising the salary cap with the exception of one. The players have made it clear they are "not open to changing escrow."
Currently, escrow is capped at six percent over the next three seasons. Escrow is essentially the tax the league withholds on player salaries. It ensures a 50/50 split between the players and the NHL. If the league meets certain revenue targets they pay the players the money back. If they don't, that withheld money covers the losses that would have otherwise already been played to players and is hard to retrieve from the league's perspective.