The Edmonton Oilers snapped a two-game winless skid with their first road victory of the new year, 6-2 over the Anaheim Ducks at Honda Center on Wednesday (Jan. 11).
Klim Kostin scored twice for the Oilers, who also got goals from Leon Draisaitl, Dylan Holloway, Connor McDavid, and Ryan Nugent-Hopkins. Jack Campbell made 21 saves to win his second consecutive start. 
Edmonton was in front 4-1 after one period, and took a 6-1 lead into the second intermission. The Oilers fired 53 shots at Ducks netminders John Gibson and Anthony Stolarz, their most since Feb. 2013 and tied for the fourth most in franchise history.
---
---
Entering Wednesday's contest with just four wins in its last 12 games, the Oilers were in need of a dominant performance to build some momentum, and couldn't have asked for a better match-up than against the Ducks, who have the worst goal differential in the NHL.
So was the 6-2 win a sign that the Oilers are getting back on track, or just more the result of playing a weak opponent than any significant improvement in Edmonton's play? Here's a look at some of the sustainable factors that contributed to the victory, and what about their play continues to be a concern. 
Oilers Getting More Support Scoring 
When he fired the puck behind Gibson in the first period, Nugent-Hopkins joined Draisaitl, Zach Hyman and McDavid as Oilers with at least 20 goals, 43 games into the season. The last time an NHL team had four players reach the 20-goal mark in fewer games was the 1995-96 Pittsburgh Penguins. The 2022-23 Oilers are also the fastest Edmonton team to have four players tally 20 goals since 1987-88 when the Hall-of-Fame quartet of Glenn Anderson, Wayne Gretzky, Jari Kurri and Mark Messier all had at least 20 goals by Edmonton's 40th game.
That's great company, but the 1987-88 Oilers won the Stanley Cup, while the 2022-23 Oilers are no sure thing to even make the playoffs. The former also had depth scoring that has been completely lacking from the latter.
Thus, it's encouraging for the Oilers to get three goals on Wednesday from players not named Draisaitl, Hyman, McDavid or Nugent-Hopkins ("The Big Four" for subsequent references). Holloway potted the third goal of his rookie campaign, while the surprising Kostin scored two goals for the second time in less than two weeks. 
Related: Emergence of Klim Kostin Makes Puljujarvi Trade Easier for Oilers 
---
Latest News & Highlights
---
Over its first 33 games, Edmonton averaged just 1.15 goals per game from players outside of The Big Four, but that number has shot up to 1.7 in the last 10 games. Four of the last five Oilers' wins have included at least two goals scored by players other than The Big Four.
If the likes of Holloway (two goals in the last four games), Kostin (five goals in the last seven games), and Kailer Yamamoto (two goals in the last four games) can continue providing support at recent levels, the Oilers are almost surely going to start winning more in the second half of the season. 
Campbell Could be Finding his Form 
In his first 15 starts of 2022-23, Campbell allowed two or fewer goals just three times. He's since given up two or fewer goals in three straight starts. 
Any way you slice it, that's progress from the 31-year-old Campbell. After signing a five-year, $25 million contract in the offseason, the former Toronto Maple Leafs starter began his Oilers tenure so poorly that he lost the No. 1 netminder role to a relatively untested Stuart Skinner, who is seven years younger and is paid $4.25 million less.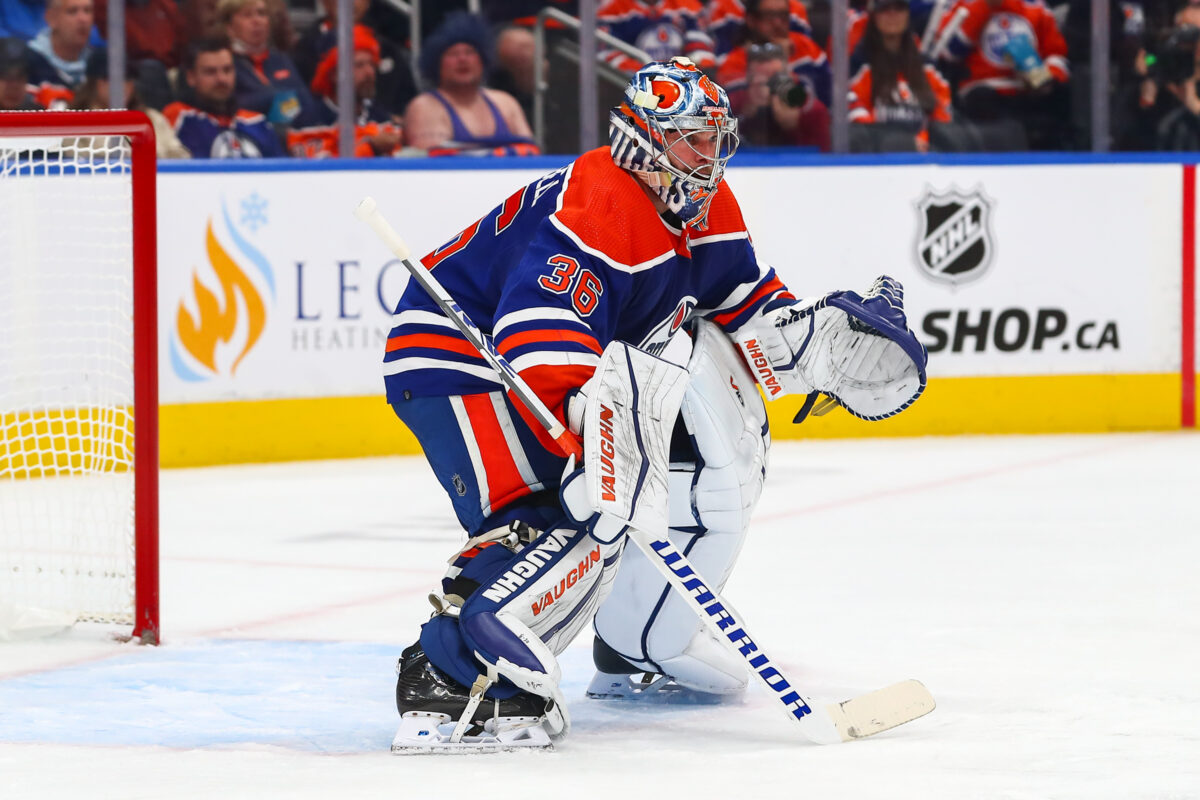 Campbell's numbers following the Christmas break (2.03 goals-against average (GAA) and .897 save percentage (SV%) in five appearances) are much better than before the holiday (4.02 GAA and .876 SV% in 15 games).
What bears mentioning is how less busy Campbell has been, facing just 19.77 shots per 60 minutes over his last five outings, compared to 32.33 in his first 15 games. It's been over three weeks since Campbell faced more than 23 shots in a single game. Skinner, for reference, has a season-long average of 34.46 shots against per 60 minutes. 
Are Campbell's recent strides just the result of an easy workload, or indicative of an overall improvement that he can sustain when the volume of shots against inevitably shoots back up?
Oilers Starting Stronger Than They Finish 
While the Oilers blew the Ducks out of the water on Wednesday, they were actually outscored in the third period, 1-0, continuing what has been a trend for nearly a month now. 
In their last 13 games, the Oilers have outscored opponents 19-9 in the first period, but have been outscored 33-25 the rest of the game, including 15-10 in the third period and overtime. Over this span the Oilers are just 5-5-3 and lost three times at home after leading by two goals. 
Leading early is critical to success in this sport (NHL teams win nearly two-thirds of the time when scoring first this season), but a team still has to close things out. That's easy to do when leading by five goals, as was the case entering the final 20 minutes at Honda Center. But that negative goal differential in the third period could have spelled defeat on another night. 
For now, the Oilers will gladly take these two points, which move them into a tie with the Calgary Flames for fourth in the Pacific Division and a wild card playoff position. They will go for a second straight win when the team returns to action against the San Jose Sharks on Friday (Jan. 13) on the third stop of a four-game all-divisional opponent road trip.