It is no secret the Edmonton Oilers still have a fair bit of work in front them before becoming one of the better teams in the NHL. However, with the likes of Jordan Eberle, Taylor Hall, Connor McDavid, Ryan Nugent-Hopkins and Nail Yakupov now in place, it really is not a matter of if this team will become a force to be reckoned with but rather when.
[Related Article: The Edmonton Oilers And Life Without Jordan Eberle]
Yes, they still need to upgrade their roster and work through their fair share of problems, most notably their own end of the rink and having too many similar styled players throughout their lineup, addressing those issues was never going to be an overnight solution. After all, it's not about this year in Edmonton but rather what the future will hold.
I'm scared looking at the October oilers schedule.

— McOilersFANATIC (@Oilers1966) October 5, 2015
With the start of the Oilers 2015-16 schedule being among the toughest in the league, Todd McLellan's side was in desperate need of a helping hand after starting the year with four consecutive regulation losses. Lucky for them, the schedule makers granted them the opportunity to come up for air and try to right this ship over this past weekend. After facing the St. Louis Blues (twice), Nashville Predators, and Dallas Stars over the opening week of the season lining up against the Calgary Flames and Vancouver Canucks must have felt like a breath of fresh air for the Oilers. Be it a coincidence or something else, Edmonton made the most of said opportunity and went from being winless in four to undefeated in two…all in the span of roughly 24 hours.
Connor McDavid has three points as @EdmontonOilers beat @NHLFlames 5-2 for their first win. http://t.co/kDxahYmqxR pic.twitter.com/yswmHhPwau — SportsCentre (@SportsCentre) October 18, 2015

The kids exploded against the Flames during the second-half of Hockey Night In Canada's doubleheader, as the four first overall picks torched Jonas Hiller en route to a 5-2 victory. Two goals from McDavid and singles from Hall, Nugent-Hopkins, and Yakupov propelled the Oilers to their first win of the year.  The quartet combined for nine points against their provincial rival and looked every bit as dominant as many so-called experts were expecting.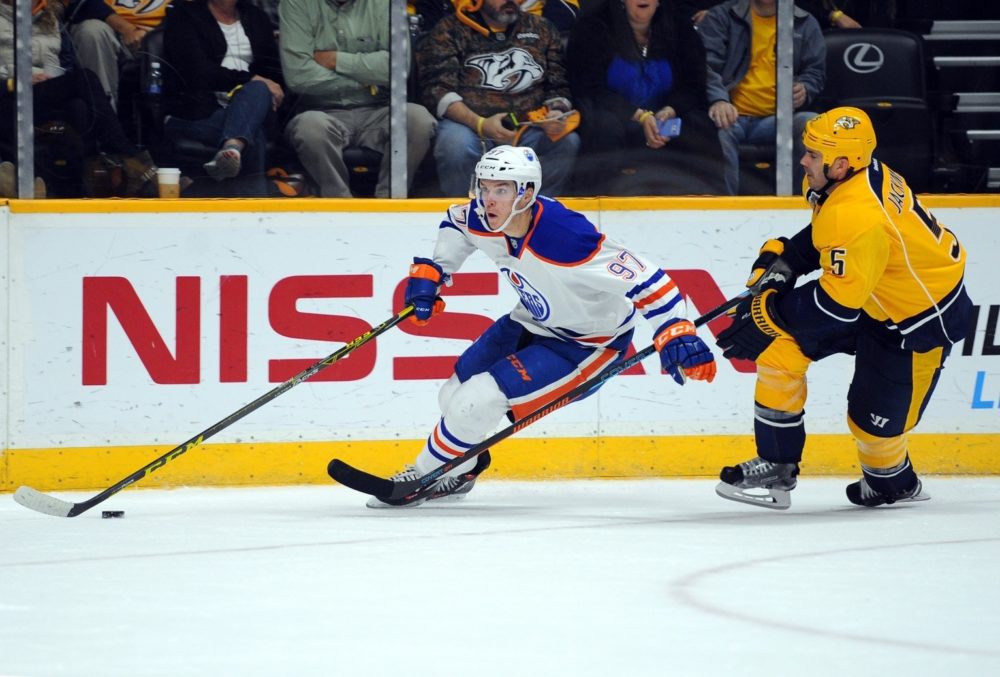 McDavid – Pouliot – Yakupov
After looking uncomfortable during most of his first four NHL appearances, McDavid started to show flashes of what fans can expect from the kid over the next number years. After struggling to mesh with Taylor Hall and whomever else McLellan decided to throw on his line, the 18-year old started to kick his game into high gear after being given Benoit Pouliot and Nail Yakupov as new linemates.
For the first time this season, Edmonton was the better team and there was little the Flames could do to stop them. By the time the third period hit, it seemed as though whenever the Nugent-Hopkins or McDavid line came over the boards, Calgary were on their heels. A far cry from what we had seen against the Blues, Preds and Stars. Again, the level of competition certainly had something to do with it.
Nilsson To The Rescue
While the Oilers essentially had their way with Bob Hartley's crew, things were not quite so easy against Vancouver. Did the fact Edmonton was playing their third game in four nights have something to do with that? Probably but to their credit, they emptied the gas tank and rode the coattails of their backup netminder to a 2-1 overtime win over the Canucks.
[Related Article: Is it too Early (or Even Realistic) to Panic in Edmonton?]
Anders Nilsson was fantastic from start to finish, blocking 33 of the 34 pucks Vancouver fired his way, in earning his first NHL win since April 13, 2014. While the towering Swede was essentially left to fend for himself against Dallas in his debut, his teammates were in it for the full 60 minutes. Though a poorly executed chip shot by Daniel Sedin into what was a yawning cage, early in period three, played a fairly big part as well.
With that said, a first-period power play marker from the McDavid-Yakupov duo, coupled with a great defensive play from Andrej Sekera and finish by Lauri Korpikoski in overtime, handed the Edmonton Oilers a perfect ending to what was one heck of a weekend.