Paul Coffey. Denis Potvin. Larry Robinson. Brian Leetch. Evan Bouchard. The first four are Hall of Famers, multi-time Norris Trophy winners, and Stanley Cup champions. The fifth is a 23-year-old who was a healthy scratch in the playoffs just two years ago. 
But after picking up a goal and an assist on Saturday (May 6) in the Edmonton Oilers' 5-1 victory over the Vegas Golden Knights, Bouchard stands in exclusive company with that quartet of hockey legends: Coffey (16 points in 1985), Potvin (16 points in 1981), Robinson (14 points in 1978), Leetch (14 points in 1995) and Bouchard (14 points in 2023) have the five highest point totals by a defenseman through the first eight games of a playoff year.  
The Oilers are now tied 1-1 with Vegas in their best-of-seven second round series, following Edmonton's 4-2 defeat of the Los Angeles Kings in Round 1. 
Bouchard Leads Playoffs in Assists and Power-Play Points
In Edmonton's eight games, Bouchard has three goals and a league-leading 11 assists. Bobby Orr (12 in 1972), Robinson (12 in 1978), Charlie Huddy (11 in 1985), and Larry Murphy (11 in 1995) are the only other blueliners with at least 11 apples in the first eight contests of a postseason.   
He leads the 2023 Stanley Cup Playoffs with 12 power-play points, an incredible total that is already tied for the 10th most points by a defenseman in a single playoff year in NHL history.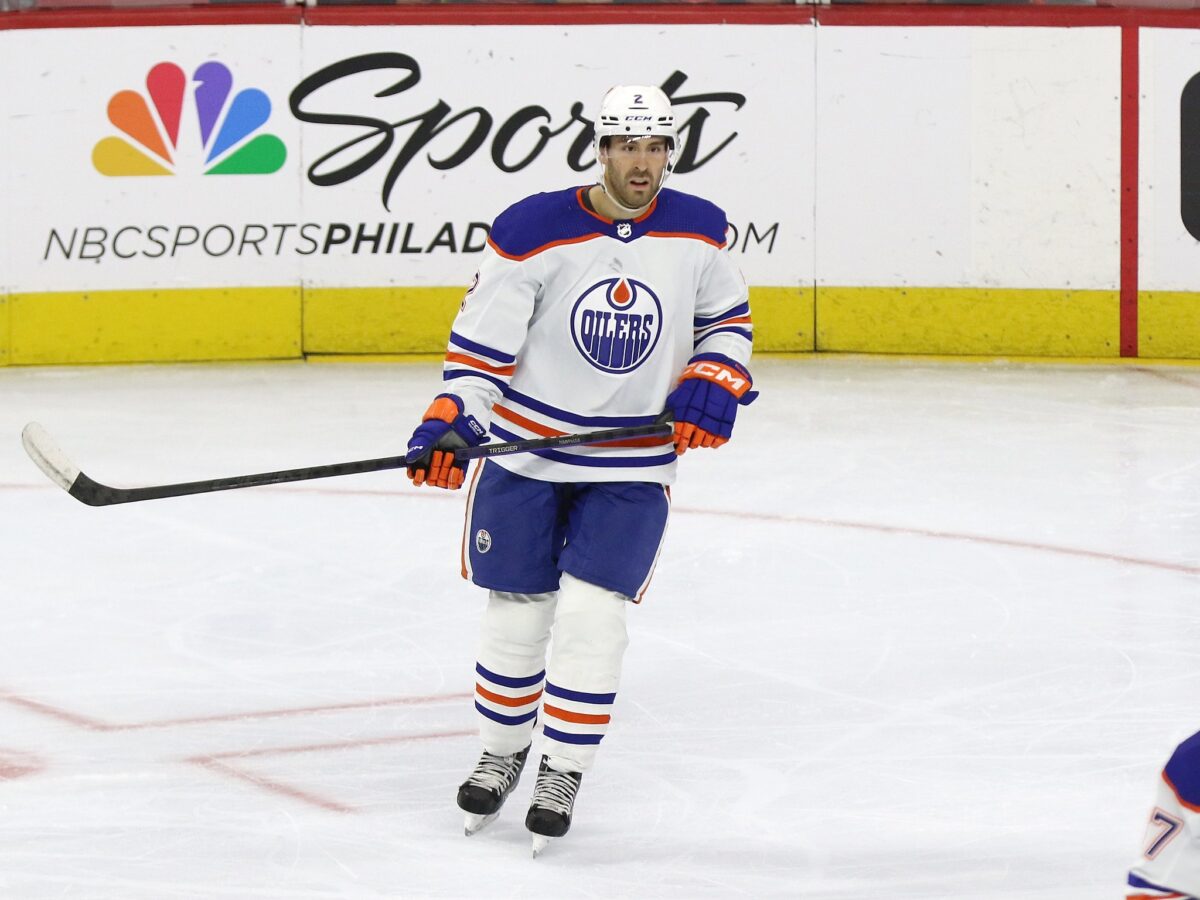 Bouchard has notched at least one point in every Oilers' 2023 playoff game thus far, and two points in each of the last three; only two defensemen aged 23 or younger have a longer postseason point streak, and only six in NHL history have a longer multi-point streak in the playoffs.  
This article could go on and on rattling off Bouchard's impressive stats from the first three weeks of the 2023 Stanley Cup Playoffs, but readers get the picture: Bouchard is performing at a superstar level. 
No one could have conceived of this a couple months ago, save for maybe a couple people: Oilers general manager Ken Holland, and Bouchard himself. 
Departure of Barrie Opened Door for Bouchard
On Feb. 28, the Oilers dealt defenseman Tyson Barrie to the Nashville Predators for fellow blueliner Mattias Ekholm in a trade that also included draft picks.   
---
Latest News & Highlights
---
The upside of the deal was obvious: in Ekholm, a 32-year-old veteran of more than 700 NHL games, the Oilers were acquiring the smart and steady shutdown defenseman capable of top-pairing minutes that they had been lacking since losing Adam Larsson to the Seattle Kraken in July 2021. On Edmonton's list of needs in order to contend for the Stanley Cup, this checked off the first or second item from the top.
But Barrie, though defensively suspect, was an offensive dynamo and quarterback of a historically great power play. Since the defenseman debuted with the Oilers at the start of the 2020-21 season, Edmonton's power play had been the best in the NHL, operating at 28.4%. At the time of the trade, they were first in the league at 31.9%.
Related: Tyson Barrie Deserves Appreciation for Time With Oilers
Barrie had 25 goals and 107 assists over 190 regular season games in his Edmonton tenure. Among defensemen with more than 80 games played with the Oilers, his average of 0.53 assists per game is second most all-time behind only Coffey.
Bouchard, meanwhile, was nearly three-quarters of the way through his second campaign as a full-time NHLer. At times, he looked every bit the explosive defenceman the Oilers hoped he would become when they drafted the Oakville, Ont., native 10th overall in 2018. At other times, he was guilty of costly mistakes that were not uncommon for a player at this stage of his career. Now he was going to run a power play with a success rate six percentage points better than any other in the NHL.
Bouchard's Offensive Surge Started in Regular Season
After totaling three goals and five assists (0 goals and five assists on the power play) with a minus-6 rating over Edmonton's first 61 games prior to the Barrie/Ekholm trade, Bouchard erupted for five goals and 14 helpers (two goals and six assists on the power play) with a plus/minus of plus-12 over the final 21 games of the season.
So far, so very good for the Oilers, who finished the season on a 14-0-1 tear with Bouchard in an elevated role. But the playoffs, of course, are a different animal. And apparently, one that Bouchard is even better built for.
Oilers forward Leon Draisaitl has scored an inconceivable 13 postseason goals so far (setting a record for most in the first eight games of a playoff year), and Edmonton captain Connor McDavid has racked up 15 points in eight games, but after the dynamic duo, Bouchard is third on the team – and fourth in the entire league – in playoff points. The 6-foot-3 rearguard is a significant reason why Edmonton is in the second round and has stolen home-ice advantage from the Golden Knights, with a chance to take the series lead when it hosts Game 3 at Rogers Place tonight (May 8).