The Edmonton Oilers are in an enviable position when it comes to NHL contracts. Like most teams, there are some difficult decisions to make and there are a couple of players who might be overpaid, but the organization has their key assets locked into long-term deals and their core is with them over the next three-to-four seasons. What they do to surround that core is what matters now and one insider suggested an interesting idea.
Expanding on a topic first covered by Liam Horrobin of Oilers Nation, he cites a conversation on Oilersnation Everyday between Tyler Yaremchuk and Frank Seravalli. The two talked about an intriguing strategy that the Edmonton Oilers could, (and possibly should), capitalize on. The idea involves using what is somewhat of a loophole in the salary cap when it comes to league-minimum deals and performance bonuses. It's a tricky tightrope to walk, but if done correctly, could land the Oilers a top-notch player for dirt cheap.
Targeting Players 35 And Over
The first suggestion here isn't so much a loophole as it is a different type of game plan. This strategy suggests that the Oilers find the right player who is looking to join the team's potent offense, has a chance to win, and thinks they can hit a certain level of production with players like Connor McDavid, Leon Draisaitl, and Ryan Nugent-Hopkins, among others. This player would get the league-minimum salary, but there would be bonuses attached to their deal that would see them make a fair wage by the time the season is complete. The catch is that they are over 35 years old.
---
Latest News & Highlights
---
Seravalli notes,
"You can sign the player (over 35 years old) to a league minimum deal and add performance bonuses to that contract. That money (the performance bonuses) does not count against your cap that season. You have the option to only show $775k (league minimum) and then whatever bonuses are hit by that player they are applied to next year's cap."
Among the names who would qualify and stand out are Erik Johnson out of Colorado, Patric Hornqvist out of Florida, Nick Foligno out of Boston, Paul Statsny out of Carolina, and Corey Perry out of Tampa Bay. Some of those players aren't exactly big names, but the next bit is where things get interesting.
There Is An LTIR Loophole
It was also mentioned that teams can find a loophole in the CBA regarding players that have been injured long-term. This is where bigger names like Max Pacioretty, Connor Brown, or Carl Hagelin come in. He notes:
"What happens with (Max) Pacioretty and other injured players is something that is not talked about all that often, but applies here. There is a stipulation in the CBA that you do not have to be over 35 to do the same thing with a player who has had a long-term injury and is a free agent. If you have played 400 in the NHL and you missed more than 100 days with a long-term injury you can do the same thing as an over-35 contract."
This is intriguing for the Oilers because one would imagine there are a few players who have missed a lot of time this past season with injuries, but still have a lot to offer if healthy. These players may not have the free agent market knocking down their door because of their previous absences, but they might be worth taking a flyer on because when productive, they are extremely valuable.
Pacioretty is a proven goal scorer who has the ability to pot 30 goals if he can stay in the lineup. Brown is a player who has an effective history with McDavid and he's been a player the Oilers have been linked to before.
Is There a Concern Regarding this Strategy?
Like any contract where a player hits all of their performance bonuses, it doesn't hurt the team's cap that season, but it can provide a real wrinkle the next year. Those bonuses need to be pushed over and in Edmonton, depending on the bonuses offered, a healthy player is almost a lock to hit them if given opportunities alongside some of the most gifted offensive players in the league.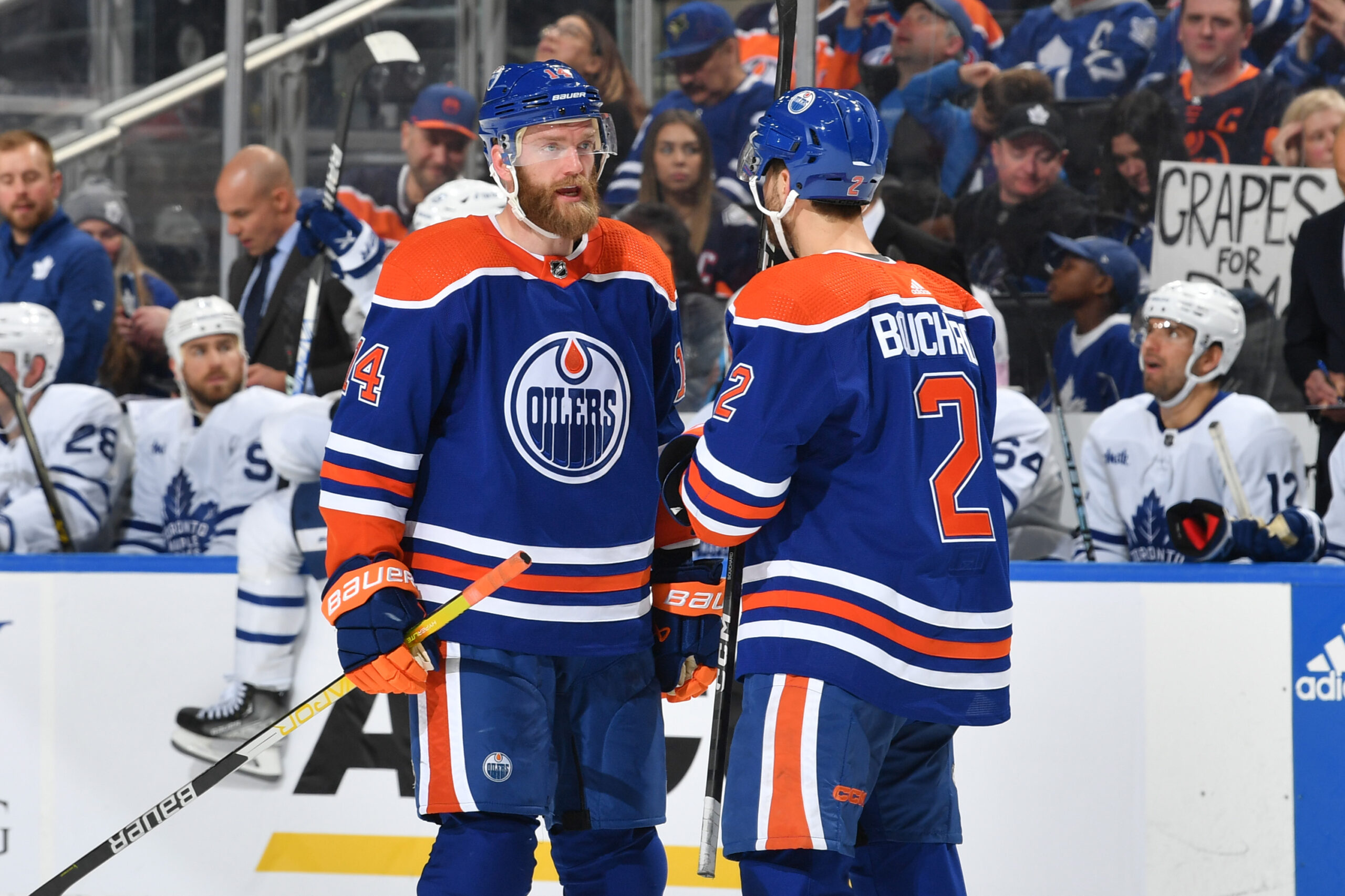 Just look at a player like Evan Bouchard, who has $850K worth of performance bonuses on his deal. He wasn't likely to hit them before being elevated to Mattias Ekholm's defense partner and after the Tyson Barrie trade, but his points-per-game pace since the deal would have made hitting those bonuses a lock. That $850K would count against next season's cap, one that is projected to only go up by $1 million.
Holland would need to be sure that he doesn't hand out bonuses like they don't matter. With the NHL salary cap discussions going on right now — players aren't willing to touch escrow to up the cap this summer — it's not a given that the cap will jump a significant amount at a time whatever player(s) the Oilers choose to sign needs his bonus money.
What Should the Oilers Do?
Some suggest this is a strategy that seems obvious and that the Oilers should absolutely go this route. I would tend to agree with a couple of exceptions. First, the Oilers need to find the ideal player motivated by the idea that Edmonton is the right fit: think Tyson Barrie or Evander Kane when he came over from San Jose. Second, if there are any questions about the health of the player moving forward, it's probably not worth the trouble.
Related: Oilers Have 3 of the NHL's Biggest Bargain Contracts Up Front
Despite the continued discussion about LTIR's advantages at the trade deadline, operating in LTIR does have its disadvantages. The Oilers would have to do most of their free-agent shopping during the summer, and like this season, wouldn't have a lot of room to make moves at the NHL Trade Deadline. So too, there would also be potential hurdles when it comes to calling players up during the season. Any player who is not on the opening day roster, but is later called up while the team is operating under an LTIR-affected ceiling will see their full cap hit counted against that adjusted cap.
It gets a bit complex, but the point is that this isn't strategy doesn't mean the Oilers get a free pass if there is a player out there who says, 'Sure, let's do $775K and we'll work in $2.5 million worth of performance bonuses.' Is there a name out there worth the risk? Maybe. It's something Holland should at least explore. He should simply do so with caution.