Considering we are just ten games into the Derek Roy Experiment,  no one should be overly surprised by the fact many an Edmonton Oilers fan have fallen in love with the diminutive centre.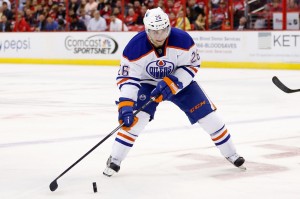 After watching the likes of Mark Arcobello and Leon Draisaitl struggle to create any sort of offence on a consistent basis over the opening third of the season, the long-time Buffalo Sabre has wasted little time in making his presence felt since being acquired from the Nashville Predators. As nice as his two goals and seven points may look on paper, those suggesting the Oilers would be wise to look at possibly inking him to deal prior to hitting the open market this summer are frankly out to lunch.
While he has certainly produced during his brief stint in Orange and Blue,  no one should be losing sight of what and who he is at this stage of his career. In a lineup that has seemingly been starving for a veteran scoring presence for what has to feel like an eternity for those who follow this club on a regular basis, one can certainly understand why so many are hoping the Oilers may have found a so-called diamond in the rough.
HIGHLIGHTS –> @Roy9ner leads the #Oilers with three points in tonight's big victory | VIDEO > http://t.co/BE2zL9PIG4 pic.twitter.com/j8ATszMO4M

— Edmonton Oilers (@EdmontonOilers) January 10, 2015
Please…Not Another Small Centre
With that said, counting on a small thirty-one-year-old centre who has lost a step and is nowhere near the player he once was would probably be the dumbest move this organization could make. Again, there is no question Craig MacTavish desperately needs to add actual National Hockey League talent to his roster but this group needs to add another "smallish forward" as badly as they need another "back-up" netminder to carry the load in goal in 2015-16.
While a player with Roy's resume could be a decent short-term fit, his lack of size should make him an automatic non-starter.
For the remainder of the 2014-15 season, bringing such a player on board made sense and if nothing else, allowed the organization to finally send Leon  Draisaitl back to the Western Hockey League to what will hopefully turn into an appearance at the 2015 Memorial Cup with the Kelowna Rockets.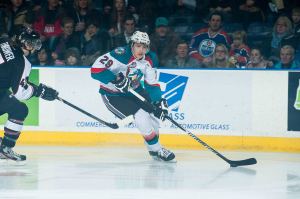 Since arriving in his new home, the third overall pick of the 2014 Entry Draft has already scored three goals and registered six points in just five games. Not too shabby of a start on a team in which he knew all of one player, former Prince Albert Raiders teammate and good friend Josh Morrissey. In the grand scheme of things, playing meaningful games and at a relativity high level is something which should do nothing but a world-of-good for the kid heading into next season.
The McDavid – Eichel Angle
With any luck, Edmonton will be adding one of Connor McDavid or Jack Eichel to the mix this summer and if that is how things eventually play out, the priority to bring in a legitimate top two centre will be that much greater. While Ryan Nugent-Hopkins has taken a major step forward in his overall game during the first half of '14-'15, the former Red Deer Rebels standout still needs a running mate up front and expecting either one of those kids and/or Draisaitl to fill that role in the immediate future would be downright foolish.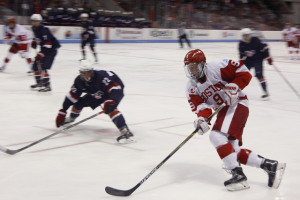 Be it via trade or the free agent market, MacTavish has to find that second line centre prior to the start of next season, not to  mention a starting goaltender and likely a pair of top four defencemen. Considering the Oilers decided to take a pass on both Roy and Mike Ribeiro during the of 2014, the chances of them targeting either one a year later and a year older would likely be next to non-existent.
While Edmonton certainly won't be a preferred destination for any highly regarded unrestricted free agent, perhaps a few extra dollars and an opportunity at being used in a top six role would interest a player like Boston Bruins centre Carl Soderberg. At 6′ 3″ and twenty-nine years of age, the talented two-way pivot would be a perfect fit and likely check off nearly every box on the current general manager's wishlist…something which Derek Roy simply does not do.