Trade speculation is what fuels NHL fans over the off-season.  Without it, talk of hockey would cease to exist in the summer months… especially in St. Louis.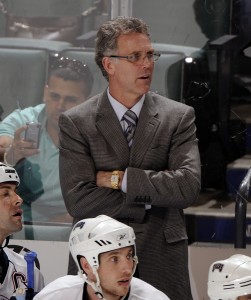 So let's begin the speculation, shall we?  For this round of Play the GM, we visit the hockey plentiful market of Edmonton, Alberta.
New Oilers GM Craig MacTavish, appointed earlier this season, will look to do something that former GM Steve Tambellini failed to do in his five years on the job; qualify for the NHL playoffs.  In fact, the Oilers have not participated in the post-season since going to the Stanley Cup Final in 2005-06.
Bruce Garrioch of the Calgary Sun speculates that MacTavish will look to "get help immediately" for the struggling team.  Garrioch suggests that 2012 first overall draftee Nail Yakupov could be moved to bring in some proven NHL talent.
Before we continue, I should mention that this is pure speculation from me.  I do not have any reliable sources on this matter, nor do I have a direct line to MacTavish himself.  The closest thing I have is the ability to attempt trades with the Oilers on NHL 13.
What the Blues Need
If the Blues and Oilers were going to talk deal, the Blues would likely need some offensive talent up front.  After all, the team shored up its defensive corps at the trade deadline last season and will likely do what it takes to bring back young stars Alex Pietrangelo and Kevin Shattenkirk this summer.  The goaltending has proven shaky at times but can still be a strong suit when needed.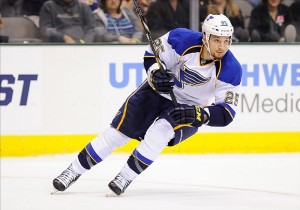 The Blues ranked 17th in goals-scored in 2012-13 (2.58 goals-per-game) with only three players reaching double digits in goals in the shortened 48-game season (Chris Stewart, Patrik Berglund, David Perron).  The playoffs were even more of a disaster, as the team scored just 10 goals collectively in their six-game defeat at the hands of the Los Angeles Kings.
How about this tidbit – the Blues have not had a player finish in the league's top-30 point-scorers since Keith Tkachuk and Doug Weight did in 2003-04.
Yakupov is a tough Russian kid who drives to the net with authority.  His ability to set up anywhere in the offensive zone and fire pucks at the net is something that will only improve the more seasons he spends in the NHL.  But he may not be exactly what the Blues are seeking.
Oilers Hockey Breathes Fire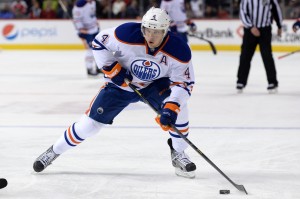 The Oilers are well known for their offensive firepower.  Yakupov is surrounded by other forwards selected in the first round, including Jordan Eberle, Taylor Hall, Ales Hemsky and Ryan Nugent-Hopkins.  The Oilers' deep offense catapulted the young team to the third best power-play in the league in 2011-12 (20.6%), despite missing the playoffs that season.
With the Oilers' young offense only aging and gaining experience, it is clear that this team would be able to part with a top-six forward in order to strengthen other areas of the roster.
The Blues have long needed a forward who can come up big in late-game situations and be that go-to-guy in the offensive zone.  Although Yakupov is a supreme talent, the Blues' needs include someone who is already adjusted to the league and can contribute now to a team that has Stanley Cup aspirations.
What the Oilers Need
With Nikolai Khabibulin's contract expiring, the Oilers will be in the hunt for either a quality backup to Devan Dubnyk or a worthy starter to thrust this hockey team past mediocrity.
Dubnyk, also a former first-round draft selection, has played the majority of the time that Khabibulin has been under contract with the Oilers.  His numbers are somewhat misleading; in 2012-13, Dubnyk registered a 2.57 GAA (26th) and a .920 save percentage (14th).  Why are these misleading?  As a team, the Oilers faced the second-most shots against in the league, averaging 32.8 shots against per game.  Facing that much rubber is difficult for any goaltender.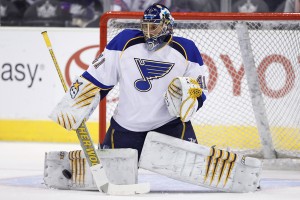 The Blues have a surplus of goaltending talent.  The 2011-12 William M. Jennings Trophy winners, Jaroslav Halak and Brian Elliott, have had their fair share of troubles but are still important pieces to the Blues' success.  2012-13 rookie standout Jake Allen proved that he is ready for the NHL and can replace either member of the Blues' dynamic goaltending duo.
Halak was acquired from the Canadiens in 2010 purely for his playoff pedigree, but Elliott has proven that he can be a reliable starter in important situations.  Considering this, either goalie could be moved for an important piece to the Blues' puzzle.
Of course, goaltending may not be the only area that the Oilers want to restructure.  The defense has been suspect at times (thus, the vast amount of shots against).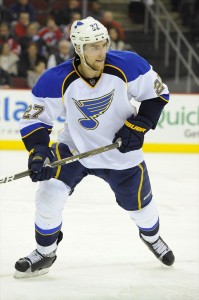 The Blues have a surplus of defensemen.  Currently, the St. Louis team has four defensemen under contract for next season (Jay Bouwmeester, Ian Cole, Barret Jackman, Roman Polak).  Blues GM Doug Armstrong must make a decision on what to do with Pietrangelo and Shattenkirk, as well as Kris Russell, since these players are all restricted free-agents.  Jordan Leopold, acquired at the trade deadline, is set to be an unrestricted free-agent.
With this abundance of defensemen, it is possible that Armstrong could use some of them as trade bait.
The Proposed Deal
In order for a deal to go down that would change the landscape of each team, both GMs would have to agree to the real possibility that a big name could leave their team.  The Oilers would simply not move a big-name forward for draft picks at this point, much how the Blues would not part with a top goaltender for prospects that still may or may not pan out.
The possibility of either side overpaying for what they want is a reality as well.  Other teams will be vying for top scorers and superior goaltending this summer, so prices could be driven up on either side.
I do not like to speculate as to an exact deal that could be made.  Instead, I will leave that up to the audience.
After all, the Stanley Cup will be handed out in a few weeks.  Rumor season is just around the corner.
I am a former NHL media member and reporter for the St. Louis Blues, working for various media outlets. Currently, I am an NHL News Writer and Editor for The Hockey Writers. I live in St. Louis and work as a freelance copywriter in numerous industries.