The Edmonton Oilers played likely their worst game of the playoffs in Game 3 against the Vegas Golden Knights when they lost 5-1 on home ice. Stuart Skinner was pulled after letting in four goals, and while most of the goals against weren't his fault and more on the poor defence in front of him, the third one he let in high-glove by Zach Whitecloud in the second period took the wind out of the Oilers' sails and silenced the hometown crowd.
When Skinner was pulled after the fourth goal in Game 3, goaltender Jack Campbell manned the net for the remainder of the game, made nine saves, and finished the night with a .900 save percentage (SV%). Edmonton had a day off the next day, which prompted The Hockey Writers' Jim Parsons to explore which Oilers goaltender would start in Game 4, and in the end, they decided to go back to Skinner.
Fortunately for the Oilers that was a good decision, because they won a spirited Game 4, and it seems like unless an unexpected turn of events occurs, Skinner will likely continue to start the next game after a subpar performance from here on out. However, this ongoing hesitation not to give Campbell a start this postseason is likely due to the lack of confidence in him because of the underwhelming performances he showed throughout the year. In what should've been a season where he took the reins as the starting goaltender, this further adds to the frustrating season he's had so far.
Campbell Failed on Oilers' Expectation of Him to Be Starting Goaltender
Campbell was the Oilers' big offseason signing when they locked him up last July to a five-year $25 million contract and at the time, general manager (GM) Ken Holland said, "He looks like a guy that's getting better all the time." He added, "He's competitive, he's accountable, and I think he's 30 and from a goaltender's standpoint, that's a good age." That said, when they signed him, they knew they weren't getting a Vezina Trophy-winning calibre goaltender, but they thought they'd have a player who'd give them a fighting chance.
Related: 5 Times the Oilers Rallied From a 2-1 Deficit to Win a Playoff Series
However, he struggled out of the gates, posting a 4.20 goals-against average (GAA) within his first eight games, and after a bad performance against the Dallas Stars on Nov. 5, Oilers fans witnessed their first glimpse of how hard Campbell is on himself. After allowing six goals on 36 shots against the Stars back in November, he was his own toughest critic in his postgame interview, and said, "I just haven't brought my best, and frankly, it's just been pathetic the way I've been playing."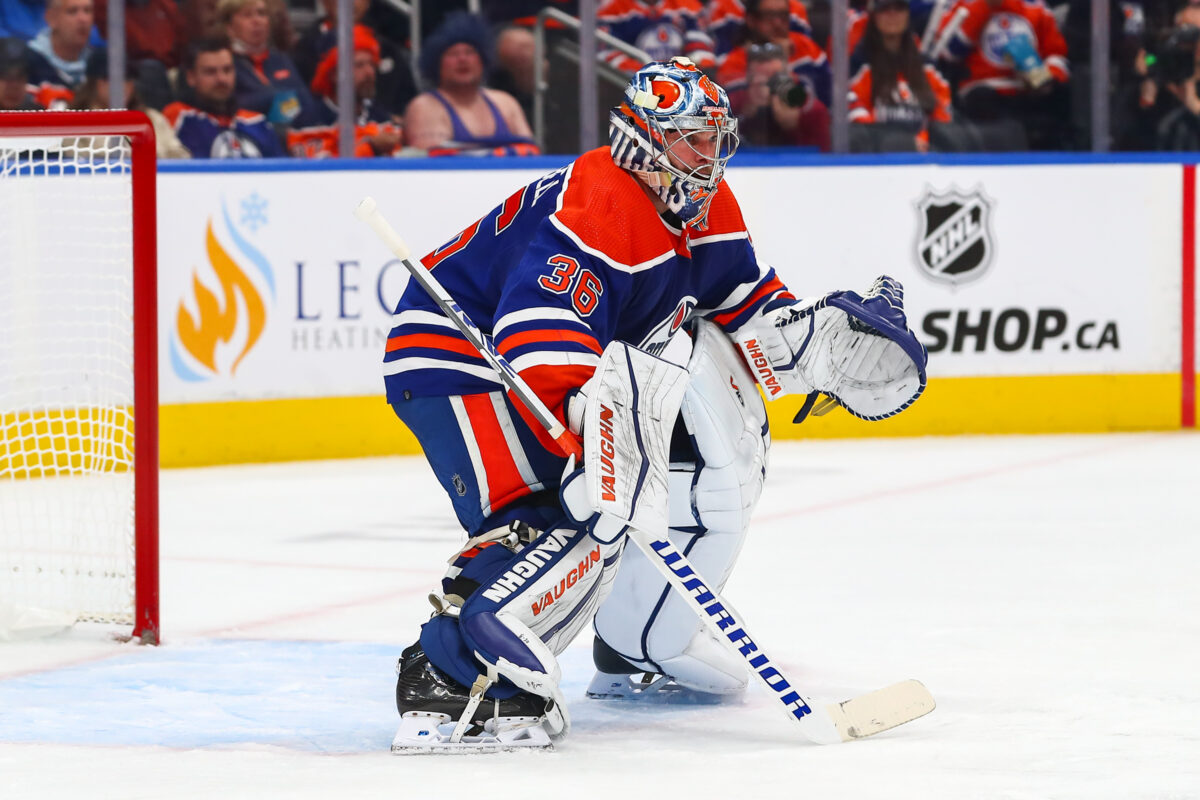 Despite only a handful of bright moments in the regular season, like his shutout win against the Anaheim Ducks on April 2, it was a disappointing one overall. He won 21 games, but his 3.41 GAA ranked 49th in the NHL and his .888 save percentage (SV%) was 87th among goaltenders. He struggled with consistency and with his $5 million a year salary, there was an expectation of being the Oilers' starting goaltender, yet he lost the net to Skinner throughout the season and down the playoff stretch. It was abundantly clear who the Oilers' number one goaltender was, with Skinner starting 15 out of the last 20 games.
Campbell's Regular Season Struggles Likely Affecting Decision Not to Start Him in Playoffs
Campbell hasn't started any games so far in the ten postseason games played by Edmonton, but he deserves credit where it's due because he put on a remarkable performance when Skinner was pulled in Game 4 in the opening round against the Los Angeles Kings. The Oilers dug themselves a hole, giving up three goals in the opening frame, and Campbell was given the nod to man the net in the second period with his team down by three goals, which ultimately woke his club up.
---
Latest News & Highlights
---
Fortunately for Edmonton, they won 5-4 in a come-from-behind win in overtime, with Campbell stopping 27 of 28 shots in Game 4 and he made his biggest save in an Oilers' uniform with six minutes left in the game when Viktor Arvidsson skated in on a breakaway and the Oilers' netminder made a spectacular pad save to keep the Kings only ahead by a single goal.
Still, if there were ever an opportunity for Campbell to start a game in these playoffs, it would've been Game 5 against the Kings, with his confidence high after a spectacular outing, yet head coach Jay Woodcroft opted to start Skinner the next game.
As previously mentioned, Campbell's second appearance in these playoffs was in Game 3 against the Golden Knights and he performed decent, letting in only a goal in his 27:57 of work, yet Woodcroft still gave the reins to Skinner to start the next game once again. Skinner's shown the ability to bounce back after a tough start; however, if we look at his postseason stats, in ten games, he's posted a .895 SV% and a 3.31 GAA, and this places him below average compared to the rest of the goalies who've played in these playoffs.
Now, those numbers don't mirror a goaltender playing exceptionally well, but the fact that Skinner continues to start games despite a mediocre postseason could likely be more of an indication that his coach feels he's still the safer pick between his two netminders. Campbell put on a strong performance in relief in Game 4 against the Kings and has a 1.53 GAA and .947 SV% in 78 minutes played in these playoffs, but his reputation of unsteady goaltending in the regular season is likely playing a factor in the coach's decision to keep him on the bench.
Overall, when the Oilers signed Campbell last July, they had hopes of him manning the net in a deep playoff run this spring, but so far he's only seeing the ice after his teammate falters. When the season eventually draws to a close, this chapter of not starting in the playoffs will likely be mentioned as part of his disappointing first season in Edmonton.
Should Jack Campbell get a chance to start this postseason? Have your say in the comments below!