At the start of the 2023-24 NHL season, there will be 13 goalies who are expected to either make their NHL teams or play a decent amount that are under 25 years old. Stuart Skinner of the Edmonton Oilers is one of them and below we are going to compare him to the competition to see where he ranks among the group. But first more about Skinner so we know exactly what we're looking at.
Skinner was a rookie for the Oilers last season and finished second in the Calder Trophy voting to Matty Beniers. The former third-round pick started 48 games and played 50 in 2022-23. He went 29-14-5 with a 2.75 goals-against average (GAA), a .913 save percentage (SV%), and one shutout. If he got the goal support that Jack Campbell did, Skinner's record would have potentially pushed him to win the Calder.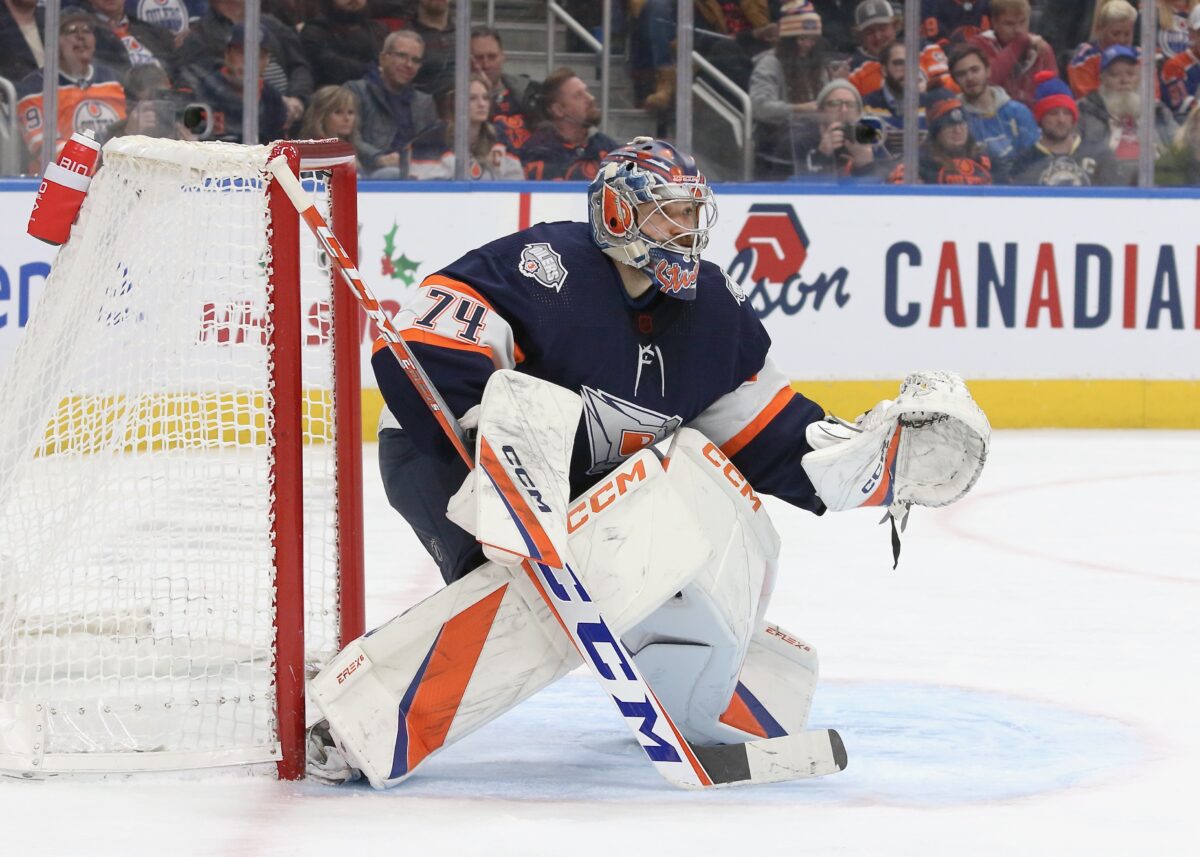 Skinner completely took over the starter's crease by the latter half of the season and held it for the entire playoff run by the Oilers despite being pulled four times. While this wasn't a complete credit to his game as a lot of weight was put on his shoulders for a rookie, it spoke to the lack of trust in Campbell. The Oilers have a very offensive team and lack that championship-defending some other goalies under the age of 25 have. Systems will definitely give certain ones an advantage, and so will how much they play. Let's see where Skinner ranks among the 13 under-25 NHL goalies.
Fringe NHL Goalies
The first group of goalies that will most likely get time in the NHL this season, and deserve to, that are under 25 years old include Lukas Dostal, Arturs Silovs, and Pyotr Kochetkov. Unfortunately, two, maybe three might not make their teams out of training camp. I am confident that Dostal will beat out Alex Stalock though. As they are fighting for spots in the NHL, Skinner is busy leading the Oilers to the playoffs already and putting up better numbers.
Dostal was a first-year goalie last season and started 17 games, upping his career total to just 20 starts. While coming into the league on the bottom-feeding Anaheim Ducks isn't ideal, he had a 4-10-3 record with a 3.78 GAA and .901 SV%. These numbers just don't stack up to Skinner. Dostal is exempt from waivers, so if the Ducks feel he isn't ready just yet despite playing in the NHL last season, they can seamlessly send him down to get many more starts. Being behind John Gibson won't allow many more than 25 games this season.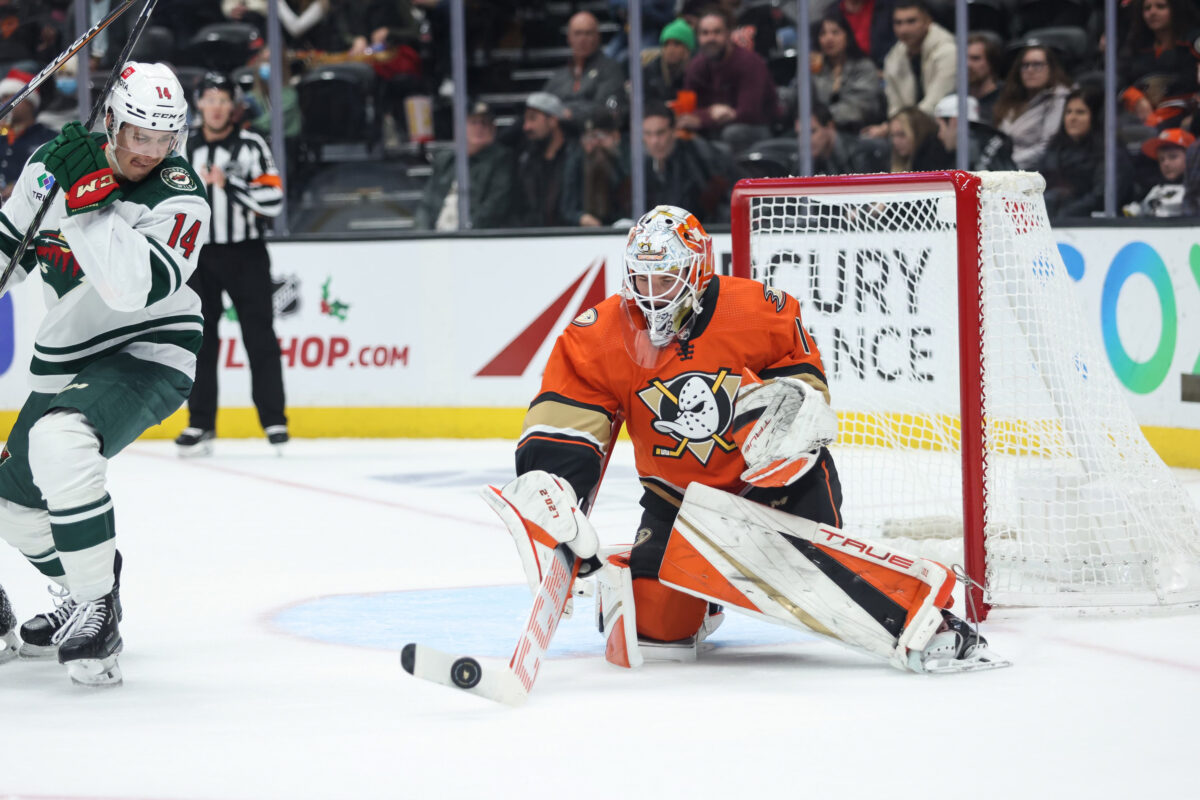 Silovs is also safe to bring up and down from the NHL to the American Hockey League (AHL). The Vancouver Canucks aren't trying to be the same team as last season after a horrible start and no support when Thatcher Demko went down. Spencer Martin was the option last season. He had a very rough first full season and eventually got sent down to the AHL. Silovs is six years younger and went 3-2-0 with a 2.75 GAA and .908 SV%. He can't be anything more than a backup yet as Demko is arguably elite (despite last season) and Silovs has very limited experience. He also won't make anywhere close to the impact Skinner will this season.
Related: Edmonton Oilers' 5 Best Contracts of 2023-24
Kochetkov, despite arguably being the best of the three, is clearly on the better of the three teams. While the Hurricanes did have a chance to make him the full-time backup this season, they re-signed both of their goalies to one or two-year contracts after already committing to Kochetkov for four years at $2 million average annual value (AAV). He is still exempt from waivers and their NHL tandem is injury-prone, so I believe they know their young goalie will get starts in the NHL this season once again. Because of his likeliness to start in the AHL, Kochetkov doesn't match Skinner, especially since his numbers don't either on the elite defensive Carolina Hurricanes. Kochetkov went 12-7-5 with a 2.44 GAA and .909 SV%, but had four shutouts.
NHL Backups
This next group of five goalies is where I would've had Skinner last season, but he has graduated to the top group because of his great impact in 2022-23. These five goalies are in the backup role and it will be tough to pull out of it. But there is a chance for all of them. It consists of Arvid Soderblom, Joel Hofer, Daniil Tarasov, Ukko-Pekka Luukkonen, and Spencer Knight.
Soderblom is part of what could be a three-goalie mix for playing time this season. Petr Mrazek may very well be the starter as he's the most experienced and did alright for the bottom-feeding Chicago Blackhawks last season. Soderblom is younger and only got 13 starts. His numbers weren't great either, going 2-10-2 with a 3.45 GAA and .894 SV%. 24-year-old Jaxson Stauber started six games, went 5-1-0, and had a 2.81 GAA and .911 SV%. This race might be closer than expected. I do expect Soderblom to get at least 20 games in the NHL this season, but it will be very difficult for his numbers to be good on this Blackhawks team.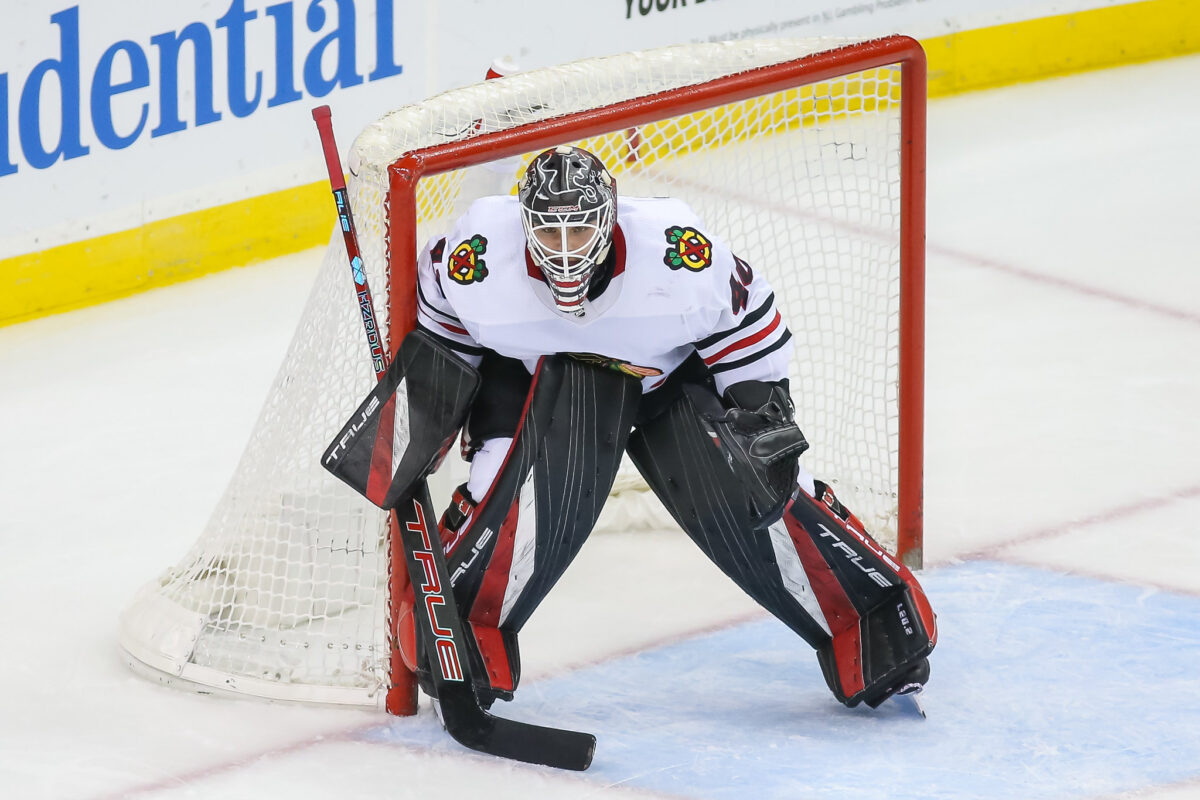 Hofer will be the backup to Jordan Binnington on the St. Louis Blues this season as Malcolm Subban is the next option the team has. Hofer might actually get a chance and be one of those surprises. The last time we saw that in St. Louis was two seasons ago with Ville Husso. Binnington has regressed every season stats-wise since taking his team to the Stanley Cup in 2019. Last season he recorded a low .894 SV%, but he still started 60 games. This season Hofer has a tad bit of experience in the NHL and might be the next wave of talent for the Blues. He went 3-1-1 with a 3.22 GAA and .905 SV% last season in six starts. With the money the Blues are paying Binnington, it will be tough for them to fully give the net over to Hofer just yet and let him make a massive impact.
---
Latest News & Highlights
---
The Columbus Blue Jackets used six goalies last season. Tarasov was the third-string until Joonas Korpisalo left town and he became the full-time backup. Elvis Merzlikins has struggled a ton lately and has declined over his four NHL seasons. This does open the door for Tarasov to steal some starts and maybe be the hero in net that the Blue Jackets need to get back into the playoffs. While a big part of last season's failures can be blamed on the mass amount of injuries to key players and the defence, that shouldn't be an excuse this season. The team is revamped and the defence might be the deepest in the league. Tarasov started 16 games last season and went 4-11-1 with a 3.91 GAA and .892 SV%. That will improve, but not to the extent needed to touch Skinner's numbers with the Oilers.
There is still a bit of a logjam on the Buffalo Sabres. Last season Luukkonen had to deal with splitting time with Craig Anderson and Eric Comrie. Now that Anderson is gone, Devon Levi has stepped in and will very likely start more games than Luukkonen. This leaves the 24-year-old in a spot he doesn't necessarily want to be in. He was highly touted and did well in two stints in 2020-21 and 2021-22 before sticking in the NHL last season for 32 starts. He did go 17-11-4, but had a 3.61 GAA and .891 SV%. He might get the same number of starts as last season, but his numbers will have to vastly improve to touch Skinner.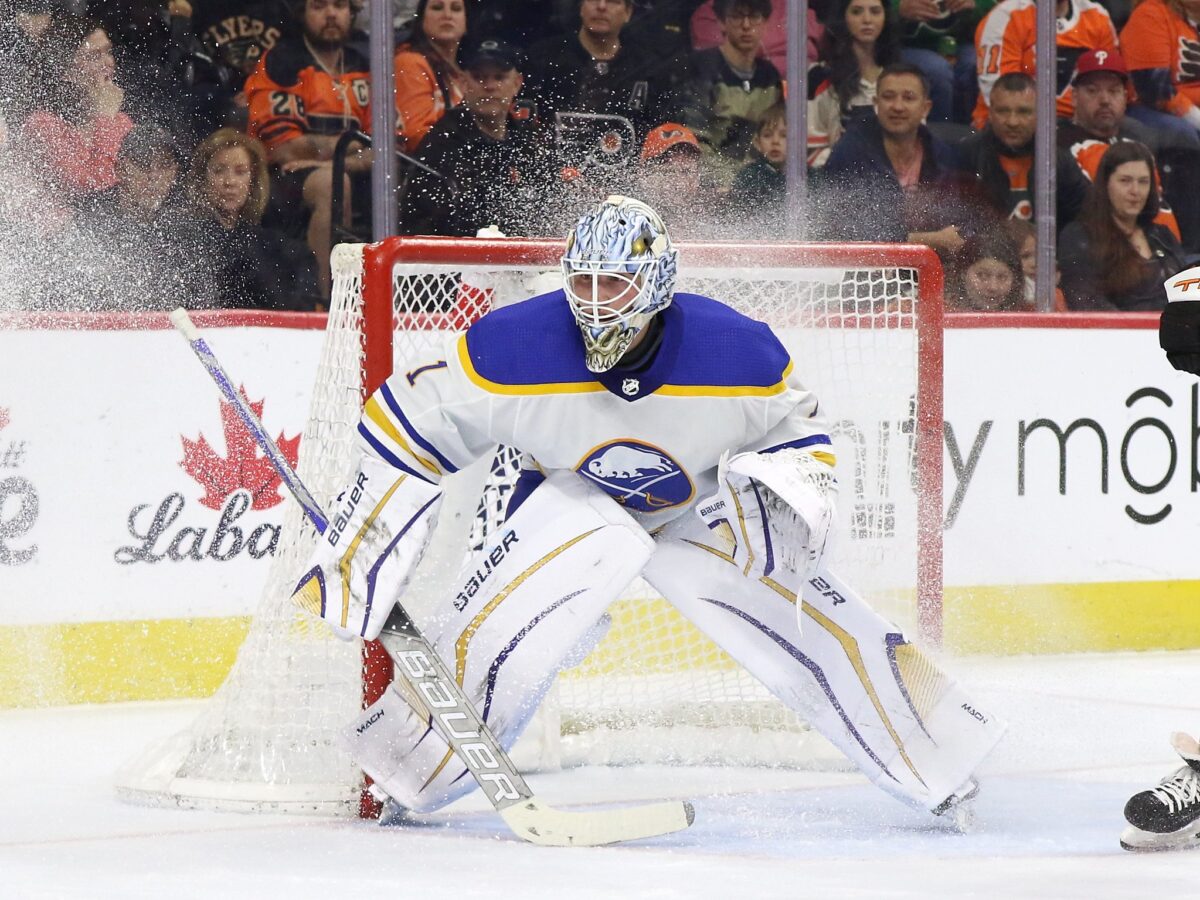 The final member of this group is Knight, who has taken the steps to ready himself for the backup role on the Florida Panthers for the entire season. He may very well be needed because Sergei Bobrovsky only proved his worth in the playoffs last season as third-string Alex Lyon had to lead the team into the playoffs down the stretch. Knight has been looked at as the heir in Florida and he's only 22 years old. As a goaltender picked high in the draft, he has had a lot of pressure on him from an early age. He might have been pushed into the NHL a bit early and given a big contract too soon. Unless he can turn things around from the 3.18 GAA and .901 SV% he had last season, Skinner beats him by a lot right now.
Starters, Goalies in Tandems, Skinner's Competition
Now for the top group that consists of starters and goalies in tandems who should get a fair opportunity to play a lot; basically Skinner's competition for the best under-25 goalie in the NHL. This group includes Jake Oettinger, Akira Schmid, Jeremy Swayman, and Devon Levi. The numbers suggest that Skinner ranks third among NHL goalies under the age of 25, and here's why.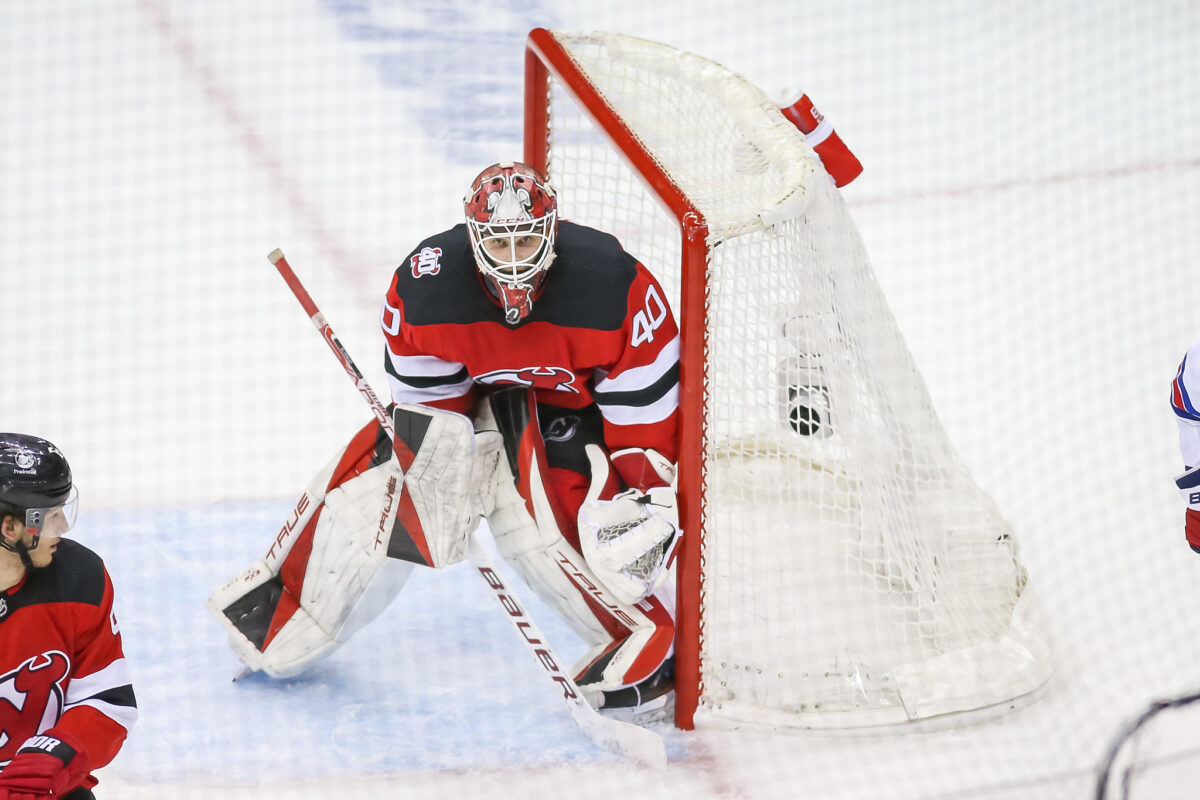 Schmid and Levi come up just short of Skinner, and not because of potential, but because of where they are in their careers and their impact on their respective teams. Schmid has to battle Vitek Vanecek in the New Jersey Devils' crease for playing time and only started 14 games last season. In terms of where Skinner is, Schmid is a year behind, and a tough season from Vanecek from being level with Skinner right now. Schmid did go 9-5-2 with a 2.13 GAA, .922 SV%, and one shutout, but the Devils were very good last season and he got easier matchups, playing only seven of his 18 games against playoff teams. I think he's a very good young goalie and will push for 35-40 starts, but Skinner is already there and is the Oilers' starter.
Levi has more of a claim to the starting job in Buffalo. His competition isn't as strong as that of New Jersey's. He has to contend with Luukkonen and Comrie, both of whom he passed once arriving in the NHL immediately because of the anticipation and quick success. Levi started just seven games for the Sabres at the end of last season and went 5-2-0 with a 2.94 GAA and .905 SV%. Buffalo by no means had a strong defensive team last season. They were and still are very similar to the Oilers in that way. So Levi, like Skinner, has to work harder for his success than some teams that allow under 25 shots a game. Levi, just because of his lack of experience and a bit of a weaker team/numbers, comes in below Skinner to start the 2023-24 season.
Now that the fourth and fifth-ranked under-25 goalies in the NHL this season have been sorted, let's dive into why Oettinger and Swayman sit higher than Skinner. Swayman is the tougher sell as he is still in a tandem and has put up similar numbers to Skinner. But like some goalies seem to be a year behind Skinner, the Oilers' goalie is a year behind Swayman. Skinner is just a couple of weeks older than Swayman, but has 21 fewer starts in the NHL and a full season less.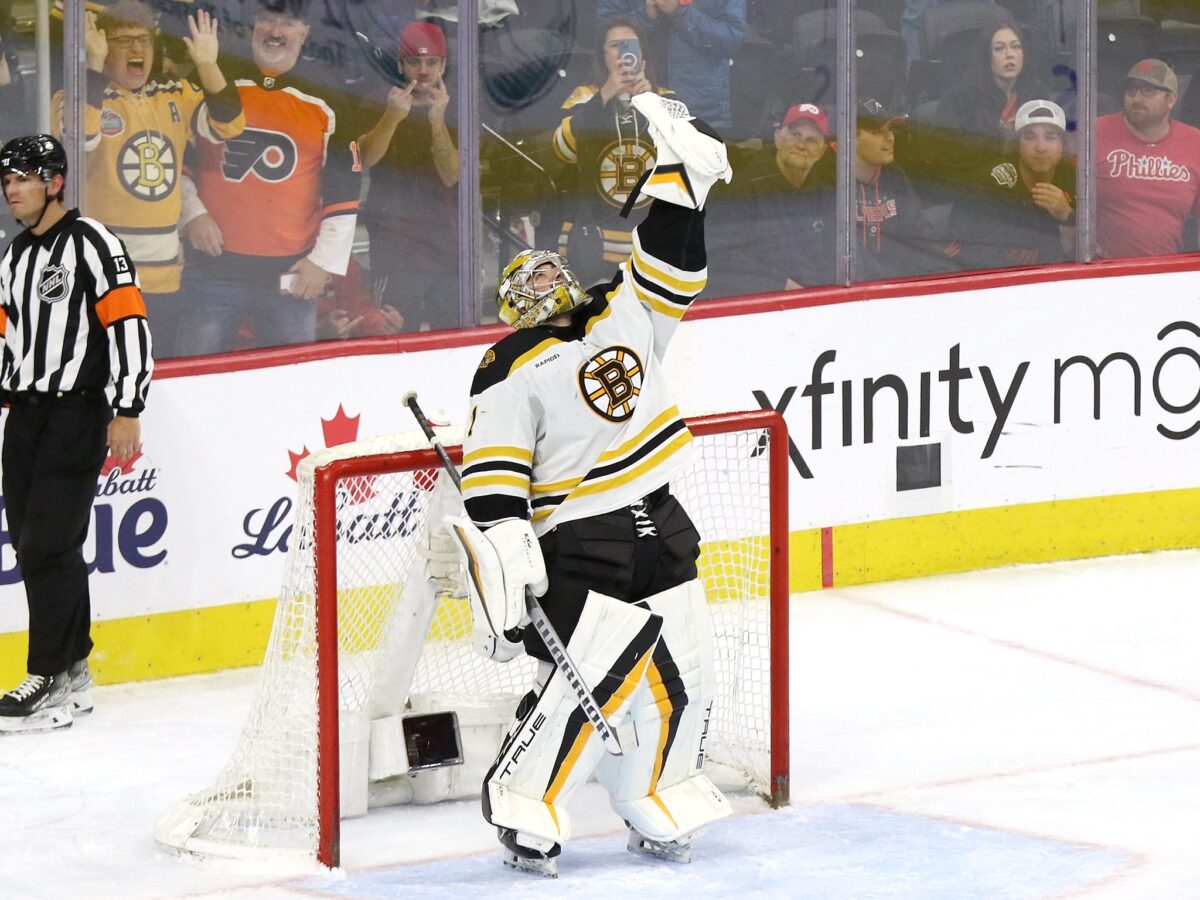 Swayman's Calder season was 2021-22 where he started 39 games and went 23-14-3 with a 2.41 GAA and .914 SV%. Those numbers closely match up with Skinner's 29-14-5 record last season with a 2.75 GAA and .913 SV%. Given the Boston Bruins were a much better defensive team, that helped his numbers. Last season was incredible by the Bruins, and Swayman got to be a part of that. He actually only started 33 games, but went 24-6-4 with a 2.27 GAA, .920 SV%, and four shutouts. Team success makes a huge difference and the Bruins had some very good defencemen while Edmonton had players like Vincent Desharnais, Cody Ceci, and Philip Broberg in front of Skinner.
Oettinger is the easier sell. He is one of the best goalies in the league, started 61 games last season, and finished fifth in Vezina Trophy voting. He dominated the crease with a 37-11-11 record and 2.37 GAA, .919 SV%, and five shutouts. I don't think anyone is arguing about who the better goalie is between Oettinger and Skinner right now.
In terms of what the Oilers have had in net for years and what they have actually managed to develop, I am more than happy with Skinner's early success and the upward trajectory that he is on. Where do you think Skinner should sit among under-25 NHL goalies this season?