The Edmonton Oilers have a number of hooks in the water ahead of this past season's NHL Trade Deadline. A number of outlets reported that the Oilers were looking into acquiring 2023 Norris Trophy finalist Erik Karlsson from the San Jose Sharks. Karlsson sounded willing, but the deal was too complicated to make work. In another rumored deal, Edmonton also looked internally at the idea of acquiring Jonathan Toews from the Chicago Blackhawks. It's not clear if he was willing to move on, but the decision never came as an injury shut him down before he had to make it.
According to well-informed writer Daniel Nugent-Bowman of The Athletic, expect the Oilers to revisit conversations with the Sharks and potentially reach out to Toews this offseason.
Why Erik Karlsson?
Nugent-Bowman argues that adding Karlsson to the mix will give the Oilers a dangerous and experienced top four on the blue line. Karlsson, along with Darnell Nurse is a solid pairing, then running back Evan Bouchard with Mattias Ekholm rounds out the group quite nicely. He then says, "That third pair could be some combination of cheap options like Niemelainen, Vincent Desharnais, Philip Broberg, and a Ryan Murray-type veteran."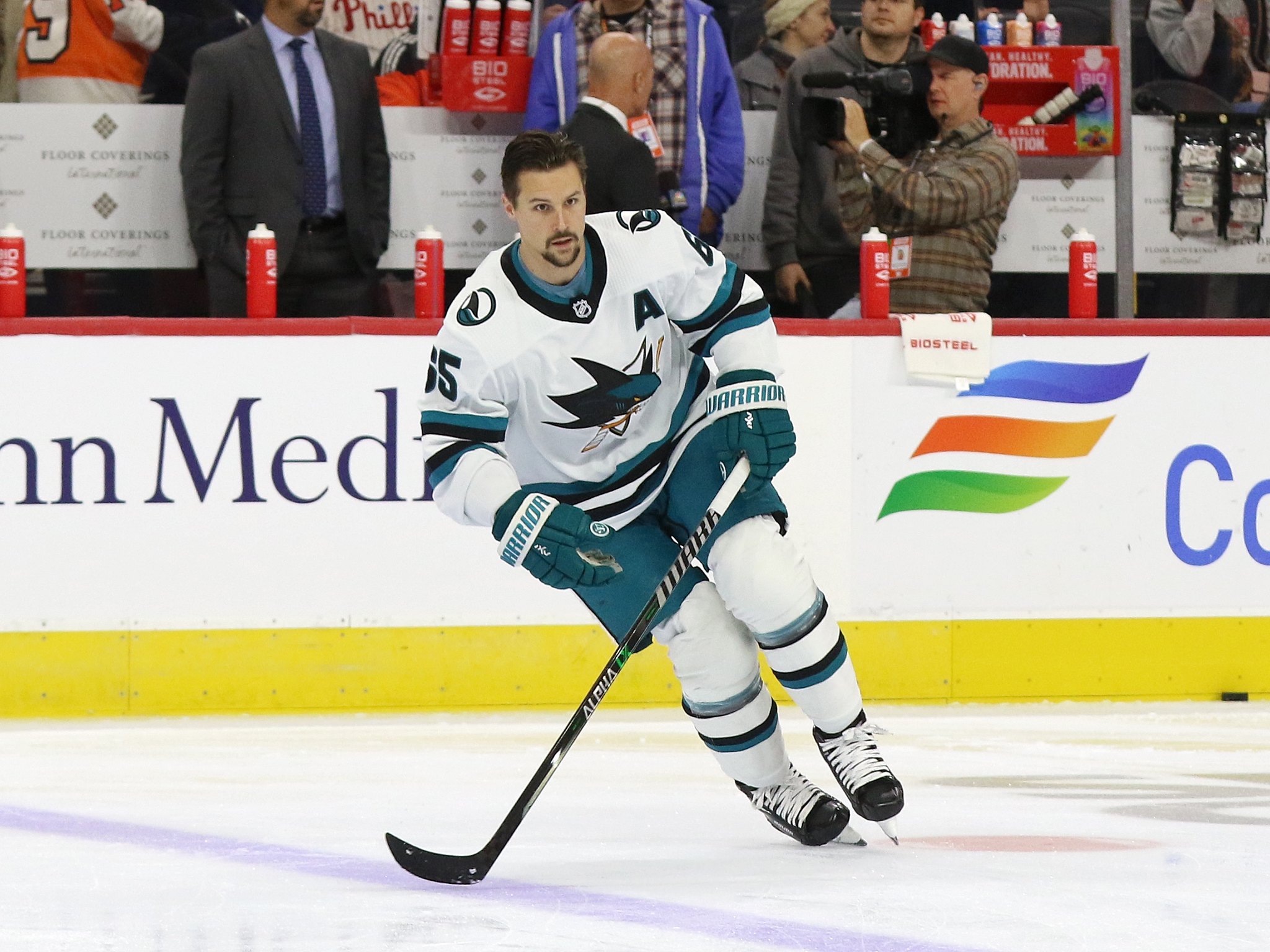 All that said, he calls the chances that this trade happens improbable. He writes:
Getting Karlsson, who turns 33 next week, will be an improbable task considering he has four more years left on his $11.5 million AAV contract. Even with salary retention from the Sharks — and possibly another team — the Oilers will have to ditch at least one notable contract and probably two. Those contracts won't be hot commodities, so the Oilers will have to pay sweeteners to have the Sharks take them on, plus pay assets to get Karlsson.

source – 'Oilers offseason priorities: A 10-step plan for ensuring success next season'- Daniel Nugent-Bowman – The Athletic – 05/24/2023
Cap space is tight and if the Sharks aren't willing to play ball here by retaining salary and taking another contract back, then there's probably no way this works. That is assuming, of course, the Oilers can move other money out, which they would need to do.
Why Jonathan Toews?
Nugent-Bowman also writes, "As with Karlsson, the Oilers had discussions — at least internally — about acquiring Jonathan Toews early in the year." He adds, "Things didn't progress much further in part because Toews was shut down from Jan. 28 to April 1 because of Chronic Immune Response Syndrome and long COVID." If Toews is deemed healthy and wants to make a return to the NHL, it won't be with the Chicago Blackhawks who have decided it's time to move on from the core of the past and usher in a new era led by Connor Bedard.
---
Latest News & Highlight
---
Toews could be a nice fit for the Oilers if he's both feeling up to playing and likes the idea of Edmonton as a destination to potentially close out his career. He's 35 years old and anything beyond $2 million per season is a no-go suggests Nugent-Bowman, but Toews might understand all that and be open to a small bonus-incentivized contract.
This becomes a real possibility if he's open to the idea of becoming an Oiler and Nick Bjugstad doesn't return. According to Frank Seravalli, Bjugstad could get a free agency deal in the range of two years and $2.3 million. That might be too rich for Edmonton and going with the cheaper option might allow GM Ken Holland to do other things.
More Examples of Holland Not Buying Green Bananas
One of the key phrases fans will take away from Holland's post-season media availability is the line he used when talking about his off-season plans. He said he wouldn't buy green bananas, which most took to mean he'd be aggressive, but he wants players that will help immediately and not take time to ripen.
Both Karlsson and Toews qualify under those upgrade restrictions. Karlsson is clearly still one of the best defensemen in the NHL and Toews offers leadership, experience, and the ability to produce when he's feeling healthy. Neither one of the deals may happen and the conversations may not lead very far, but few should be surprised if rumors surface that these are the kinds of plays Holland is looking to make.