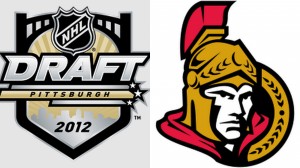 The Ottawa Senators have been riding high lately.  Erik Karlsson has just been signed to a new seven-year contract worth $45.5 million, he has won his first career Norris Trophy and, next month, he is getting married.  Additionally, captain Daniel Alfredsson won the King Clancy Award this year for his many philanthropic contributions to the Ottawa community.  At the 2012 NHL Entry Draft, the Senators took some more steps toward their future, something that they have already begun with their three first round picks from 2011 (Mika Zibanejad, Stefan Noesen, Matt Puempel) and the acquisitions of Kyle Turris and Ben Bishop in trades this season. They were fortunate to be able to get the player they desperately wanted with their first-round pick in 2012.  How about after that pick?  Who are some of the other new players to come into the Nation's Capital?  Let us look closer.
*
Round 1 (15th Overall): Cody Ceci (Defenceman; Ottawa 67's, OHL)
"Now that's a popular pick." — TSN analyst Gord Miller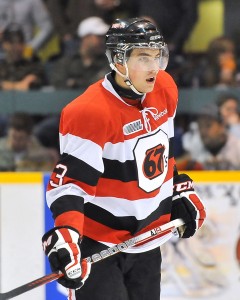 In a first round dominated by defencemen, it was no surprise to see the Ottawa Senators select one of their own, Cody Ceci, with their first-round pick.  In doing so, the Senators produced one of the best feelgood stories of the entire 2012 NHL Entry Draft.  Ceci is a native of Orleans, a prominently French-speaking community just outside of Ottawa.  He played minor midget hockey and three OJHL games in Peterborough but, for the last three seasons, he has remained at home, playing for the OHL's Ottawa 67's.  Ceci has become one of the league's best blueliners since then, especially under the tutelage of Tyler Cuma, Julien Demers and Marc Zanetti since he came into the major junior ranks.  To add, he had one of the biggest groups of friends and family at the draft; 35 family members and close friends joined him to hear his name called.
A late 1993 birthdate, Ceci has elevated his play each year since he has been in the OHL.  He scored 12 points (four goals, eight assists) in 64 games in 2009-10, his rookie season, after being the 2009 first round pick of the Ottawa 67's, sixteenth overall.  In his second season, he played an entire 68-game schedule, registering 34 points (nine goals, 25 assists), finishing ninth on the team in scoring.  Ceci went into his third season knowing that it was his draft year and he did not disappoint, finishing with 60 points (17 goals, 43 assists) in 64 games.  He finished second only to Dougie Hamilton in scoring amongst OHL defencemen; his 17 goals were also tied for second with Hamilton among all OHL blueliners.  Additionally, he finished fourth on the 67's in scoring, trailing only forwards Tyler Toffoli, Shane Prince (another Ottawa Senators draft pick) and Sean Monahan.  With Zanetti, Daniel Broussard and Michal Čajkovský all not returning, Ceci is going to be counted upon more than ever in 2012-13 not just to be a key cog on the blueline but to be a team leader.
Unlike Erik Karlsson, Ceci will bring considerable size to the defence corps of the Ottawa Senators.  Standing 6'2″ and weighing in at 203 pounds, he is a very solid young man whose genetics certainly did not fail him, especially since his father Parri Ceci played in the CFL with the Calgary Stampeders.  He skates well for his size and he has incredible acumen in other parts of the game such as passing, shooting and taking care of his own end.
*
Round 3 (76th Overall): Chris Driedger (Goaltender; Calgary Hitmen, WHL)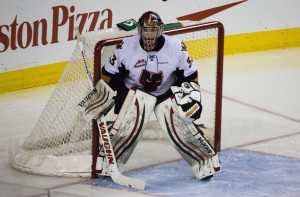 With their first of two third-round picks, the Ottawa Senators selected goaltender Chris Driedger of the Calgary Hitmen.  A tall, athletic goalie from Winnipeg, Driedger started his WHL career with the Tri-City Americans, the same team that developed Olaf Kölzig and Carey Price.  He performed well in his first major junior season in 2010-11, albeit playing behind workhorse netminder Drew Owsley.  He appeared in 22 games that year, finishing with a 6-6-1 record, a 3.50 goals-against average and an .881% save percentage; in fact, he got his first WHL career win in his first start, a 23-save performance against the Prince George Cougars.  Driedger was also given the opportunity to play at the World Under-17 Hockey Challenge for Canada West; in four games, he recorded a 3.26 goals-against average and an .880% save percentage.
On July 22, 2011, Driedger was traded to Calgary for a third-round pick in the 2012 WHL Bantam Draft.  The 6'2″, 190-pound goaltender fit in quite well with his new team despite the fact that he was initially in a three-man rotation with Michael Snider and Brandon Glover, who were 20 and 19 years old, respectively.  He played well enough to take the lion's share of the game quite rapidly on the Hitmen.  By the end of his first two months in the Stampede City, Driedger already had more wins than he had in an entire season the year before.  By the end of 2011, he had a record of 9-7-2-1 with a 3.11 goals-against average and an .883% save percentage.
2012 started out quite fabulously for Driedger.  On New Year's Day, he made 27 saves en route to his first WHL career shutout, a road win over the Kelowna Rockets.  26 days later, at the Scotiabank Saddledome, he recorded his first shutout on home ice, a 32-save blanking of the Vancouver Giants.  Also, an injury to Malcolm Subban allowed for Driedger to play at the NHL/CHL Top Prospects Game in Kelowna.  Driedger finished the season as one of the statistically best goaltenders in the WHL, registering a 24-12-2-1 record with a 2.80 goals-against average, an .896% save percentage and three shutouts in 44 games.
Knowing that he has thrived in a situation that saw him go from being a third goalie in a rotation to the #1 job, Driedger will do whatever it takes to battle for the #1 job on the Ottawa Senators, making him one of the more competitive goalies in their system.
*
Round 3 (82nd Overall): Jarrod Maidens (Centre; Owen Sound Attack, OHL)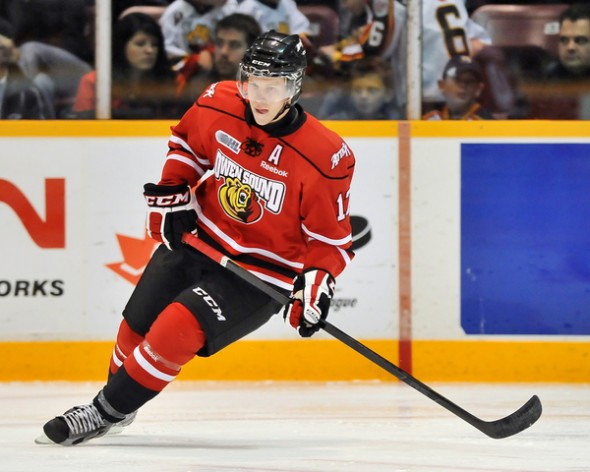 With the second of their third-round picks, the Ottawa Senators selected centreman Jarrod Maidens of the Owen Sound Attack.  Originally from just outside of Niagara Falls, Ontario, Maidens was a first-round pick in the 2010 OHL Priority Selection, coming in with incredible offensive potential, especially since he had scored 106 points in his last season of minor midget hockey before playing major junior.  He recorded his first OHL goal and assist in only his second career game and it seemed as though he was going to be the next big thing for the Attack. Everything started out great for Maidens, recording seven points in his first 18 games; his lack of production was not for a lack of effort, especially since there was considerable veteran leadership up front in Owen Sound, including the likes of Joey Hishon, Andrew Shaw, Robby Mignardi, Garrett Wilson and Liam Heelis.
Just as Maidens was starting to get accustomed to the rigours of the OHL, he suffered an injury that kept him out of action for a month.  During that month, he had been chosen as a member of Ontario's under-17 team at the World Under-17 Hockey Challenge; he won a gold medal despite missing the tournament with the injury.  After returning from his injury in January, Maidens scored 14 points to finish the season with 21 points (ten goals, 11 assists) in 47 games. Maidens remained healthy during the playoffs and he scored one of the most important goals not only of his young career but in the history of the Owen Sound Attack franchise; his tally at 3:27 of the first overtime on May 15, 2011, gave the team their first ever OHL championship. He also won a gold medal at the Memorial Tournament of Ivan Hlinka four months later.
Maidens returned for his second season in Owen Sound, hoping to become of the team's more consistent players.  The team lost many of their top players from their championship roster; additionally, they lost head coach Mark Reeds to an assistant bench boss position with the Ottawa Senators.  New head coach Greg Ireland saw considerable leadership in Maidens and named him an alternate captain.  Maidens immediately showed his incredible potential, scoring five points in his first five games of the season, including a three-point performance (two goals, one assist) in an OHL final rematch against the Mississauga St. Michael's Majors on September 30, 2011.  He had a pair of two-goal games in October and, in November, he recorded 11 points (three goals, eight assists) in 11 games during that month.  Calamity, however, was about to befall him again.   Maidens suffered another injury, this time a concussion, that ended his sophomore season after only three months.
The Ottawa Senators can benefit from experience with the injury problems that have stricken their current #1 centre, Jason Spezza, in Maidens' cultivation.  Having his first major junior bench boss on the coaching staff will also help immensely.
*
Round 4 (106th Overall): Timothy Boyle (Defenceman; Noble & Greenough School, High-MA)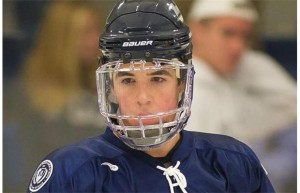 With their fourth-round pick, 106th overall, the Ottawa Senators looked to Massachusetts high school hockey, choosing Timothy Boyle, a defenceman from Noble & Greenough School.  A native of Hingham, Massachusetts, the blueliner came in with family ties to the NHL as his older brother Brian is a forward with the New York Rangers.  Despite the difference in the positions they play on the ice, their style of play appears completely different.  As well, their paths are also different; Brian played his prep school hockey at St. Sebastian's School and he played NCAA hockey at Boston College.
Looking at the younger brother's statistics, however, he is more like Dan Boyle (who, may I add, is not one of the 13 children in the clan, let alone related at all).  Over the last two years at Nobles, Boyle recorded 46 points (nine goals, 37 assists) in 53 games, an incredible accomplishment for any defenceman at that level.  To add, he keeps his game quite clean, recording 30 penalty minutes in those two seasons combined.  At 6'2″ and 185 pounds, it is clear that he, like Ceci, will bring considerable size to the blueline of the Ottawa Senators.  Also like Ceci, he is considered a strong skater who will jump up into the rush and can be an impact player almost immediately.
Now that his high school hockey career is over, Boyle is going to play NCAA hockey, just like his brother did before him.  He is committed to Union College beginning next season and, if his high school career is any indication of what his college tenure will be like, the Dutchmen will be very pleased with him.
*
Round 5 (136th Overall): Robbie Baillargeon (Centre; Indiana Ice, USHL)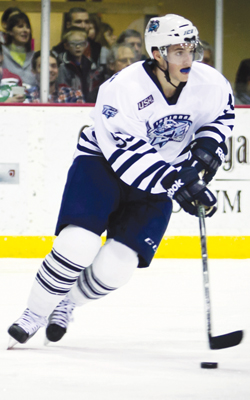 With their fifth-round pick, 136th overall, the Ottawa Senators selected another player with ties to high school hockey in Massachusetts.  Robbie Baillargeon played at Cushing Academy during his prep school tenure, progressively improving as his tenure went forward.  He scored 45 points (15 goals, 30 assists) in his junior year, something that got him noticed by the USHL's Indiana Ice, who made him the 250th overall pick in the 2010 USHL Entry Draft.  Before heading for Indiana, Baillargeon returned to Cushing for his senior year.  He had an incredible year, scoring 64 points (30 points, 34 assists) in only 30 games.
The 6′, 174-pound centreman joined the Indiana Ice this past season and he immediately showed that he belonged on a team with significant talent such as Daniil Tarasov, Sean Kuraly, Cristoval "Boo" Nieves and Jon Gillies.  He scored his first USHL goal in only his second game on October 7, 2011, against Team USA.  Two weeks later, he followed that up with a three-assist game against the Tri-City Storm. Over the course of the season, Baillargeon, who was born in late 1993, also recorded four three-point games and a pair of two-goal contests.  He finished the season with 48 points (14 goals, 34 assists) in 54 games.  Additionally, he showed just how considerable of an asset he is on the powerplay, recording 20 points on the man advantage, including 16 powerplay assists.  He was also a point-per-game man in the playoffs, scoring six points in as many contests.
Baillargeon is expected to return to Indiana for the 2012-13 season after which he will join the illustrious program of Terrier hockey at Boston University.  In drafting Baillargeon, the Ottawa Senators have found themselves a considerable powerplay cog who will win faceoffs and put up points on a regular basis.  Additionally, Baillargeon brings excellent skating ability and tenacity in driving to the net.  He still needs to get bigger but, as he fills out, he will become a more dominant player, making him a solid prospect down the road.
*
Round 6 (166th Overall): François Brassard (Goaltender; Québec Remparts, QMJHL)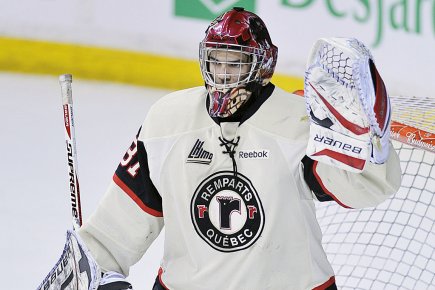 With their sixth-round pick, 166th overall, the Ottawa Senators picked yet another goalie, this time choosing François Brassard of the Québec Remparts.  A native of nearby Gatineau, Quebec, Brassard showed this season in the QMJHL that he was one of the more solid goaltenders in the league despite his slight physique (6'1″, 154 pounds).  He played well enough to challenge veteran starter Louis Domingue for the #1 job, something that his head coach Patrick Roy did in his NHL career. He came in with incredible success at the midget AAA level, garnering a shutout in his first game at that level with the Intrépide in his hometown of Gatineau at the age of 16. The next season, Brassard joined the Lac St-Louis Lions, one of the best teams in the Quebec Midget AAA Hockey League; one of his teammates there was 2012 Florida Panthers first round pick Michael Matheson.  Brassard's goaltending was exceptional that season.  In 28 regular season games, he had a 2.47 goals-against average and a .918% save percentage; in 15 playoff games, he had a 2.68 goals-against average and a .908% save percentage.  Brassard followed that up with a 2.85 goals-against average and a .900% save percentage in seven games at the Telus Cup.  For his efforts, he was chosen 92nd overall by the Remparts in the 2011 QMJHL Entry Draft.
Brassard joined the Remparts and he struggled at the beginning.  He lost his first two starts in regulation and his third in overtime.  That changed quite rapidly.  He recorded his first QMJHL win on September 18, 2011, against the Blainville-Boisbriand Armada.  After that, he was unstoppable.  He won the next 11 games he started between September 23 and December 13, 2011; the only three games he did not render a decision in during that stretch were games in which he replaced Domingue or vice versa.  On February 7, 2012, Brassard made 20 saves against the Acadie-Bathurst Titan to record his first QMJHL career shutout.  Twelve days later, he made 27 stops against the P.E.I. Rocket for his second career blanchissage, a win that started a five-game winning streak.  Brassard finished the season with an impressive record of 20-10-3 with a 2.80 goals-against average and a .905% save percentage.  He did not play during the postseason as Roy opted instead to go with the veteran Domingue but there is every reason to assume that Brassard will challenge for the #1 job on the Remparts in 2012-13.
To make the Ottawa Senators full-time in the years to come, Brassard will definitely need to put on some weight, especially now in the age of tall, muscular goalies.  He may not need to completely fill out but 154 pounds is not ideal for an NHL goaltender.  He has shown, though, that he can be remarkably consistent and a battler for a #1 position, something that makes him akin to Driedger in many ways.  All that needs to be determined now is if he can continue the glory he enjoyed as a rookie.
*
Round 7 (196th Overall): Mikael Wikstrand (Defenceman; Mora IK, HockeyAllsvenskan)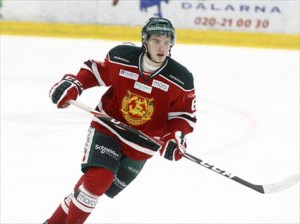 With their seventh-round pick, 196th overall, the Ottawa Senators made a rather intriguing selection, choosing defenceman Mikael Wikstrand, who plays for Mora IK of the HockeyAllsvenskan.  A late 1993-born blueliner, Wikstrand has been one of the more underrated two-way defencemen in Sweden, being overshadowed by those of significant renown.  After winning a Rikspucken championship in 2009, Wikstrand played his first full season in Mora's system in 2009-10, he enjoyed a point-per-game campaign in 17 games in the J18 Elitserien; he followed that up with four points in six games in the J18 Allsvenskan and three points in 16 games in the J20 SuperElitserien.
The next year, after a short stint in the J18 Elitserien, Wikstrand rejoined Mora's J20 SuperElit team.  He recorded eight points in 16 games and he was allowed to play 28 games in the Allsvenskan, recording an assist. Wikstrand also got to play at the 2011 World Under-18 Hockey Championships, winning a silver medal.  He recorded one assist in the tournament on a team that also included future NHL teammate Mika Zibanejad, Jonas Brodin, Oscar Klefbom and Filip Forsberg.  This past season, Wikstrand played 11 games in the SuperElitserien, scoring seven points, but he spent the majority of the 2011-12 campaign in the Allsvenskan, recording three points — including his first professional goal — in 47 games.  He is expected to rejoin the team for the 2012-13 season.
At 6'1″ and 183 pounds, Wikstrand skates well for his size.  He has solid play in all ends of the ice and he has incredible instincts in all zones.  The fact that he has played internationally with Zibanejad is something that will surely benefit his success with the Ottawa Senators in the future.  Like many European players, however, he will take time to develop and contractual obligations in the future could result in fans waiting for his arrival.  If they were patient waiting for Erik Karlsson and with Danish forward Peter Regin, they can be patient with Wikstrand, as well.
*
The 2012 draft class of the Ottawa Senators is considerably variegated, with players as unique as they are talented.  Bryan Murray and his staff made some intelligent decisions, especially with those who have connections to the organization in some aspect and to the Ottawa community as a whole.  The Ottawa Senators do realize that some of their more veteran players such as Daniel Alfredsson, Chris Phillips, Filip Kuba and Sergei Gonchar are not getting any younger; as well, they are recognizing the youthful vitality provided with the likes of Erik Karlsson, Zack Smith, Kaspars Daugaviņš, Mark Stone and Robin Lehner.  That youth movement will also be furthered along with players such as Matt Puempel, Shane Prince, Patrick Wiercioch, Jean-Gabriel Pageau and Fredrik Claesson.  After all is said and done, it is apparent that the Ottawa Senators are a team who are going to be exciting to watch in the future just as much as they are in the present.