With the Ottawa Senators in the first year of a rebuild, all eyes are on the youth in the organization. In Thursday's game against the Detroit Red Wings, that will include forward Drake Batherson who will be making his NHL debut. As just a rookie with the AHL's Belleville Senators, Batherson has taken the league by storm and earned this promotion to Ottawa.
In Batherson's first 14 games in the AHL, he has seven goals and 20 points. That's not only leading Belleville in both stats, but he's also tied for second in the league in points. The rookie has been preparing for the NHL and was determined to make that known. His franchise-record, six-point night versus the Toronto Marlies on Friday was enough to convince the Senators, as they called him up the following Monday.
Related: Will Senators' Young Guns Earn Roster Spots?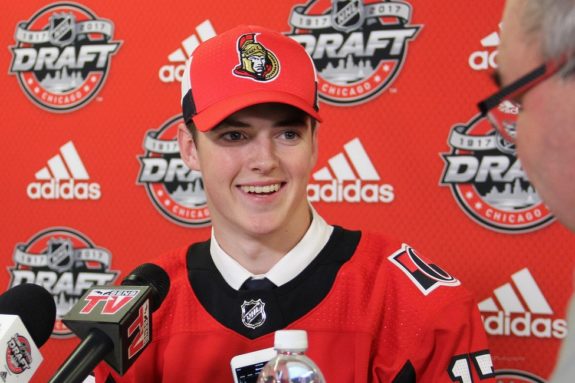 Speaking to reporters, Batherson didn't hide his excitement, "It's a dream come true. I've been working for this my whole life to get a chance to come up to the big club and I'm very excited to be here." (From: "Drake Batherson is getting ready for NHL debut with the Senators" – Ottawa Sun – 11/13/18).
For the young player, he looks to make this call-up stick and it appears as though the team will give him every opportunity to do so. The club has been practicing with Batherson on Matt Duchene's wing with Ryan Dzingel on the top line. Just a year ago, Batherson was playing in the QMJHL, and now could be playing on a top line in the NHL.
Batherson's Been a Star All the Way
The fourth-round, 121st overall pick in 2017 was projected to be a few years off from making the jump to the Senators before his hot start in Belleville. Last season in the QMJHL, Batherson split time between the Cape Breton Screaming Eagles and the Blainville-Boisbriand Armada, collecting 77 points in 51 games, adding another 33 points in 22 playoff games, for 110 points in 73 games. This came after scoring 58 points in 61 games in his first full year in junior.
Batherson has already made his name known, at the World Junior Championship last year. He helped Team Canada to a gold medal with seven goals in as many games, including a hat-trick against the Czech Republic to get them to the Championship game.
Despite his success, Batherson has been referred to as a "late-bloomer" after being passed over nearly every step of the way. In both the QMJHL and the NHL drafts, he was passed over in his first year of eligibility. He was also not even on the radar for Team Canada until a couple months before the tournament, due to a 15-game point streak. This included the Nova Scotian collecting 10 points in three games within that stretch and resulted in him being named CHL Player of the Month.
In the AHL, Batherson has kept up his impressive performances. His six-point night is a highlight of that and helped earn him the AHL's Player of the Week Honours. Ottawa's coach Guy Boucher commented on the young star's journey so far, "There's guys that you give a chance to that have looked good, but there's guys who are trying to tear that door down, and he's one of those guys."
He continues, "In this case, after a six-point night, he was the top scorer in the American League and he wasn't just the best rookie in the American League, he was arguably the best player in the American League with very little time to do so." (From: "Drake Batherson is getting ready for NHL debut with the Senators" – Ottawa Sun – 11/13/18).
Playing With NHL Stars Nothing New for Batherson
What has prepared Batherson the most for his NHL debut is how he trains during his summers. Rather, who he trains with. The young Senator plays with Sidney Crosby, Nathan MacKinnon, Brad Marchand, and others in the offseason. He was originally invited by former Pittsburgh Penguin Zach Sill when the group needed more skaters because Batherson lives just 75 minutes from the rink. Batherson has become a permanent player in that group thanks to new player development coach Chris Kelly, who put in a call for him.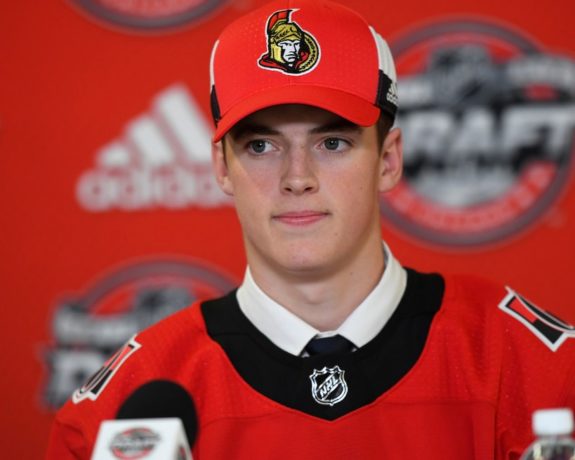 Playing with some of the best players in the world would be great for any player. For the Senators prospect, he tries to take it all in and learn everything he can, "When you're going to the rink three times a week with them, you're learning a lot from their habits and trying to implement some of that stuff into my game, it's great watching them train hard every day. They work really hard even though they're the best in the world. That's what amazes me the most." (From: "Senators snapshots: Drake Batherson is ready for his NHL debut" – Ottawa Sun – 11/14/18).
Perhaps Batherson has already seen a few of Crosby's moves and tricks, which would come in handy in possibly Batherson's second game when the Senators face the Penguins on Saturday.
Can Batherson Stick With the Senators?
The big question around Batherson's call-up, is how long will it be for? Although he hasn't played yet, the team has shown faith in his ability by lining him up with Duchene and Dzingel. Both forwards have had good starts to the season, with Duchene over a point-per-game with 19 in 18 games, and Dzingel isn't far off with 14 points in 16 games. If Batherson can continue his hot streak at the NHL level, this could be a very dangerous top line and more importantly, the rookie could stay in Ottawa.
Duchene has already started to provide advice to his new winger, and having a seasoned vet like him not just centering Batherson but also guiding him off the ice, the prospect may adjust nicely into this team.
Drake Batherson will make NHL debut on Ottawa's top line https://t.co/qRgNkeZubY #ottnews #ottawa pic.twitter.com/UKuNiFSwAt

— CBC Ottawa (@CBCOttawa) November 14, 2018
Speaking to reporters about the newcomer, Duchene said, "It's a once-in-a-lifetime opportunity to live your dream as a kid. He should just try and have as much fun as possible with it. We'll be here for him if he has anything to ask or any concerns or whatever. I'm looking forward to seeing him out there. He's very well deserved to be here. He's had a great start in the American league. I'm not surprised to see him up here at all." (From: "Drake Batherson is getting ready for NHL debut with the Senators" – Ottawa Sun – 11/13/18).
The team will give him a good look, but if they feel he will gain more by being a star in the AHL he may be back down pretty quickly. The other impacting factor is the injured list. Ben Harpur and Chris Wideman are not projected to be in the lineup, and Jaros has proven that he can handle the NHL well. When those two defensemen return, along with Jean-Gabriel Pageau who has started skating again, Batherson may find himself the odd-man-out unless the team makes a move to give some of the younger players more ice time.
If Batherson is able to transition his AHL play to the NHL, the Senators will have to find a way to keep him in the line-up. Boucher speaks very highly of him and pairing him with Duchene and Dzingel shows that the team thinks he can do well at this level. It may be his spot to lose. If he is sent back down, Senators fans will at least get a glimpse of what's to come from the promising prospect.
 Statistics from EliteProspects.com.
Starting out as an Ottawa Senators contributor for The Hockey Writers, Josh is now an editor and at-large contributor, focusing on prospects, the NHL Draft, hockey history, and breaking news stories.