WINNIPEG — Defenceman Ben Chiarot scored with 7:09 left in the third period to lift the Winnipeg Jets to a 3-1 victory over the Washington Capitals on Wednesday.
Chiarot's shot beat Pheonix Copley on the glove side and may have ticked off a Washington player's stick.
Mark Scheifele scored on the power play for Winnipeg (11-5-1), while Kyle Connor put in an empty-netter with a minute left to seal the victory.
Blake Wheeler picked up an assist, extending his point streak to 11 games (two goals, 18 assists).
Jakub Vrana had Washington's (8-9-3) goal as Copley stopped 21 shots.
Connor Hellebuyck made 27 saves for the Jets, who've won three straight in their four-game homestand.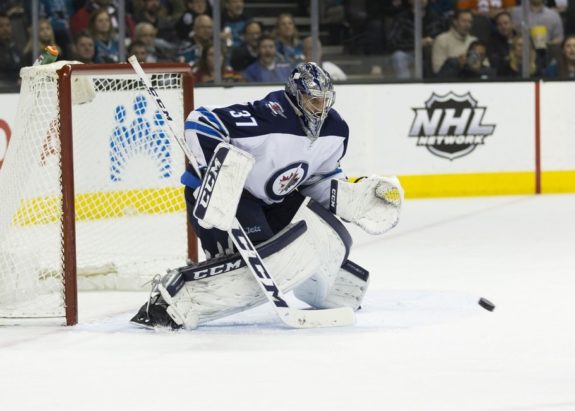 Washington was coming off a 5-2 win over Minnesota on Tuesday in their first of a four-game road trip.
Copley was in net for that win and had to quickly get ready for the Winnipeg game because starter Braden Holtby was a late-day scratch with an undisclosed upper-body injury.
University of Manitoba women's goalie coach Gavin McHale, 31, was tapped to be Washington's emergency backup netminder.
It took the Jets almost 13 minutes to get their first shot on goal, but about a dozen seconds later Vrana used his team's eighth shot to fire the puck high past Hellebuyck for the 1-0 lead at 13:00 of the opening period.
Capitals forward Evgeny Kuznetsov left the ice in the first period soon after a check to the head by Jets forward Brandon Tanev and didn't return.
Scheifele scored on the power play at 5:05 of the second period, seven seconds after Alex Ovechkin went to the penalty box for interference. Scheifele has four goals and three assists in his past three games. It was his 10th goal.
The teams went into the game Nos. 1 and 2 in the league on the power play, with the Jets at 34 per cent and the Capitals at 30.3.
Winnipeg had squeezed Washington's shot advantage to 20-16 after the middle period.
Washington had a power play late in the third, but couldn't solve Hellebuyck.
Winnipeg was 1 for 3 on the power play and the Capitals 0 for 3.
The Jets end a four-game homestand Friday against Buffalo. The Capitals play in Colorado Friday.
Judy Owens, The Canadian Press