The 2020 NHL Draft will take place from Oct. 6-7. The Pittsburgh Penguins will have to wait until the second day to draft, since they don't have a pick until the third round. The Pens lost to the Montreal Canadiens in the 2020 Stanley Cup qualifiers and were slated to have the 15th overall pick, but traded it to the Toronto Maple Leafs in return for Kasperi Kapanen in a multi-player deal.
Related: Pennsylvania Hockey – A Long, Proud History
As for the second-round pick, the club traded it to the Vegas Golden Knights to ensure they selected Marc-Andre Fleury in the 2017 Expansion Draft. That pick now belongs to the Chicago Blackhawks, who acquired it through a trade that sent Robin Lehner to the Golden Knights. The Penguins also don't have a seventh-round pick, as they traded it to the San Jose Sharks for an extra seventh-round pick in 2019, which they used to select Santeri Airola.
Where the Penguins Will Pick
At the 2020 NHL Draft, the Penguins will be selecting at:
77th overall – third round
108th overall – fourth round
139th overall – fifth round
170th overall – sixth round
According to THW's own Josh Bell, the Penguins have the worst farm system in the NHL. The club only has four picks in 2020, and they are all later than the first two rounds, which makes it tough to improve their farm system immediately. 
Team Needs
The Penguins selected Samuel Poulin in the first round of the 2019 NHL draft. The club hadn't drafted in the first since 2014, which is a reason why their prospect pool is thin. The Penguins' top five prospects, according to Bell, include Poulin (LW/RW), Nathan Legare (RW), Pierre-Olivier Joseph (D), Drew O'Connor (LW), and Valtteri Puustinen (RW/LW). At the top of their prospects, it is obvious the organization lacks a centre and a goaltender.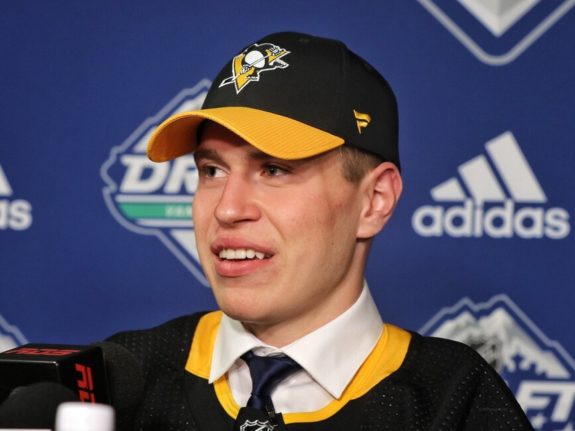 The Penguins traded away Filip Hallander, their top centre prospect, to the Maple Leafs for Kapanen. With Sidney Crosby and Evgeni Malkin locked in as the top two centremen, the Penguins haven't had to worry about the position. Now is a good time for them to start looking for prospects up the middle.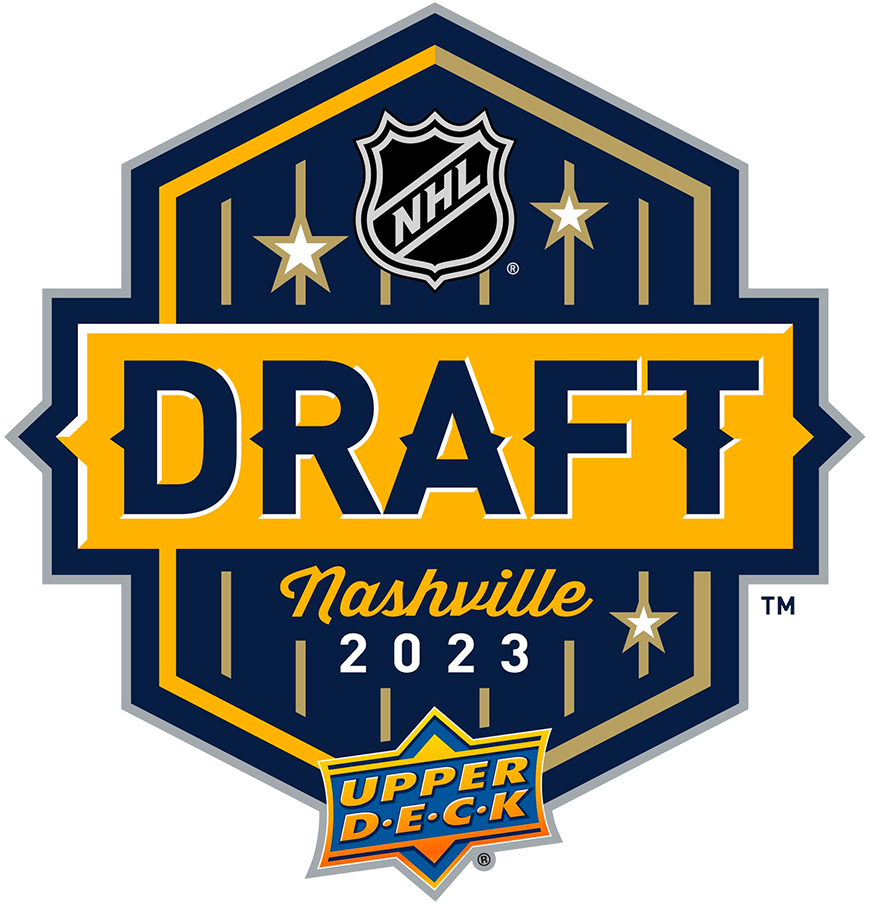 Since the Penguins traded away Calen Addison, Joseph is their top defensive prospect, and Bell expects he is a bottom-four defender at best. Therefore, looking for defensive prospects in the 2020 draft is important for the club as well. As for goaltenders, the Penguins will likely trade Matt Murray this offseason but will still have 25-year old Tristan Jarry. Therefore, they can hold off on drafting a goalie for some time.
Third Round (77th overall)
Tyler Tullio is ranked at No. 79 by THW's Larry Fisher in his top 500 final rankings for the 2020 draft class. Tullio is the perfect pick for the Penguins in the third round, as he is a centreman. The Oshawa Generals drafted the 5-foot-11, 166-pound centre 11th overall in the 2018 OHL draft, and he posted 108 points in 122 games over two seasons.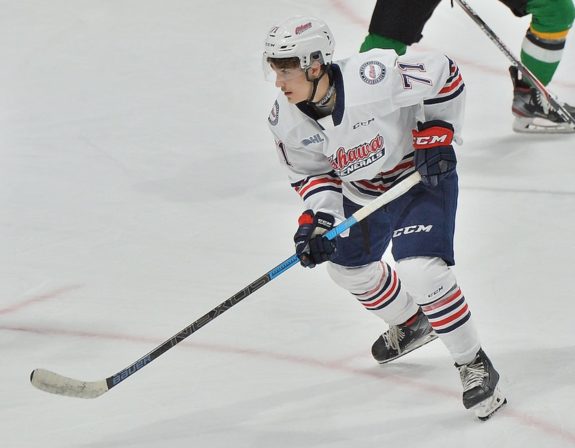 THW's Mark Scheig notes Tullio's versatility as a strong asset since he can play on the wing and centre, and he plays on the penalty kill with the Generals. Scheig compared the forward to Brad Marchand and Anthony Cirelli since he isn't the biggest player, but he gets under his opponent's skin. His strengths include being an excellent finisher, his ability to drive offence, his compete level, and his intelligence. The biggest flaws in his game are his skating, which is average, and his strength, but over time he can improve both of them.
Tullio is a player with many great qualities, and if the Penguins can draft him with the 79th overall pick in the 2020 draft, they have hit a home run. If he is ready to play in the NHL in a few seasons, the Penguins can slot him in on the third line behind Crosby and Malkin, or a line with one of the two franchise centremen.
Fourth Round (108th overall)
With the 108th overall pick, Jim Rutherford should pick the best player available that meets the club's needs. Targetting a centre once again would work best as there are quite a few from Fisher's ranking in the middle of the fourth round. Rutherford should select Pavel Tyutnev as he has many strengths, which include his vision, an NHL-ready shot, and his skating. He is listed at 5-foot-9, 185 pounds, and his only weakness is his defensive game, according to THW's Mathieu Sheridan.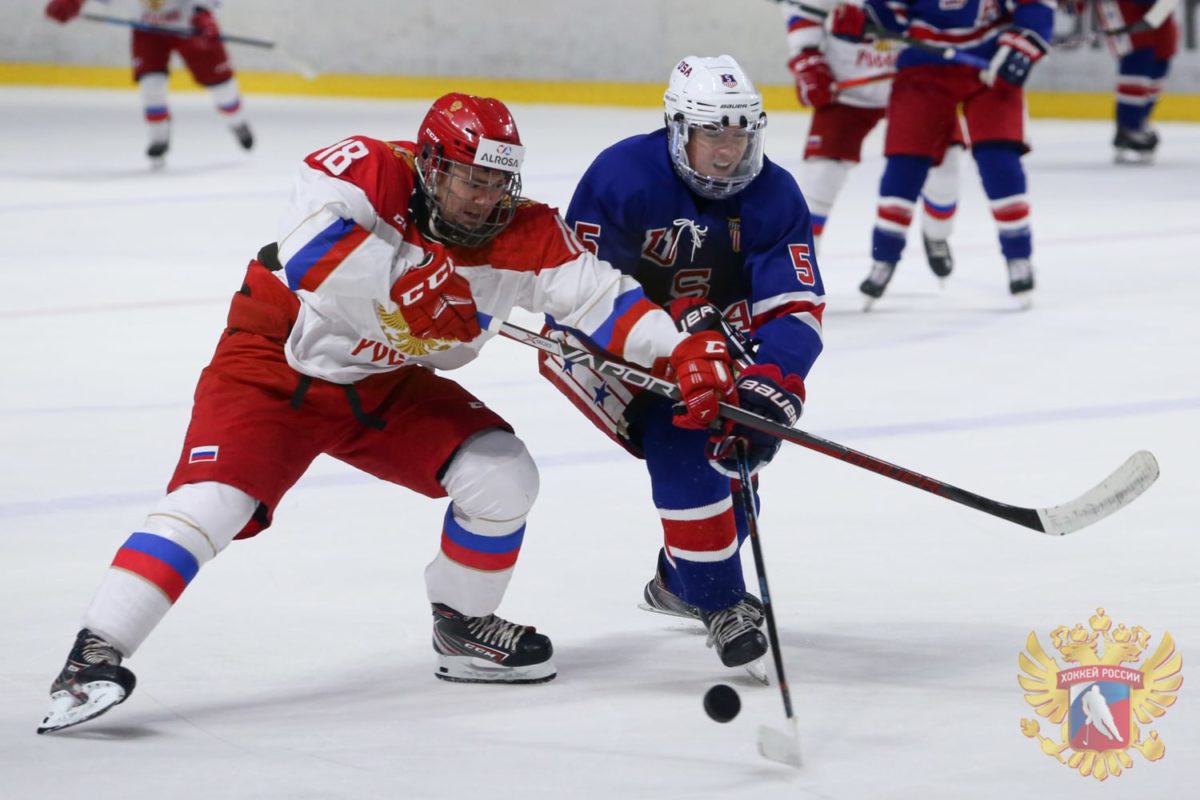 Tyutnev has a great base to build on and would be a good addition to the Penguins in the future.
Fifth Round (139th overall) 
Rutherford should once again look at the best player available that fits their needs in the fifth round. Fisher's ranking lists a few defencemen in the fifth round to choose from and Luke Prokop is the highest, making him a player the club should strongly consider. After taking two somewhat undersized players in the third and fourth rounds, the Penguins select a 6-foot-4, 217-pound player in Prokop.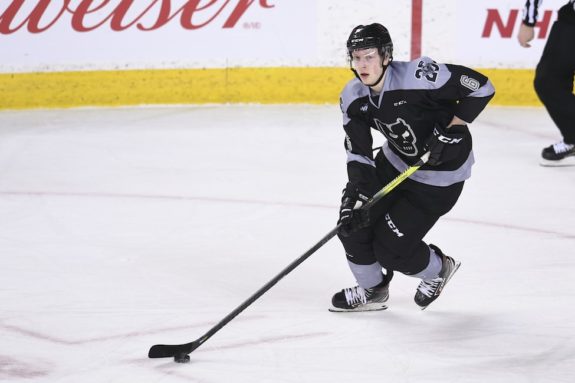 THW's Peter Baracchini describes him as a shutdown defenceman. Although he is committed to playing defence first, he has great mobility and speed for his size. The improvements he'd need to make are on the offensive end, which includes his production and stick-handling. 
The Penguins are set to lose Justin Schultz this offseason and could call up other defensive prospects, including Joseph. Prokop would be high on the club's prospect list, and he'll be an important addition on the defensive end for them. 
Sixth Round (170th overall)
Picks in the sixth round usually need a little bit of luck to be successful. The Penguins have a few options that may pan out, as Sergei Safin-Tregubov, Egor Smirnov and Lucas Ramberg seem like fitting options on defence. Safin-Tregubov is the best option out of the three, statistically. He plays in Russia but was born in Portugal and stands at 5-foot-10, 185 pounds, making him a mobile defenceman. He had 7 goals and 26 points in 47 games with Tolpar Ufa in the MHL in 2019-20. This season, he has three points in four games. In recent games, he has reportedly been dominating in all three zones from his position. 
Related: Penguins' All-Time Greatest Lines
If the Penguins select Safin-Tregubov and he turns out to be an NHL-calibre player, they've succeeded with their sixth-round pick in the 2020 NHL draft. He likely won't be ready to play for quite a few seasons, so this pick is one for the late- or post-Crosby and Malkin era. 
Penguins Have to Work With What They Got
This year's draft will be tough for the Penguins to get a lot of value out of, which means Rutherford will have to make every pick count. There is also a chance they get a first-round pick out of a potential Murray trade.
An additional first-round pick would be helpful to Rutherford in this year's draft as he would be able to pick a player who may compete for a spot as soon as next season. Since the organization had been trying to get the most out of what they have on the main roster, they've traded away picks to keep the club stable. Time will tell if that decision will hurt them or not.
---
---