The Pittsburgh Penguins need to make a significant improvement at this year's trade deadline if they hope to regain their reputation as one of the East's best.
Despite allowing the eighth least amount of goals per game in the league (2.37), the Penguins are giving up the third most shots against per game (31.8). While fans are calling on the forwards to take responsibility for Pittsburgh's rough start to 2015-16, it is actually the defence which could use the help.
As you may know from the Top 10 Players Available for the 2016 NHL Trade Deadline, there are plenty of extremely talented players that will be on the trading block by February, if they aren't already.
As for the Pens, they will be narrowing in on a defenceman. The top d-men available include Dustin Byfuglien, Travis Hamonic, Dion Phaneuf and Kevin Shattenkirk. However, the Ducks are also taking calls on two of their top, young defencemen, in Cam Fowler and Sami Vatanen.
Of all those on the block, I believe the Penguins must make a serious offer for Vatanen.
Why Sami Vatanen?
Vatanen is one of the best young defenceman in the league right now. Unlike some of the big names guys, like Byfuglien, Hamonic, and Shattenkirk, Vatanen's value is not sky-high right now. Not as many teams will be calling with offers for the 24-year-old, so the Penguins will not have to forfeit a large part of their future, or even present, to acquire him.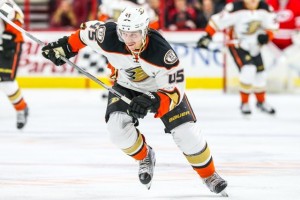 Anaheim also has a loaded defensive pipeline, meaning they can afford to trade one of their top defenders for the right price knowing that spot will be filled by one of their many NHL-level prospects. It's no secret that the Ducks will be looking for scoring in return, currently scoring a league-low 1.85 goals per game. The Penguins are also loaded up front, with one of the deepest lineups in the game. So, a potential deal between these two teams seems ideal, with each party getting exactly what they need.
The only hitch in acquiring Vatanen is that he will become a restricted free agent after this season. Were Cam Fowler not out with an injury for four to six weeks right now, he may have been an even better match than Vatanen in a trade, with two more years remaining on his contract. In the end, not many RFA's walk away from their club, so that should not be a reason for the Pens to shy away from Vatanen.
Potential Deals For Vatanen
If a trade between the Penguins and Ducks, centered around Vatanen, is going to come to fruition, the Pens will need to give up a developed goal-scorer. Without acquiring that extra boost of scoring, it is unlikely that the Ducks will be able to crack a playoff spot, and certainly won't go far if they do. With that said, both teams need to have a sense of urgency in filling their respective needs.
Patric Hornqvist and a 2016 2nd-round pick for Sami Vatanen
Hornqvist, like most of the Penguins roster, isn't having the best year of his career in 2015-16. Through 42 games, he has scored nine goals and 18 points, which is fifth best on the team. However, he is a tremendous leader and could possibly bring together a disgruntled Ducks locker room. Confidence is what Anaheim needs, and with Hornqvist's 'never say die' attitude, he may bring back that tough, gritty mentality that took the team to game seven of the Western Conference Finals last season.
He is also a proven goal-scorer, scoring more than 20 goals in each season which he played at least 60 games. As a 28-year-old, he is still in some of the best years of his career, and is signed through 2017-18 at a very reasonable $4.25M cap hit.
Beau Bennett, Nick Bonino and a 2017 3rd-round pick for Sami Vatanen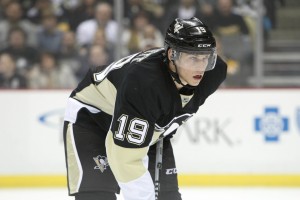 Bennett is actually in the midst of his best season of his career since his rookie campaign. Through 24 games, he has five goals and 10 points. He has been snake bitten by injuries more than his fair share of times already, but those shouldn't be career altering issues. Like Vatanen, Bennett will be a restricted free agent at the end of this season, but would almost certainly re-sign in Anaheim. The 24-year-old is still scratching the surface of his once great potential, and could shine playing top-six minutes finally.
Bonino would return to a familiar place, one where he has had his most success. The 27-year-old spent five years with the Ducks, becoming a reliable forward when he scored 22 goals and 49 points in his final season there. However, on a struggling offensive team this year, he has just three goals and 10 points in 40 games. Bonino would have instant chemistry with most of the forward group, which is still largely in tact from two years ago. He is signed through 2016-17 with a $1.9M cap hit.
As a Penguins fan, who do you hope to see the team trade for? Sami Vatanen?