Round 1 of the NHL Draft is set to kick off on Wednesday, June 28 at 7 PM. The Pittsburgh Penguins have the 14th overall pick and it will be interesting to see what they choose to do with it. The team is currently on the hunt for a new general manager (GM) who will no doubt bring many changes to Pittsburgh. This year's draft class has a wide range of talent and if the Penguins choose to keep their pick they could end up with a future star. Here is a look at some of the players who could still be on the board at number 14.
Gabe Perreault
Eighteen-year-old forward Gabe Perreault would be a welcomed addition to the Penguins' prospect pool. He just finished an outstanding season with the U.S. National Under-17 Team where he played 63 games and scored 53 goals with 79 assists. His game is still pretty raw; however, there is no denying his talent. His agility on the ice is good, but his stride is very inconsistent which takes away from his speed. 
---
---
Perreault's skating is his only real weak area. He is a tremendous playmaker with great vision. He does well under pressure and has great passing instincts. He always finds a way to score goals because he has great positional awareness. He would also be great on the power play, an area where the Penguins could definitely use some help.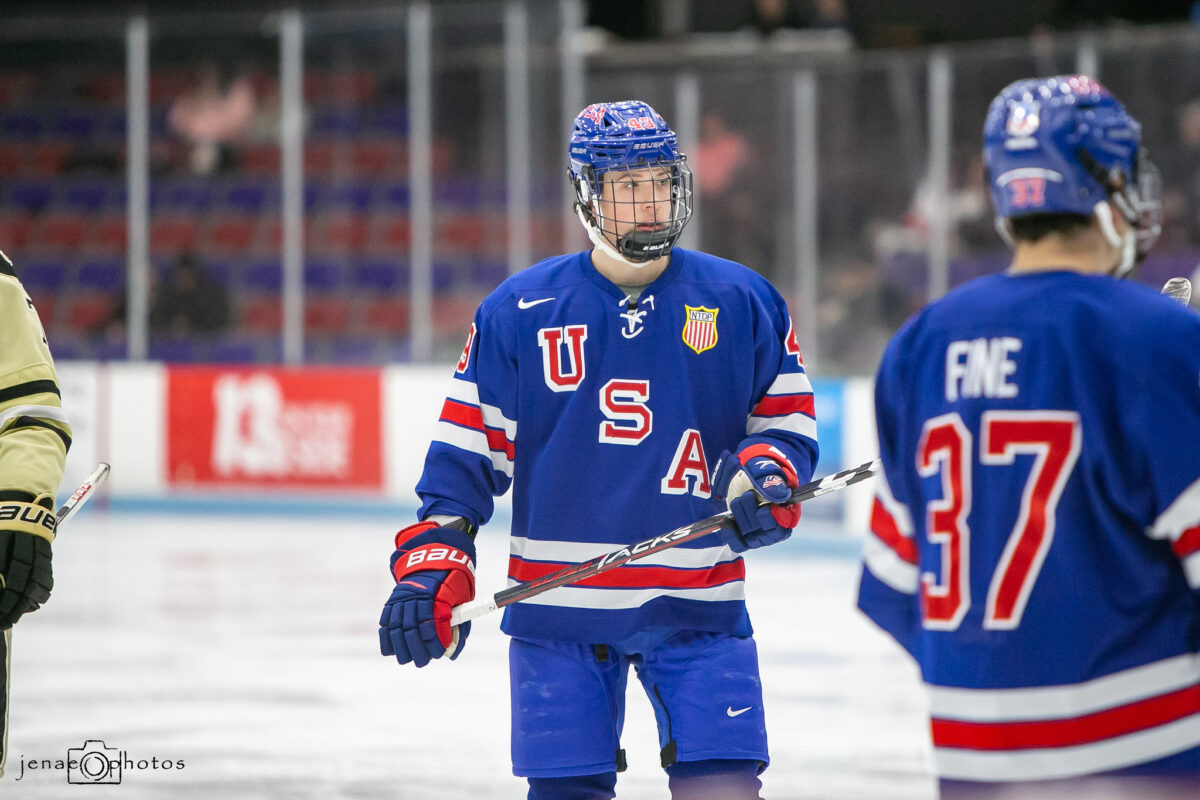 At 5-foot-11 and 171 pounds, Perreault is an undersized forward which combined with his skating is the reason he is predicted to be a late first-round pick. There is a very good chance he will still be available when the Penguins pick at 14, and if he is, they should seriously consider taking him. 
Oliver Moore 
Forward Oliver Moore is another player who will be highly sought after in this draft class. His speed and agility combined with his smooth transitions make him a dangerous offensive weapon. He played in 61 games this season with the U.S. National Under-18 Team and scored 31 goals with 44 assists. His speed allows him to beat defenders and stay in control of the puck in the offensive zone. He is also really good at finding open teammates and keeping plays alive. 
Related: 2023 NHL Draft Guide
---
Latest News & Highlights
---
Moore has a pretty powerful and accurate wrist shot that goalies have a hard time defending. Moore is predicted to be a top-ten pick; however, at 5-foot-11 and 188 pounds it is possible he will fall due to his size. If that does happen, the Penguins should not hesitate to scoop him up.
Colby Barlow
Colby Barlow is a 6-foot-1, 187-pound left winger who has been playing in the Ontario Hockey League for the past two seasons. He is not the best skater in this year's draft class but he is also not the worst. His speed is average and he does possess a powerful stride, however, his edge work could use some improvement. He also has an extremely powerful shot but does at times lack accuracy. His passing skills could also use some work. There is no doubt if paired with the right coaches, he could definitely improve in these areas. He may not be a top-six player, but he could turn into a solid depth option which is something the Penguins desperately need. 
Will the Penguins Keep Their Pick?
The Penguins franchise is in the middle of a transition. Soon there will be a new GM calling the shots and more than a few changes occurring over the offseason. There is no question that the team is in need of assistance right now, and a player coming out of the draft would not provide that. Will the Penguins choose to make a deal and trade their draft pick for some immediate help? Right now there are more questions than answers surrounding this team, but fans are hoping the month of June brings some clarity with it.