Backup goaltending is an important and often overlooked aspect of a team's dynamic. When a team has a reliable backup, it allows them to spread the workload out just enough to give the starter a break while not throwing them completely out of their groove. The truly great backups are able to step in and win their games while waiting in the background for their next call. 
Backing up the Future
For the Tampa Bay Lightning, there's been a significant hole in the backup position since the 2013-14 season. Around this time, Ben Bishop took hold of the starting duties in goal for the Lightning, while Anders Lindback played second fiddle. Where Bishop excelled, Lindback struggled, and the Lightning were swept out of the playoffs by the Montreal Canadiens when Bishop went down with a season-ending injury.
The next season, the Lightning brought in Evgeni Nabokov to be the veteran backup for Bishop, hoping his experience would solidify the blooming Bishop. Instead, it backfired, causing a rushed but necessary call-up of Andrei Vasilevskiy.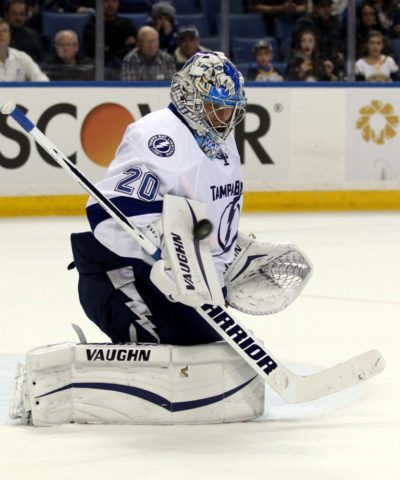 From that day forward, the Lightning used Bishop and Vasilevskiy as their goaltending tandem, with the intention that Vasilevskiy would grow into the starting role. While this plan eventually succeeded, neither Bishop nor Vasilevskiy looked particularly comfortable during this time.
For Bishop, sharing starts hurt his rhythm and he struggled after multi-game breaks, made clear by his statistical dropoff during the 2016-17 season when he most shared the net with Vasilevskiy. For Vasilevskiy, he needed more time in net than could be reasonably afforded with a clear #1 goaltender like Bishop on the roster. When he was given a consistent starting schedule after Bishop was traded, Vasilevskiy looked like a new goaltender, stringing together some of the best goaltending of his young NHL career.
Peter Budaj – The New Backup
Included with the Bishop trade was Peter Budaj, a long time NHL goaltender who has seen all aspects of the position. During his career, Budaj has been a franchise starter, a backup behind an all-world goaltender, an AHL award winner and even stood in for Jonathan Quick during the regular season.
In theory, Budaj is the perfect backup to have for a young goaltender like Vasilevskiy. His time spent supporting Carey Price shows that he is comfortable playing in a backup role while someone else grows into the spotlight. If an injury were to strike Vasilevskiy, Budaj has shown that he can perform as a starter for a portion of the season.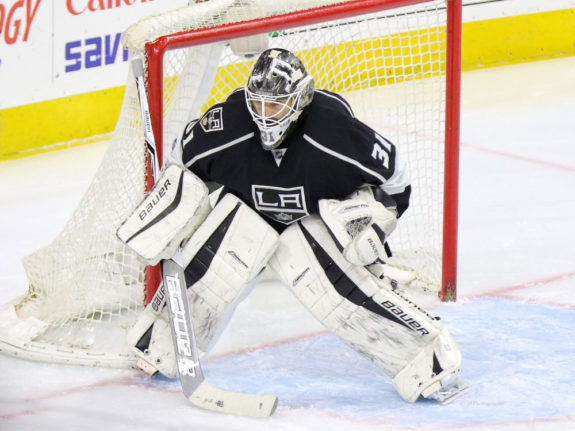 If all goes well and both goaltenders can stay healthy, Budaj is projected to make around 20 starts this season. For the Lightning to have any realistic chance at the playoffs, they need Budaj to win at least 50% of those starts, preferably 13 to 15 of them. If he is able to win that many games, it will help take some of the load off of Vasilevskiy's shoulders, who is likely to have a rollercoaster of a season in his first full year as a starter. He could be fantastic, but more than likely there's going to be stretches where he just can't find his rhythm and he will struggle to find a win.
When this occurs, the Lightning need to count on Budaj to act as a mentor for Vasilevskiy and to help carry the Lightning out of the ditch and back into the win column. It helps that both know their roles with the franchise at this time. Vasilevskiy is the clear starter, so even if he struggles Budaj will not replace him as the number one and will eliminate some of the drama of having a goaltending tandem.
Ready for What's Ahead
The one concern is how familiar this story sounds. When Nabokov was brought in for the 2014-15 season, he was touted by many to be the perfect backup to Bishop. When Nabokov became a detriment to the team on the ice, the Lightning had a competent backup ready to fill the void.
Right now, if Budaj struggles in the same way that Nabokov did, the Lightning won't have a proper replacement for him without making a trade. This means they will either have to keep playing a struggling Budaj or put the full load of the season on Vasilevskiy, neither of which is healthy for the franchise.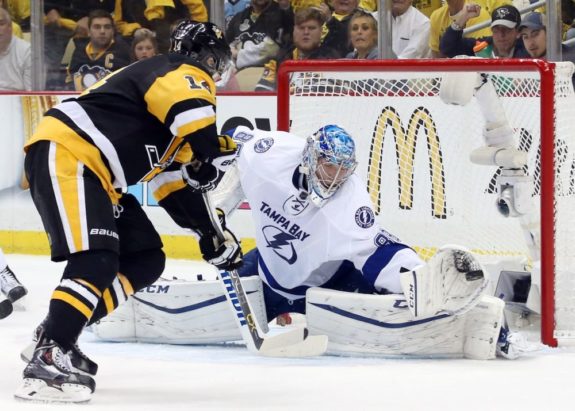 For now, though, the Lightning have to believe that Budaj is able to fulfil his duties as the backup. Even if he can only play a limited role this season, the Lightning know that every point matters when it comes to a playoff berth. If he can carry his weight, then the team will be one important step closer towards making the playoffs.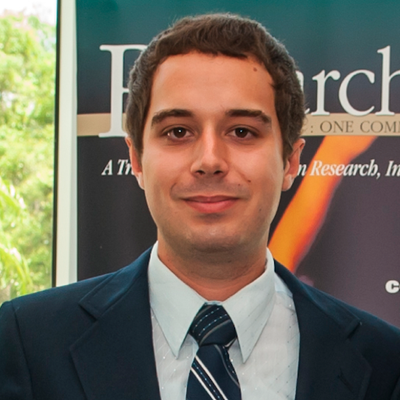 Eugene Helfrick is a Tampa Bay Lightning writer who is actually from Tampa Bay. He has written about the Lightning for six years, covering everything from their run to the 2015 Stanley Cup Final, to their crushing first-round exit in 2019, to their redemption in the bubble in 2020. While he is happy to talk about just about anything from cows to cars to video games, hockey will always remain one of his favorite pastimes.