The parade is over. The 2015-16 Pittsburgh Penguins are officially a thing of the past, and what a past it has been. The Stanley Cup Champions will make their way around the globe to their hometowns, carrying Lord Stanley and enjoying every second of a well-deserved vacation.
For Penguins' management though, there's really no such thing.
Jim Rutherford will have his hands full leading up to the NHL Entry Draft, which kicks off just under a week from now. In fact, according to recent reports, the calls have already started coming in to inquire about Marc-Andre Fleury's availability. This business moves fast.
Obviously, that will remain the biggest offseason topic until a final decision has been made by this staff. Fleury also has a lot of control over the situation considering his no-movement clause gives him the ability to list 12 teams he will not accept as a destination. The most notable teams that could be looking for goaltending help are the Calgary Flames and Toronto Maple Leafs with the Edmonton Oilers and New York Islanders as possibilities as well.
Should He Stay or Should He Go?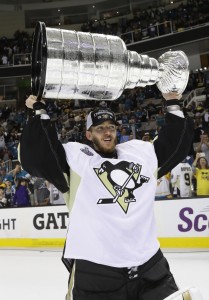 Matt Murray did exactly what every young professional athlete dreams of. He was given an opportunity to be 'the guy' on the biggest stage in hockey and while it wasn't always smooth from start to finish, he got the job done. He's 22-years old and just helped the Penguins win the franchise's fourth Stanley Cup Championship.
Is it actually possible for him to begin next season as a backup?
When you consider Fleury's salary and the idea that Murray only counts for roughly $600,000 against the cap, keeping the veteran is a tough sell. Murray looks to have proven himself at the NHL level and even after signing his bridge deal next Spring, he'll provide a ton of value at a much lower cost.
Not to mention, if the most recent news regarding next summer's expansion draft remains true, the Penguins can only protect one goaltender. Fleury's no-movement clause means it has to be him if he's still on this roster.
The overwhelming feeling among folks around the organization is that they have a hard time believing Fleury wants to stay in Pittsburgh. You could see that the normally happy-go-lucky goaltender wasn't himself, even during the Cup celebrations that followed their Game 6 victory in San Jose.
The writing is on the wall and honestly, it has been for quite some time. Rutherford will meet with Fleury and his agent Allan Walsh in the very near future which should lead to more information on how he's feeling in this situation. If I was a betting man, I'd go all-in on Fleury asking for an out.
Where Do Things Go From Here?
The Penguins have options, one of them might be right under their nose. The question is, how comfortable is Rutherford and head coach Mike Sullivan with a Murray and Jeff Zatkoff combination for the long haul? Zatkoff is a solid backup but what if Murray stumbles?
There are a few options available via free agency that could fall into Pittsburgh's price range. Chad Johnson is a name that stands out.
Johnson played 45 games with the Sabres last season, posting a 26-16-1 record with a 2.36 goals-against average and .920 save-percentage. It was a solid showing on a team that struggled defensively, ranking in the bottom 10 for most shot metrics. He'll require a raise over his $1.3 million cap hit but he'd still be a cost-effective backup that could be relied on if the Penguins needed to do so.
Pittsburgh can also fetch a capable backup in whatever deal sends Fleury elsewhere. Brian Elliott comes to mind in that situation. The Blues tested the waters with both Elliott and Jake Allen as starters in the playoffs. I imagine an opportunity to acquire Fleury would be quite appealing for Doug Armstrong.
As we get closer to the draft next week, there will be plenty of rumblings about potential moving parts around the league. Most NHL insiders pegged June as a busy month. I'd expect a lot of names floating around in the coming days. The Penguins are fairly set for next season with a few minor moves needed. However, they won't be able to avoid the spotlight with the Fleury decision looming.