The Pittsburgh Penguins faced the Washington Capitals in what most would call a measuring stick game on Tuesday night. Unfortunately for them, they came up a bit short.
Overall, Pittsburgh put together a solid performance. In fact, they won the possession battle and controlled play for essentially the entire first half of the game. They built a 2-0 lead but then looked gassed. Of course, facing a team like Washington in the second game of back-to-backs is hardly ideal.
The Capitals erased the 2-0 deficit and ended up winning 3-2 on a late power-play goal by former Penguin Matt Niskanen.
Last night's contest had a playoff feel. Fast paced, physical and intense sums things up nicely. Last night also served as a lesson for the Penguins, who have been a fairly hot team as of late. If they're going to compete in the postseason, there's still plenty of work to do. Yes, they were playing a back-to-back but the playoffs won't necessarily be any easier on them.
Playoff Teams Continue Giving Pittsburgh Fits
The Penguins went into last night's tilt vs. Washington coming off two consecutive wins that saw them tally 10 total goals. However, those two games were against the Winnipeg Jets and Arizona Coyotes, which continued a trend we've seen in Pittsburgh throughout this season.
Pittsburgh dominates non-playoff teams, but struggles against those in the postseason picture.
The #Penguins fall to 12-15-4 versus current playoff teams. 20-7-4 vs. non-playoff teams. #PITvsWSH

— Steve Mears (@MearsyNHL) March 2, 2016
Since Jan. 1, the Penguins have a goal differential of minus-10 against playoff teams (38 goals-for vs. 48 goals-against) and carry a record of 4-7-4. However, when facing teams on the outside of the playoff picture, they boast a goal differential of plus-22 (43 goals-for vs. 21 goals-against) and a record of 10-0-1. That's a concerning stat.
While it's encouraging that this team is doing what they're expected to against lower caliber opponents, they seem to be stuck in a middle-ground of being a good team, but not great. At least, not yet.
Unfortunately, time isn't on their side anymore.
Pedal to the Medal for Remainder of Regular Season
The Pittsburgh Penguins will be tested in a big way throughout March and April. With 15 remaining games just this month, 11 of which will be divisional opponents, it'll be grueling and tiresome. While I admit that playing a back-to-back and facing the Capitals on the back-end of it isn't ideal, they need to prepare themselves for similar stretches from here on out.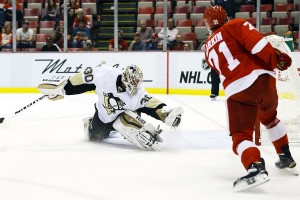 Their use of depth will become increasingly important. Matt Murray should continue to see starts, as he's proving that he's the real deal every time he takes the ice. Giving Marc-Andre Fleury time to regroup is essential and if they don't, their upcoming stretch could take a major toll on him.
They'll also need to rely on their young forwards to carry more of a load offensively. I've liked what I've seen from Tom Kuhnhackl up to this point but he has to start burying his chances. Bryan Rust falls into a similar category as well.
Some have complained about his shot volume and lack of passing but for me, I don't see a major issue there. However, I'd like to see Rust hit the net more often and create second-chance opportunities. He isn't playing alongside offensive studs, so his eagerness to put the puck on net is actually a bit refreshing. They just need to create more chances from those shots.
Ten of the Penguins' final 20 games will be against current playoff teams, with three of them vs. the Philadelphia Flyers, the only team with a real chance of supplanting them in the final Eastern Conference wild-card spot. They truly hold the keys to their playoff destiny.
Thanks for reading. Follow me on Twitter at @Michael29Angelo for more conversation around the Pittsburgh Penguins and everything NHL.