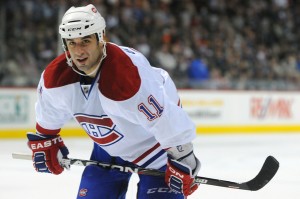 The start of the season has two ways of looking at it. The 1-3-1 start is ugly on paper but there are still actually some reasons for optimism.
The optimist says that this team is missing two of its best players and the experience the young defencemen are getting will help this team make a run when they are healthy.
The skeptic says that the points the team is not getting now will cost them in April.
The optimist says that the team can compete in high scoring games and in low scoring games.
The skeptic says when they score five, they let in more. When they let in two, they score less.
The optimist says that you have to look beyond the stat line when looking at Scott Gomez's performance over the start of the season.
The skeptic says he only has one assist and looks forward to next year's buyout period.
What do I think? I think that most teams go through 1-3-1 stretches in a season. It just gets amplified when that's all you have to look at. They don't hand out playoff spots in October. If they did, the Thrashers may still be in Atlanta and Toronto wouldn't have as long a playoff drought.
If you think the Canadiens have offensive depth now, just wait. Put Mike Cammalleri with Tomas Plekanec and Erik Cole. Keep the MAD line of Max Pacioretty, David Desharnais and Andrei Kostitsyn. Then you have a line of Lars Eller with Gomez and Brian Gionta. The fourth line would have Travis Moen, Mathieu Darche and Andreas Engqvist or Ryan White. That may even look like a playoff team.
The biggest thing for this team is not to be discouraged by last night's game. The Canadiens have won games where their goaltender stole the show, last night they got a bit of their own medicine. But it was probably the best game they played this season and it was against a solid opponent.
Sometimes a great goalie makes a good scorer look like he can't score and sometimes a great scorer makes a great goalie look like he can't make a save. That's what happened Tuesday against Buffalo. If Montreal plays like they did more often, there is nothing to worry about.
Unless you're one of those skeptics.
A freelance sports reporter in Montreal with a BA in Journalism from Concordia University, Jared has written about every sport from hockey to tennis online and in print. He will be covering the Montreal Canadiens for THW. You could follow him on Twitter at www.twitter.com/jaredbook.