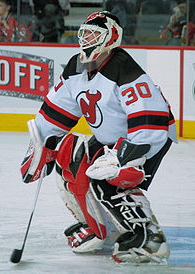 Devils goaltender Martin Brodeur is no spring chicken. The 39 year-old has been minding New Jersey's net since the 1993-94 season and has, for the most part, been very durable. Coming into the 2010-11 campaign, the Devils acquired Johan Hedberg to provide an occasional day off for the aging superstar, keeping him fresh and healthy for the playoffs. Hedberg ended up starting more games than anyone imagined, as Brodeur was injured during a win in Chicago on November 3rd. Initially reported as not serious, the injury to Brodeur's elbow caused him to miss 26 games last season.
The shoulder injury Brodeur suffered last week against the Los Angeles Kings initially appeared to be relatively minor, and Brodeur finished the period before being relieved by Hedberg. Explaining that he "tweaked" the shoulder, Brodeur said he didn't expect to miss any time. The Devils also said they would not call up a goalie to back up Hedberg, who they announced would start against the Nashville Predators two nights later. Then they promptly called up Keith Kinkaid from Albany under emergency conditions.
Brodeur has not practiced since the injury, and Kinkaid was sent back to Albany on Sunday and then recalled Monday. Devils GM Lou Lamoriello told the Newark Star-Ledger that no test results were available yet, but that Brodeur will probably not be available for the next game, Friday night against the San Jose Sharks.
Coach Pete DeBoer had a different take when asked if Brodeur would be available Friday,  telling the Star-Ledger "I think that's possible. We'll see what the reports are. Obviously he'd have to skate for a few days."
What does all this add up to? The Brodeur injury was certainly more serious than initially thought, and could be more serious than it appears now. The next few days will be critical in terms of his possible return.
DEVILS NOTES
– Defenseman Adam Larsson is back to 100% after sitting out a practice with a sore foot. He took a shot off the foot vs. Los Angeles.
– Forward Patrik Elias is just 12 goals shy of breaking John MacLean's franchise record of 347. Elias is already the franchise's all time leader in points.